Nikola Jokic's massive double-double gave the Denver Nuggets their first win as the Serbian big man landed at the top of last night's best individual performances.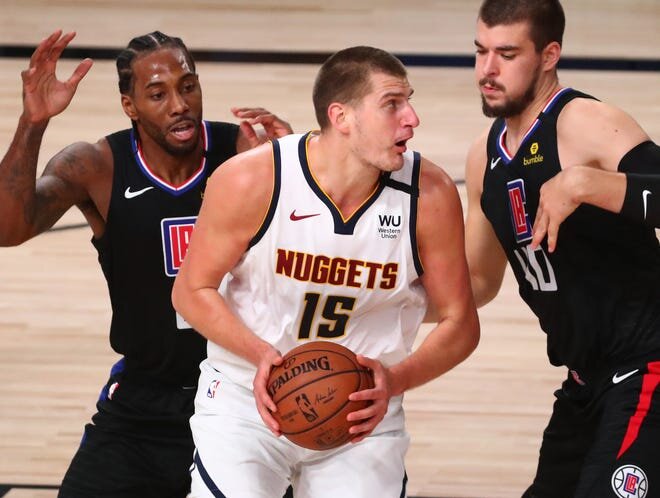 Jokic lifted the Nuggets to tie the series against the Clippers. (Photo courtesy of Kim Klement/USA Today Sports
Nikola Jokic, Denver Nuggets
The Joker put up 26 points, 18 rebounds, 4 assists, and 3 blocks, including a 4-5 clip from the three-point line to tie the series against the Los Angeles Clippers with one game apiece, After a quiet 15-point performance in the Game 1 loss, the two-time All-Star bounced back and almost doubled his point production from the game prior. The Nuggets will look to get the series lead, and take the driver's seat as they face the Clippers in Game 3.
Jamal Murray, Denver Nuggets
After a spectacular shooting display during the series against Donovan Mitchell and the Utah Jazz, rising star Jamal Murray was only limited to 12 points in 33.3% field goal shooting in Game 1 against the Clippers. After shaking off the fatigue, the Canadian guard erupted for 27 points, 3 boards, 6 dimes, 2 steals, and a block to get the Nuggets back on track in Game 2. The 23-year-old guard out of Kentucky has to provide more firepower to complete an upset against the Clippers.
Pascal Siakam, Toronto Raptors
The Toronto Raptors is a champion for a reason. After being down 0-2 just a few days ago, the defending champs are now on a 2-game winning streak against the Boston Celtics to tie the series. 2019 Most Improved Player of the Year Pascal Siakam led the way with 23 points, 11 rebounds, and 2 assists as the series is now down to a best-of-three affair. Carrying the momentum from huge wins in games 3 and 4, Siakam and the rest of Raptors will roar back and try to get the series lead in Game 5.
Kyle Lowry, Toronto Raptors
Despite a poor shooting display in Game 4, the six-time All-Star still contributed 22 points, 11 rebounds, 7 assists, 2 steals, and 2 block to get the equalizer against the Celtics. Lowry, along with Siakam and VanVleet, will look to lead Toronto as they try to turn the tables and complete the upset. After analysts already counted them out, the Raptors are making a huge statement for a repeat.