Kyle Lowry landed at the top of last night's best individual performances by logging in 53 minutes and hitting clutch baskets to force a do-or-die Game 7 against the Boston Celtics.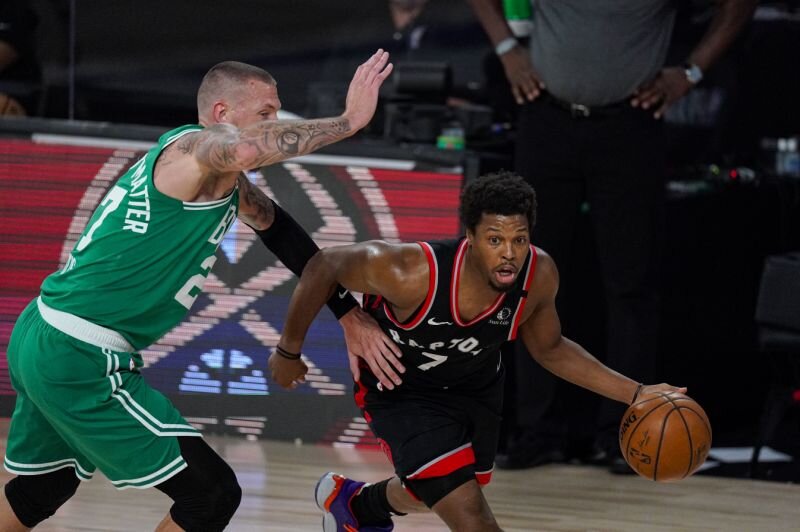 Kyle Lowry and the Toronto Raptors forced a Game 7 against the Boston Celtics. (Photo courtesy of Mark J. Terrill/Associated Press)
Kyle Lowry, Toronto Raptors
Lowry piled up 33 points, 8 rebounds, 6 assists, 2 steals, and a block as the defending champs rallied past the Celtics in a thrilling double overtime game to force a Game 7. After a breathtaking Game 6 win, the Raptors now have a chance to send the Celtics squad packing. After starting the series down 0-2, the Raptors will become dangerous than ever in Game 7 as they carry the momentum of last night's victory.
Kawhi Leonard, Los Angeles Clippers
The reigning finals MVP had a near triple-double performance of 30 points, 11 rebounds, 9 assists, 4 steals, and 2 blocks as the Clippers took a commanding 3-1 lead against the Nuggets. The Clippers squad displayed their stellar defense, not letting the Nuggets have a taste of lead all game long and limiting them to only 85 points. The Clippers will look to close out the series in Game 5 as they try to march on to the franchise's first ever conference finals appearance.
Jayson Tatum, Boston Celtics
The Celtics had several chances to close out Game 6, let alone the series. However, the resilience of the Raptors was too much for Boston as they collapsed in second overtime. Tatum led Boston with 29 points, 14 rebounds, 9 assists, 2 steals, and 2 blocks as the squad moves on to Game 7 and try to eliminate the hard-nosed Raptors. Jaylen Brown also had major contributions with his 31 points, 16 rebounds, 2 assists, and 2 steals, while First Team All-Defensive team awardee Marcus Smart notched a triple-double of 23 points, 11 rebounds, 10 assists, and a steal.
Nikola Jokic, Denver Nuggets
The Serbian big man continued his overall offensive brilliance despite a cold outside shooting. The Joker finished the game with 26 points, 11 rebounds, 6 assists, and a block, although the Nuggets are now one loss away from being eliminated in the playoffs. Despite of Jokic's all-around showing, Nuggets coach Mike Malone will need to survey more options offensively as the Clippers are also limiting the scoring of Jamal Murray.