Giannis Antetokounmpo will bounce back from an abysmal Game 1 performance, and lead the Milwaukee Bucks to a Game 2 victory over the Miami Heat.
Milwaukee's Giannis Antetokounmpo only had 3 points in the fourth quarter of their Game 1 loss against Miami. (Photo from USA TODAY Sports)
Game Details
Date: September 2, 2020 (September 3, 2020 in the Philippines)
Time: 6:30 PM ET (6:30 AM PST)
Location: The Field House, Orlando, FL
Key Performers from Game 1
(1) Bucks – Khris Middleton: 28 points, 6 rebounds, 5 assists, 2 steals
(5) Heat – Jimmy Butler: 40 points, 4 rebounds, 2 assists, 2 steals
How will Giannis find his shots in the fourth quarter?
Giannis' all-around stat line of 18 points, 10 rebounds and 9 assists in Game 1 was decent, but his disappearance in the fourth quarter was costly for the league-leading Bucks. The reigning MVP only had 3 points in that stretch, making only one of his four attempts.
It has become obvious that the Heat has a crew of great defenders ready to take Giannis one-on-one. The Greek Freak still doesn't have a consistent long-range shot in his arsenal, so the Heat just stands back and waits for him as soon as he take that first step towards the lane.
Having said that, the Bucks should try feeding Giannis on the post, and take advantage of his size and skill inside. That way, Giannis won't have to isolate from the top, something that he has been having trouble against the Heat.
Prediction: Bucks equalize series with a double-digit win over the Heat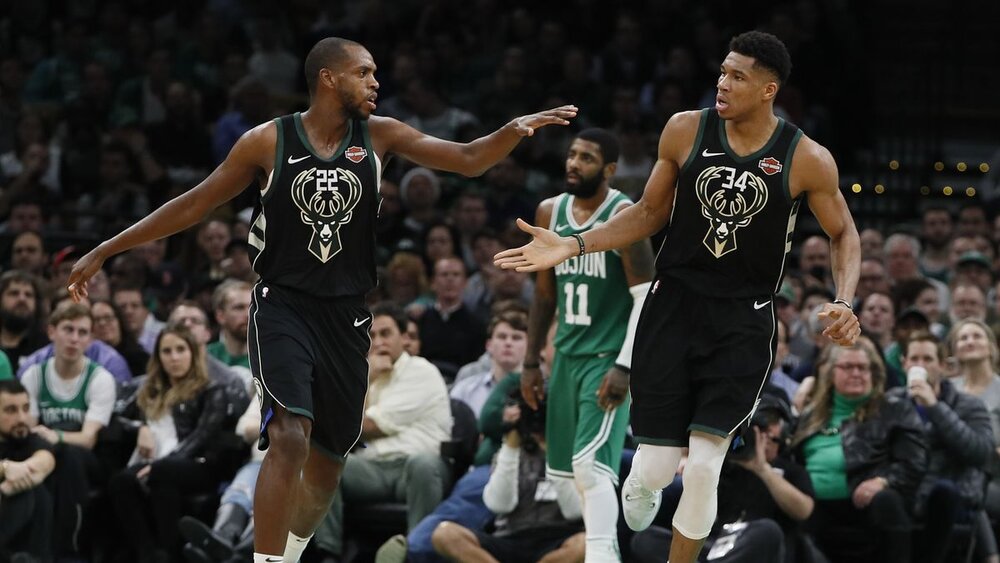 Milwaukee needs another superb game from Middleton to complement Antetokounmpo. (Photo by USA TODAY Sports)
The positive takeaway from the Bucks' loss in Game 1 is that the supporting cast stepped up. Khris Middleton put up a team-high 28 markers, while Brook Lopez produced 24. If these two veterans again come up with an efficient performance on offense, the Heat's defense will ease up on Giannis a bit and stay ready when he kicks the ball out to the Bucks' shooters.
On top of that, the Bucks have to sustain a strong start and not let up. The Heat is a resilient squad in the second half, and the Bucks could keep them at bay by also sustaining their energy from start to finish.
X-Factors
Butler poured in 40 points in Game 1 against the Bucks. (Photo by Mark J. Terrill/AP)
(1) Bucks – Giannis Antetokounmpo
With how the first game ended, it's clear that the driving force of Milwaukee's success lies on how Giannis performs when it matters the most. The reigning MVP found it very difficult to be effective in half-court sets, and he could solve that problem by avoiding high isolation plays. Giannis should be able to seal his defender on the post, aggressively ask for the ball, and then make the right decisions when double-teamed.
(5) Heat – Jimmy Butler
It remains to be seen if Butler can replicate his 40-point performance in Game 1, but the Heat needs him to again be aggressive with his shots. Just like in the first game, Butler will try facilitating the offense in the first half, then switch to his scorer version in the payoff period.