Donovan Mitchell, Mike Conley, and the Utah Jazz will put on a clinic and close out the Denver Nuggets in Game 6 of the opening round of the Western Conference playoffs.
Photo by Justin Ford/USA TODAY Sports
Game Details
Date: August 27, 2020 (August 28, 2020 in the Philippines)
Time: 4 PM ET (4 AM PST)
Location: ESPN Wide World of Sports Complex in Lake Buena Vista, Florida USA
Key Performers from Game 5
(3) Nuggets – Jamal Murray: 42 points, eight rebounds, eight assists, and zero turnovers
(6) Jazz – Donovan Mitchell: 30 points, four 3-pointers, five assists, and four turnovers
The Jazz fumbled a double-digit halftime lead in Game 5 and with it the chance to end the series with four straight wins
Things were looking up for the Utah Jazz in Game 5, as they took a 63-54 lead at the end of the first half and held a 15-point lead in the third quarter. However, Jamal Murray and Nikola Jokic played the entire second half and mounted a comeback that handed the Denver Nuggets a much-needed victory and extended the series by at least another game.
Murray continued to match Donovan Mitchell shot-for-shot, scoring 33 of his game-high 42 points in the second half. Jokic's 31 points were his highest in this series, and his five 3-pointers in the first half made up for Murray's early struggles.
Back-to-back 40-PT games for @BeMore27!

Jamal Murray's 42 PTS (33 in 2nd half) propel the @nuggets to Game 6, Thurs. (8/27) at 4pm/et on ESPN.#Drop40 #NBAPlayoffs #WholeNewGame pic.twitter.com/hkA08xgZxR

— NBA (@NBA) August 26, 2020
Prediction: Donovan Mitchell will lead the Jazz and end the series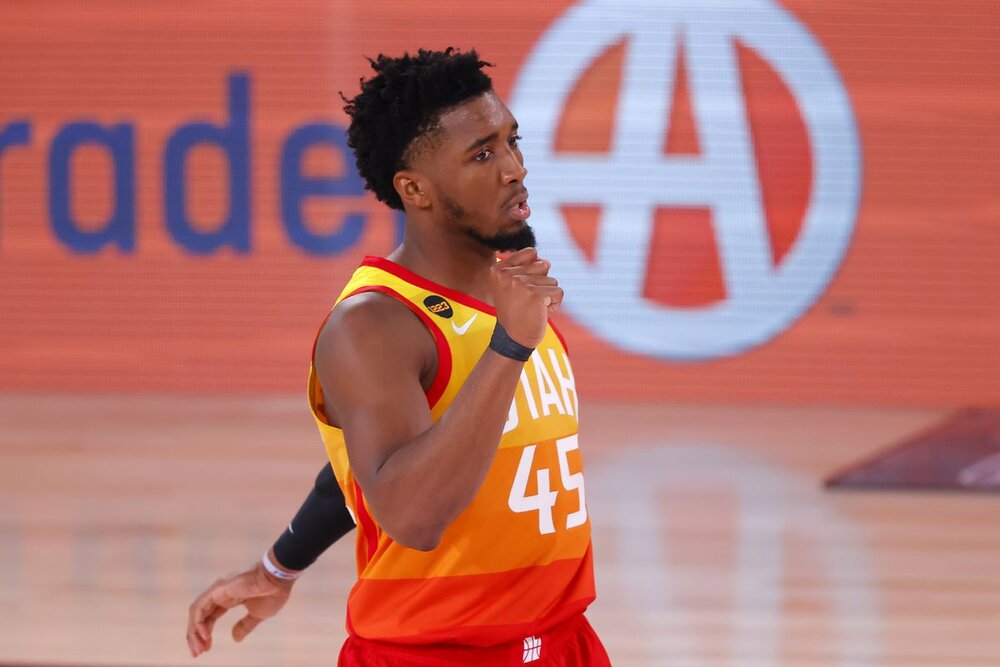 Photo by Kevin C. Cox/AP
The Jazz have withstood Murray's scoring prowess in this series by limiting Jokic and at times taking him out of his element. Mitchell, Jordan Clarkson, and even Conley have provided the offensive spark the past few games, but the emergence of Joe Ingles (13 points in Game 5) will provide another threat against the Nuggets.
Game 6 will see Jokic and Murray affected by playing the entire second half, with the former's conditioning being a perennial concern. Murray will still find his points, but he's clearly the marked man on their squad. Mitchell will have another classic performance, while he, Conley, and Ingles utilize switches on the pick-and-roll to allow Rudy Gobert to wreak havoc inside the paint.
Catalysts
Photo by Ashley Landi-Pool/Getty Images
(3) Nuggets: Nikola Jokic
While Murray has been scoring on the Jazz in bunches, the Nuggets live and die by Jokic. Most of their offensive sets run through him on the post and whether he's backing down on Rudy Gobert or flicking a pass toward a cutting teammate, the Serbian will need to further assert himself on offense to create more opportunities for his teammates and force Gobert into foul trouble.
(6) Jazz: Mike Conley
It was no surprise that Conley's "worst" game came during a Jazz loss. Prior to Game 5, Conley was 11-for-18 (68.75 percent) from behind the arc so he was due for a correction at some point. Regardless of his percentages, he will remain a threat whenever he's on the court and allow Mitchell to save his energy for the crucial stretches of the game. Look for Conley to remain active on both ends of the floor and complement the offensive outputs of Mitchell and Clarkson.