Chris Paul and the Oklahoma City Thunder have all the tools to pull off an upset over James Harden and the Houston Rockets.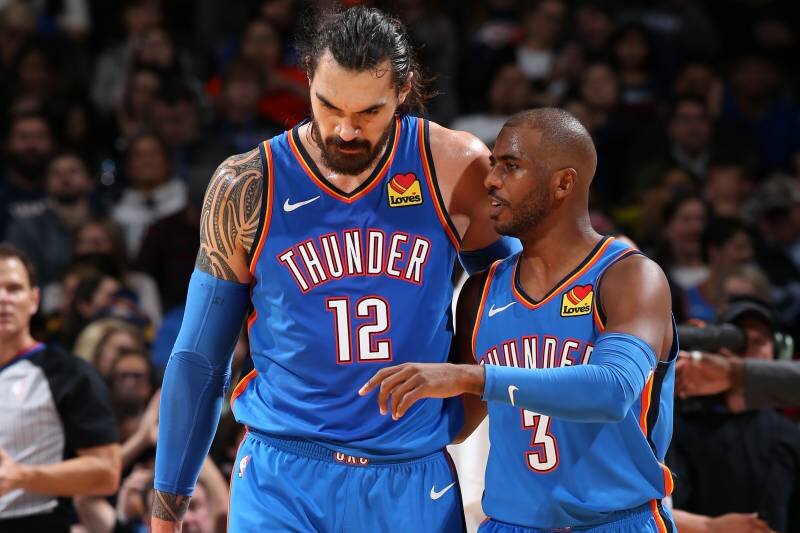 Photo by Zach Beeker/Getty Images
Key Team Stats
(4) Rockets – 2nd in points per game (117.6); 2nd in made free throws (26.1); 3rd in steals per game (8.7)
(5) Thunder – 4th in made free throws (19.8); 7th in allowed opponent points per game (108.4); 8th in field goal percentage (47%)
Key Injuries
(4) Rockets – Russell Westbrook (Quad), Thabo Sefolosha (Personal), David Nwaba (Achilles)
(5) Thunder – None
When will Westbrook return?
Photo by Kevin C. Cox/AP
Russell Westbrook is now reportedly sitting out Game 1 of the series due to his quad injury, but there's still no timetable regarding his exact return. The all-around versatility that he has is what makes the Rockets' micro-ball line-up possible, and it's safe to say that the team will sorely miss his services.
After his early struggles this season, Westbrook has bounced back big time and is now averaging 27.2 points per game, along with his usual high numbers in rebounds and assists. The Thunder should be able to take advantage of his absence, and that could be the ultimate X-factor in this series.
Can the Rockets' supporting cast step up every game?
Photo by Bill Baptist/Getty Images
With Westbrook out for at least the first game, the Thunder will feast upon Harden on the defensive end and force the former MVP to pass the ball. That leaves the responsibility of shot-making to the Rockets' supporting cast. Head coach Mike D'Antoni surrounded Harden with a bevy of deadly shooters for this reason of making teams pay for double-teaming their star player.
Austin Rivers recently dropped a career-high of 41 points, and Eric Gordon has always been a reliable secondary scorer. Jeff Green and Ben McLemore have been playing great, and Harden can always trust P.J. Tucker and Robert Covington to knock down their corner triples. Houston's gunners should convert on their open three-pointers, otherwise it will be a long series for them.
Paul orchestrates on both offense and defense
Photo by Zach Beeker/Getty Images
The Rockets will be going up against a familiar face in the form of Chris Paul, whose leadership has been vital for the Thunder's surprisingly good run this season. Paul knows D'Antoni's system as he was part of the team for a couple of years. That translated to their season series match-up, where the Thunder won two games and the Rockets barely winning one.
Prediction: Thunder escapes Rockets in Game 7
Westbrook is expected to come back at some point of this series, and that is when the Rockets would activate full throttle. This will be a long, grinding series and the Thunder would love that. They will tire and batter Harden on both ends of the court, and the Thunder should eventually move on to the second round after seven games.