Damian Lillard and the Portland Trail Blazers boosted their playoff hopes with a much-needed 110-102 win over James Harden and the Houston Rockets.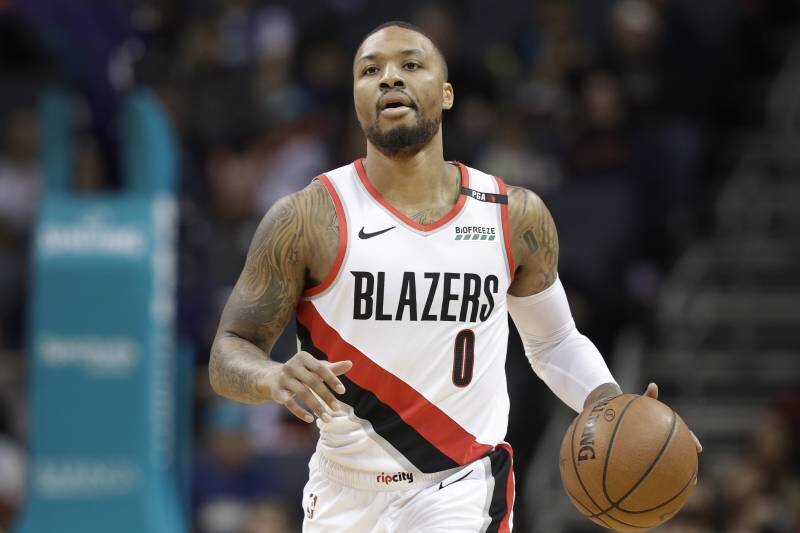 Photo by Chuck Burton/AP
The Blazers showed playoff composure in the regulation as they made crucial defensive stops and clutch baskets to put away the Rockets. Lillard led Portland as he stuffed the stat sheet with his 21 points, 9 rebounds, 8 assists and 2 steals. It was not a great shooting night for the All-Star guard, but he did enough to lead the Blazers to the close-call victory.
CJ McCollum also chimed in on the fun, finishing with 20 points, 7 boards and 5 dimes. Jusuf Nurkic amassed another massive double-double night of 18 points and 19 rebounds, to go along with his 3 assists and 3 blocks.
Gary Trent Jr. came off the bench to chip in 16 markers, while Carmelo Anthony had 15 points, 11 rebounds and a couple of crucial plays in the waning minutes. Anthony made a stop on Harden, then followed it up with clutch trifecta a couple of possessions later.
Harden topscored for the Rockets with his 23 points, while also adding 6 boards and 9 assists. Veteran stretch power forward Jeff Green produced 22 markers built on five treys off the bench. Danuel House Jr. and Russell Westbrook contributed 17 and 15 points, respectively.
With the 8th-seeded Memphis Grizzlies yet to book a win in the seeding games, this victory amps up Portland's playoff aspirations. The Blazers are just 1.5 games behind the last playoff spot in the West, and signs are pointing towards them snatching that slot.
SCORES
Blazers (110) – Lillard 21, McCollum 20, Nurkic 18, Trent Jr. 16, Anthony 15, Whiteside 9, Collins 8, Simons 3
Rockets (102) – Harden 23, Green 22, House Jr. 17, Westbrook 15, McLemore 8, Tucker 6, Covington 6, Rivers 5