Jimmy Butler outscored the entire Milwaukee Bucks squad in the 4th quarter as the Miami Heat is now a win away from the Eastern Conference Finals.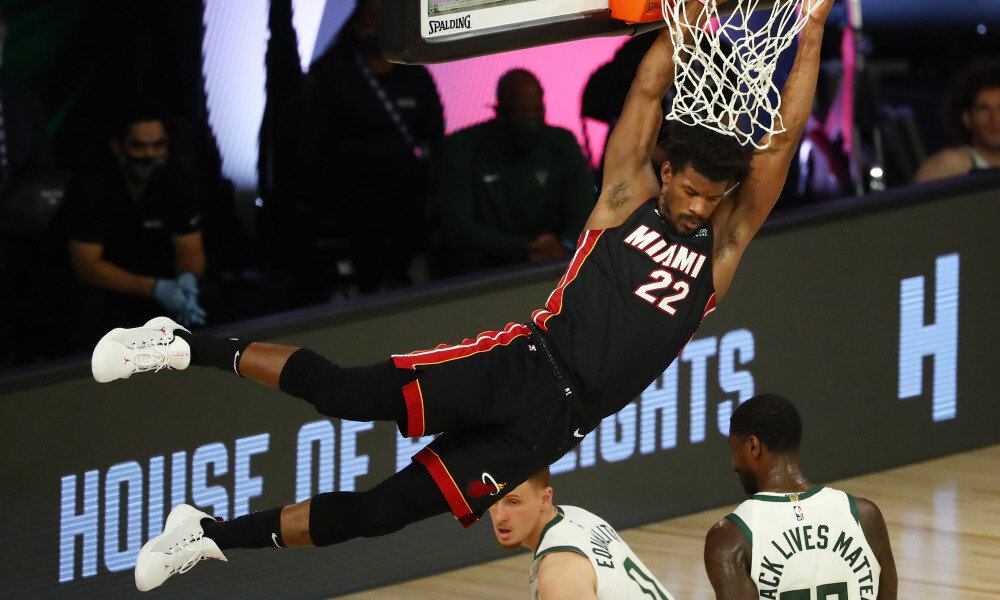 Jimmy Butler and the Heat are now a win away from sweeping the Bucks. (Photo courtesy of Andy Nesbitt)
Butler finished the game with 30 points, 7 rebounds, 6 assists, and 1 steal to give the Heat a commanding 3-0 series lead against the top-seeded Bucks. The Heat leaned on a 40-13 spurt in the final frame to pull way with the win, 115-100. All-Star center Bam Adebayo also piled up 20 points, 16 rebounds, 3 assists, and 2 blocks, and Jae Crowder added 17 to secure the win.
2020 Defensive Player of the Year Giannis Antetokounmpo tallied 21 points, 16 rebounds, 9 assists, 1 steal, and 2 blocks in a lowly 33.3% field goal shooting, including a 0=7 clip from the three-point territory as the Bucks found themselves in the brink of elimination. Former All-Star Brook Lopez added 22, while two-time All-Star Khris Middleton scored 18 points in the loss.
This will be a make or break season for the Bucks, as the Greek Freak will soon hit the free agency, and teams like Miami and Toronto will likely to pursue the 2019 MVP.
The Bucks led as many as 14 points, but was not able to capitalize on a win as they were not able to contain Heat's Butler. A Marquette product, Butler had a solo run in the 4th quarter, en route to a 40-point spurt of the Heat to complete the comeback. The Erik Spoelstra-led team will look for their first Eastern Conference Finals appearance since the LeBron James-Dwyane Wade era.
SCORES
Heat (115)– Butler 30, Adebayo 20, Crowder 17, Dragic 15, Herro 13, Robinson 6, Iguodala 6, Jones Jr. 6, Nunn 2, Leonard 0, Vincent 0
Bucks (100)– Lopez 22, Antetokounmpo 21, Middleton 18, Hill 13, DiVincenzo 10, Bledsoe 8, Matthews 6, Williams 2, Korver 0, Connaughton 0