The Boston Celtics clamped down on the defensive end as they carved a convincing 112-94 Game 1 victory over the Toronto Raptors.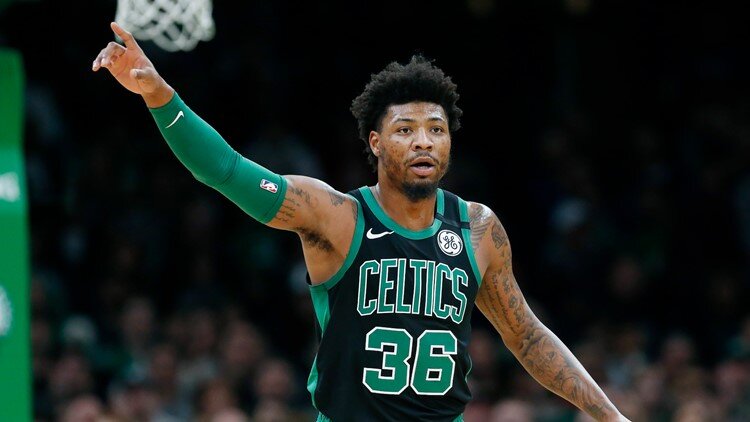 Boston's defensive ace Marcus Smart also clicked on the offensive end in Game 1 against Toronto. (Photo by Michael Dwyer/AP)
Despite the odds stacked against them, the Celtics leaned on their defense as they turned back the Raptors and hack out an early 1-0 series lead in the Eastern Conference Semifinals. Marcus Smart led the green-and-white squad on both ends of the floor, tallying 21 points, 6 rebounds and 4 assists.
Coming off a first-round sweep of the Philadelphia 76ers, the Celtics put up a massive opening quarter performance that gave them an early 16-point lead. Boston then followed it up with a gallant defensive stand in the second period, limiting the defending champs to just 19 total points.
The Celtics also saw six players scoring in double-digits. All-Star forward Jayson Tatum came up with 21 points and 9 boards, while Kemba Walker notched a double-double outing of 18 points and 10 rebounds. Daniel Theis, Boston's 6'8 starting center, held his own in the paint as he amassed 13 points, 15 boards and 2 blocks.
Veteran star guard Kyle Lowry led the charge for Toronto with his 17 points, 6 rebounds and 8 assists. His backcourt partner, Fred VanVleet, also contributed an all-around outing of 11 points, 8 dimes and 6 steals. All-Star combo forward Pascal Siakam only had 13 markers in the loss, as he battled foul trouble in the first quarter.
SCORES
Celtics (112) – Tatum 21, Smart 21, Walker 18, Brown 17, Theis 13, Williams III 10, Wanamaker 7, Ojeleye 3, Langford 2, Poirier 0, G. Williams 0
Raptors (94) – Lowry 17, Ibaka 15, Siakam 13, Anunoby 12, VanVleet 11, Powell 10, Gasol 7, Davis 7, Boucher 2, Thomas 0, Hollis-Jefferson 0