11-time All-Star Chris Bosh believes that a playoff series loss to the Celtics in 2012 would have disbanded the Heat's Big 3.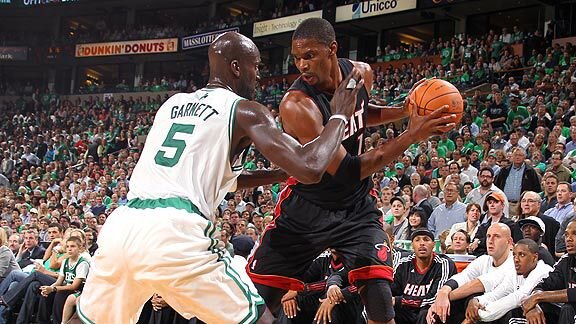 Photo by Nathaniel S. Butler/NBAE/Getty Images
In a recent episode of Zach Lowe's The Lowe Post podcast, Bosh expressed his relief that he and the Miami Heat came back from a 3-2 series deficit to beat the Boston Celtics during the 2012 Eastern Conference Finals. If the outcome went the other way, Bosh sounded almost sure that the Heat's star trio of him, LeBron James and Dwyane Wade would have broken up right away.
Here's a snippet of Lowe and Bosh looking back at that time when the Celtics cornered the Heat thanks to that memorable Paul Pierce's Game 5 winning three-pointer.
LOWE: "You go down 3-2, and you're going to Boston for Game 6. At that point, the vultures are circling. If you guys don't win two years in a row, and you didn't get to the Finals the second year—"
BOSH: "It's over. "
LOWE: "Do you think it's over?"
BOSH: "Yeah, for sure. It's over. There's nothing to talk about. Our goal is to win a championship. You get there and you don't win it then you don't even get to the dance (NBA Finals) the next time."
After a painful loss to the Dallas Mavericks in the 2011 Finals, it was all-or-nothing for the Heat the following year. They soundly defeated the New York Knicks in the first round, then was pushed to the limit by the Indiana Pacers before James and Wade saved the day.
But the Celtics were able to back them up against the wall, and the Heat would've crumpled if it wasn't for LeBron's legacy-stamping Game 6 performance.
You can dive in more on Bosh's thoughts on the Lowe Post podcast through the Spotify link below.