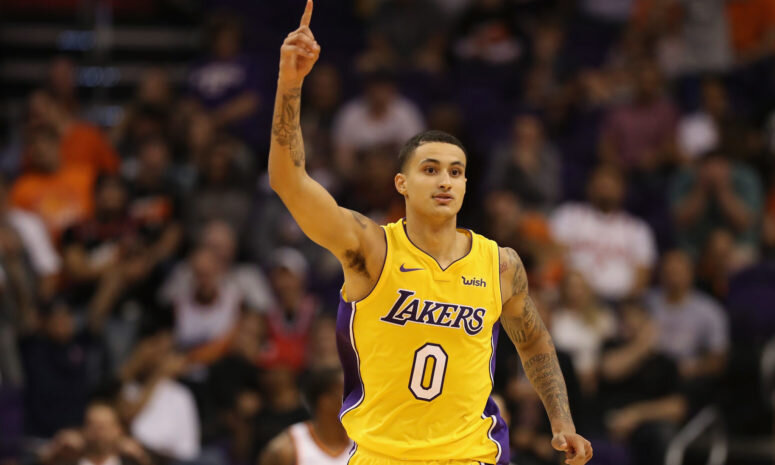 Photo by Christian Petersen/Getty Images
Three-time winner of the Sixth Man of the Year award Jamal Crawford emphasized Kyle Kuzma's importance as an X-factor for the Los Angeles Lakers' championship aspirations.
In an interview with former NBA point guard Jameer Nelson on the Court Vision podcast, Crawford reiterated his belief that Kuzma's shot-creating makes him an essential piece in the Lakers' pursuit of the Larry O'Brien trophy. Crawford pointed out that Kuzma is the only player on the Lakers roster outside of LeBron James and Anthony Davis who can generate offense on his own and ease off some of the workload of the team's two superstars.
"And Kuz is the guy who can generate offense other than LeBron and AD," Crawford told Court Vision. "He's definitely the X-factor."
There's no doubt that Kuzma is a multi-dimensional scorer, but it's also important to note that he is yet to compete in a playoff game. History tells us that experience is a huge factor when the stakes get higher, although Kuzma can write his own story and have himself a breakout performance in the playoffs.
Kuzma has his work cut out in front of him going into the season restart. His scoring this year is down to 12.5 points from a career-high of 18.7 last season. Of course, it can be attributed to the fact that LeBron and AD get the lion share of the Lakers offense. But Kuzma's shooting has been largely inefficient this season, putting up a measly 29% clip from the three-point line.
Still, his confidence and talent will surely get Kuzma over the hump. The 24-year old combo forward just has to pick his spots, and learn more of James and Davis' tendencies to improve his chemistry with the two superstars.
You can listen to Court Vision's sitdown with Jamal Crawford through the Spotify link below.