Mario Chalmers is ready to help out LeBron James again after Rajon Rondo suffered a thumb injury during practice.
Photo by Victor Baldizon/Getty Images
In an unfortunate development for the Western Conference frontrunners, the Lakers will be missing Rondo's playmaking abilities for at least the first six weeks of the season resumption. Shams Charania of The Athletic reported that the veteran point guard fractured his right thumb, a setback that could require him up to two months to recover.
Lakers guard Rajon Rondo has suffered a fractured right thumb, will undergo surgery and is expected to miss 6-to-8 weeks.

— Shams Charania (@ShamsCharania) July 13, 2020
Despite Rondo's miscues this season, he is still the Lakers' best playmaker outside of LeBron. Those six to eight weeks without Rondo could be crucial for the Lakers' backcourt, especially now that Avery Bradley has decided not to participate in the restart. The team cannot place too much burden on LeBron's shoulders as they need to be wise in pacing him so that he's still fresh when they reach the deeper stages of the playoffs.
However, a possible solution in the form of a two-time NBA champion has presented itself to the Lakers. On his own comment on Bleacher Report's Instagram post, Chalmers hinted out his desire to fill in for Rondo's absence.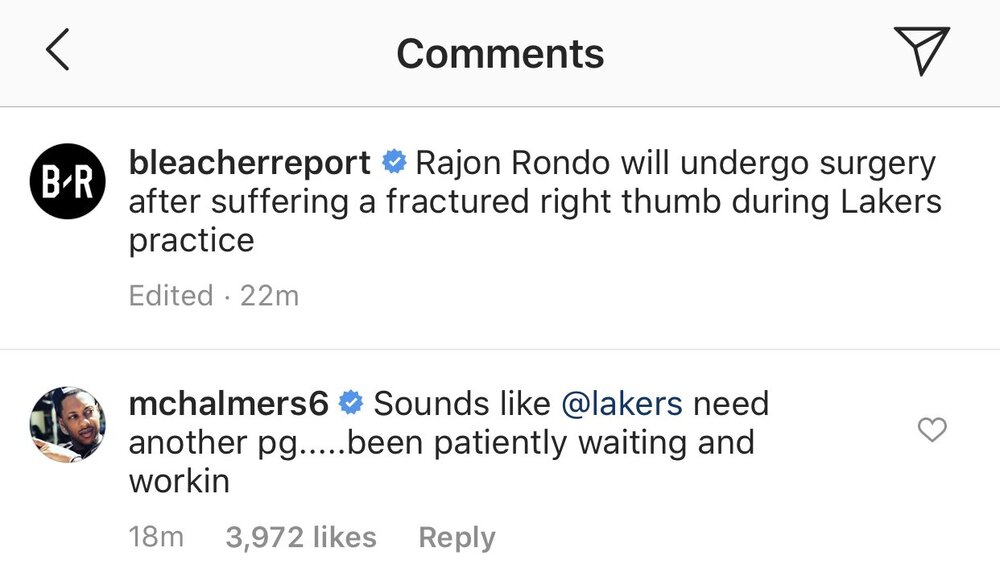 Should the Lakers bring in Chalmers?
This will be a difficult decision for the Lakers as Rondo's absence could pave way for newly-signed guards Dion Waiters and JR Smith to earn more playing time. Lakers fans are also clamoring for head coach Frank Vogel to give more minutes to back-up guard Alex Caruso. Caruso has been an all-around wonder for the team, and he rarely makes wrong decisions with the ball.
Sure, Chalmers have the championship pedigree but could he quickly build the much-needed chemistry with the Lakers? The season resumption presents a sprint for the teams, not a marathon. There's only so much time for each team's build-up towards the playoffs, so bringing in another new figure would not be feasible for the trophy-chasing Lakers.