Photo by AP
Former All-Star Gilbert Arenas revealed that when he became a free agent in the summer of 2008, the Golden State Warriors offered him a new house along with a max contract.
Arenas sat down with former Washington Wizards teammate Larry Hughes on the Bleav in Wizards podcast, and talked about that potential return to the Bay Area in 2008. It is worth remembering that Arenas spent the first two years of his career in Golden State, where he also won the Most Improved Player of the Year award in 2003.
"I get the word that Baron Davis just opted out of his deal and is going to the Clippers," Arenas started. "So Golden State hits me and says, "We'll be giving you the max. $101 (million) for five years. You got a new house for you, whatever you want, we got it.""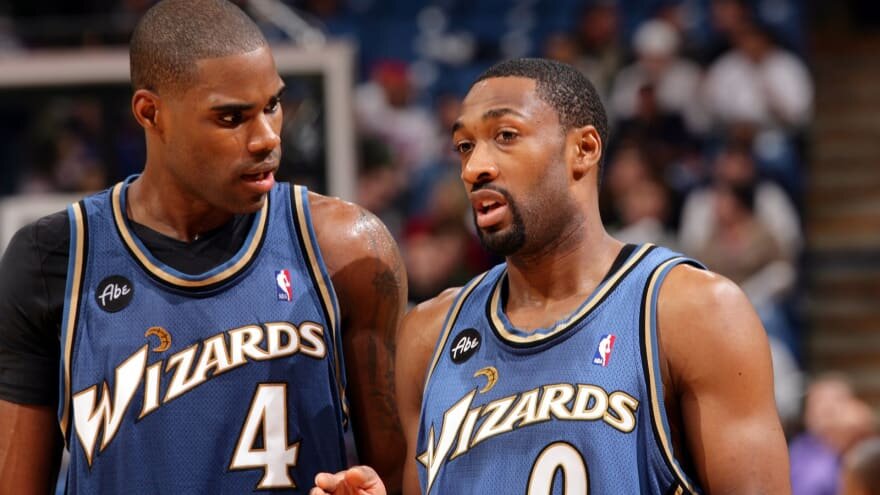 Photo by Rocky Widner/Getty Images
But the three-time All-Star shunned the offer from the Warriors, and re-signed with the Wizards on a six-year, $111 million contract. It was less than the max, but Arenas took it so that Washington will have enough cap space to re-sign Antawn Jamison. Jamison was coming off an All-Star season with the Wizards in 2008, and was also a free agent that summer.
It would have been interesting to see how Arenas would have fared in a comeback as a Warrior, especially considering the fact that Golden State drafted Stephen Curry the following year. An Arenas-Curry tandem on the backcourt would have some problems defensively, but they would be an absolute wonder to watch on offense.
To listen more on Arenas' sit-down with Hughes on the Bleav in Wizards podcast, you can go through the Spotify link below.