Despite not wanting to team up with superstars, Ron Artest says that he had to join Kobe Bryant because the Lakers were the only team that offered him a contract in the summer of 2009.
Ron Artest says that he initially did not want to join Kobe Bryant and the Los Angeles Lakers. (Photo via Getty Images)
Artest, who is now known as Metta Sandiford-Artest, won his first and only NBA championship with the Kobe-led Lakers in 2010. Artest's clutch three-point shot in Game 7 of that Finals face-off with the Boston Celtics is one of the most memorable moments of his career.
However, it also turns out that Artest initially did not want to team up with Kobe, or any other superstars for that matter. But when Artest became a free agent in 2009, the Lakers were the only NBA team to offer him a contract. The former Defensive Player of the Year appeared on The Opinionated 7-Footers podcast and told hosts Ryan Hollins and Brendan Haywood about this story.
"Right before I was a free agent, my little brother King James called me, asking me to come to the Cavs. I'm like, I'm not going to go there because I need to beat these guys," Artest told Hollins and Haywood.
"But the problem was with my history, no teams wanted me," Artest continued. "The first team I called was Detroit, then we kind of get back to Indiana. We tried to get back to Houston, but that was not happening.
Then the Lakers called, and they're literally the only team that called. So I had no choice but to play with Kobe. That was the whole history of that."
While Artest has established himself as a gritty lockdown defender throughout his NBA career, many people still can't forget the "Malice at the Palace" brawl between the Detroit Pistons and the Indiana Pacers. Playing for the Pacers back then, Artest figured in a key role in the commotion, even attacking Detroit fans at the stands.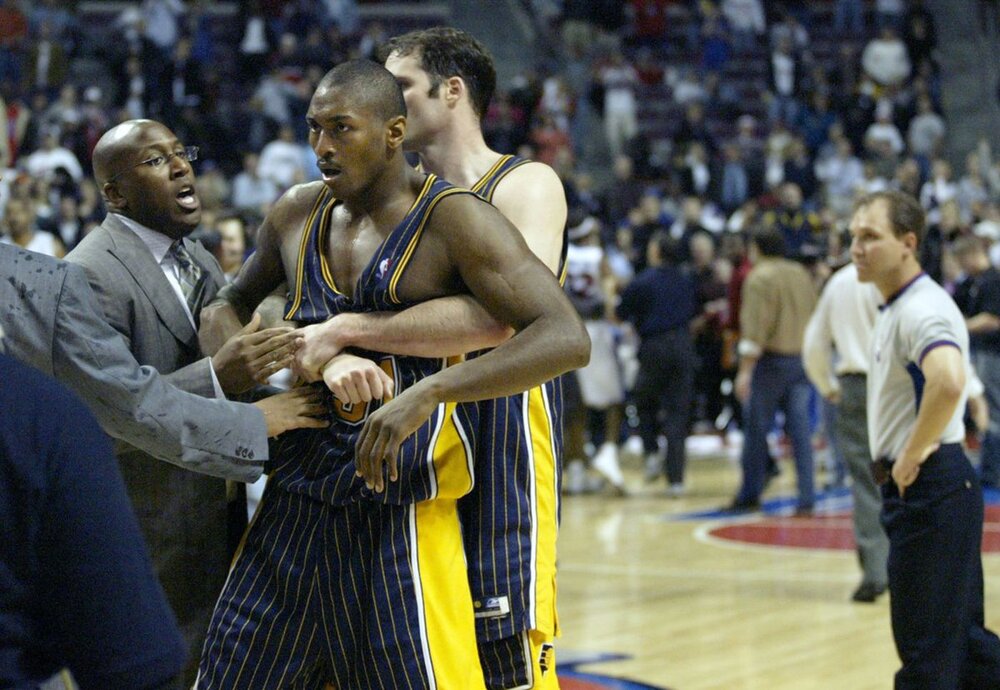 Artest played a key role in the "Malice at the Palace" brawl. (Photo by Duane Burleson/AP)
Artest has all-around career averages of 13.2 points, 4.5 rebounds, 2.7 assists and 1.7 steals per contest. He notched his only All-Star appearance when he was still balling out for the Pacers during the 2003-04 season. Artest remains as one of the most polarizing players in the NBA, but there's no doubt that his high level of competitiveness complemented Kobe's tough mentality.
Artest last played for the Lakers in 2017, appearing in only 25 games.