After news of Klay Thompson's injury broke out, NBA stars like LeBron James and Paul George extended their support to the Golden State Warriors All-Star.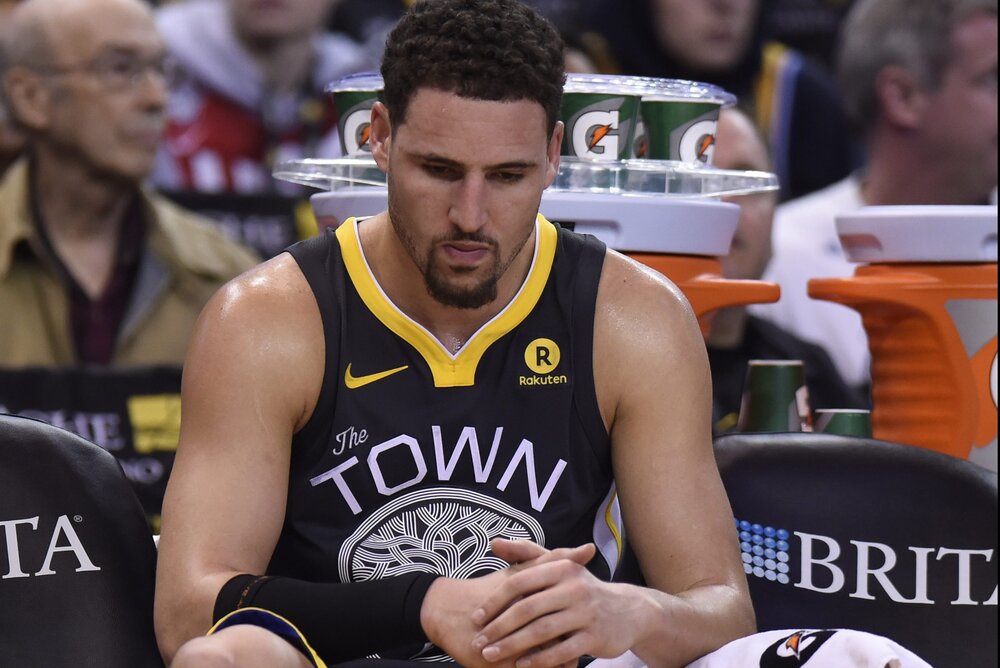 Klay Thompson recently suffered a leg injury. (Photo via The Mercury News Group)
The Warriors have suffered a huge blow ahead of the 2020 NBA Draft. Shams Charania of The Athletic reported that Klay has sustained a lower leg injury. There's still no timetable for his return as the five-time All-Star is still undergoing a series of tests to know the severity of the injury.
Klay Thompson was unable to place weight on his lower leg injury leaving the gym today, sources said. Everyone is hoping for the best. https://t.co/kcxYJczNmX

— Shams Charania (@ShamsCharania) November 18, 2020
There's still hope that the injury will not keep Klay out for a long time, but Marc J. Spears of The Undefeated gave a hint that things are not looking good in the Warriors camp.
An NBA source in the know about Klay Thompson's injury simply answered to me: "Not good."

— Marc J. Spears (@MarcJSpears) November 19, 2020
After this unfortunate news broke out, tons of NBA stars expressed their support for Thompson. The Warriors shooting guard missed the entirety of the 2019-20 season due to a Torn ACL injury, and the whole basketball community is already itching to watch him shoot the lights out again.
LeBron James
Klay and the Warriors defeated LeBron three times out of the four Finals match-ups they had, but the Los Angeles Lakers star only had positive words to say for the former Three-Point Shootout King.
Praying a lot @KlayThompson is cool!! Like it's super minor.

— LeBron James (@KingJames) November 18, 2020
Paul George
George had his share of health setbacks owing to the horrible leg injury he suffered in a Team USA scrimmage. The Los Angeles Clippers star tweeted out his support for Klay.
Praying for you bro @KlayThompson

— Paul George (@Yg_Trece) November 19, 2020
Bradley Beal
— Bradley Beal (@RealDealBeal23) November 18, 2020
Donovan Mitchell
Prayers up man @KlayThompson

— Donovan Mitchell (@spidadmitchell) November 19, 2020
Jeremy Lin
Nooo not Klay…back to back injuries are the most gut-wrenching. But he's a beast. His story is far from over and still being written

— Jeremy Lin (@JLin7) November 19, 2020
DeMarcus Cousins
Damn Klay keep your head up bro

— DeMarcus Cousins (@boogiecousins) November 19, 2020
CJ McCollum
Damn hope you good bruh @KlayThompson

— CJ McCollum (@CJMcCollum) November 19, 2020
Trae Young
— Trae Young (@TheTraeYoung) November 18, 2020