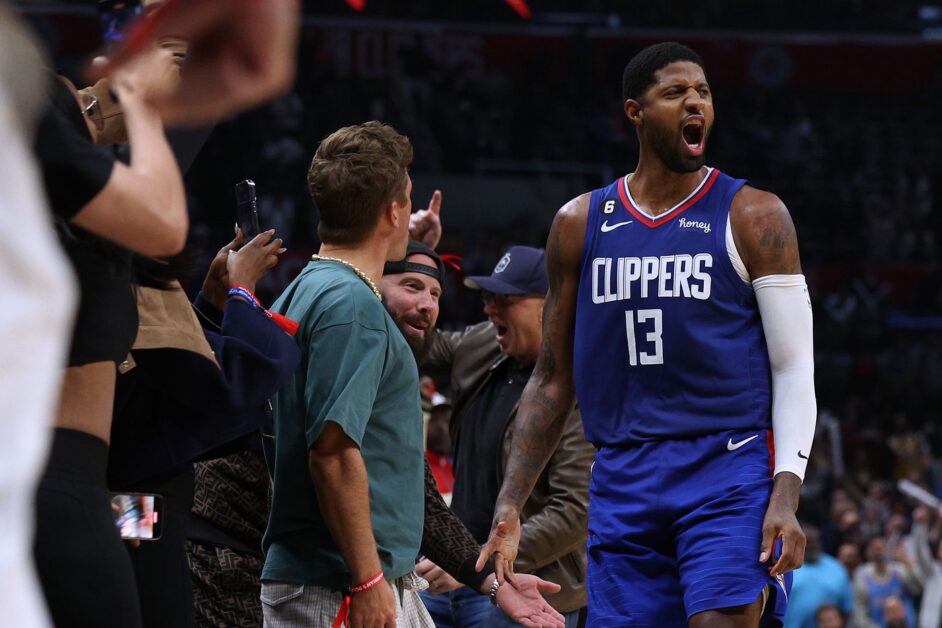 Injuries happen in every sport, but in some getting injured is more inevitable, the NFL is notorious for this, as is the NBA. Both of these sports have one injury that tends to be most common: ankle injuries.
However, sometimes the injuries get much more severe.
No matter who is favorite to win, if a major injury takes hold, everything can change, the entire outlook for the season can be rocked, and this is something any sports fan is all too familiar with. Such as the events in the NBA in 2014.
Yes, that is right, today, we want to cover the horrific injury suffered by Paul George, and his outstanding recovery and comeback!
A Very Gruesome Injury
Back in the summer of 2014, while he was playing for Team USA, the legendary Paul George suffered quite a horrific and gruesome leg injury in a game in Vegas during a scrimmage. 
So many people thought his career was over due to the compound fracture of both of the bones in his right lower leg.
If you watched it, you surely know how tragic of a scene it was to watch this awesome player get hurt. Irving was crying in his father's arms after this happened, and many legends such as Derrick Rose and Kevin Durant were in complete, horrified shock as they watched Paul George get taken off of the court on a stretcher. 
While this scene rife with tragedy made so many think that would be the last we would see of George, it most certainly was not, and he fought hard and carried on.
Still Fighting
It was amazing to see that he simply would not give up, George did not miss the whole season in 2014-2015. He actually managed to appear in 6 games for the Pacers near the end of their campaign.
He still averages 3.7 rebounds, 8.8 points and 1 assist in 15.2 minutes per contest, choosing 72.7% from the free-throw line, 36.7 from the field, and 40.9 from beyond the arc.
Then, after that season had ended, but before the next began, what would happen in relation to Paul George was a total mystery, no one had any idea of what to expect. Some people thought he would end up being a role player for the remainder of his basketball career.
He did not seem to like this prospect at all and ensured this was not what would happen. 
The Following Season: An All-Star
Bettors and bookies, as well as most of the fan base were so unsure of what to think, and everyone was betting differently. But, against the spread or not, things changed quickly in the 2015-2016 season.
George made one hell of a show to show the world he was back, and better than ever. He managed to average at 23.1 points per game with the Pacers, and that year he made the All-Star team too! 
The entire basketball fan base was totally thrilled and thrilled to see how George played the game he loved, and at such an elite level after such a horrific injury!
Those who believed that he would end up being a role player ended up nowhere to be seen in that year, as George made sure to prove them wrong, with all had.
Then, in the following season, from 2016-2017, he put up an epic 23.7 points per game and ended up making the All-Star team once more. Now, he was back in the company of elite players, and it was such a joy to see him back where he wanted to be.
His leg injury did not hold him back.
Sadly, that was the last season he spent with the Pacers, after the 2017 playoffs, he told the management of the Pacers he would not be re-signing with them, and he became a free agent in the off-season. 
The Pacers ended up having to put him on the trade block, simply because they could not lose him and not get anything in return!
Joining Oklahoma City
In July 2017, the Pacers decided to trade George to the Oklahoma City Thunder, reports said that George wanted to go off to the Clippers or Lakers, but the Pacers were not going to do him any favors.
With the Thunder, he played alongside Westbrook and averaged 21.9 points per game, but they still lost in the playoffs in 2018. After the loss, everyone thought George would skedaddle and sign elsewhere. 
But, he stayed and re-signed with the Thunder for a 4-year contract. It was a hell of a big-money contract as many thought he would never see anything like that again after his injury.
An Incredible Comeback: Summary
Paul George played in the NBA as an All-Star legend, however, his leg injury had everyone thinking that it would be the end of the game for him. But, in spite of his injury, he kept going and kept playing well for years hence.
A legendary player no one wanted to lose and an All-Star even after his injury. There are some lessons we could all learn from Paul George.