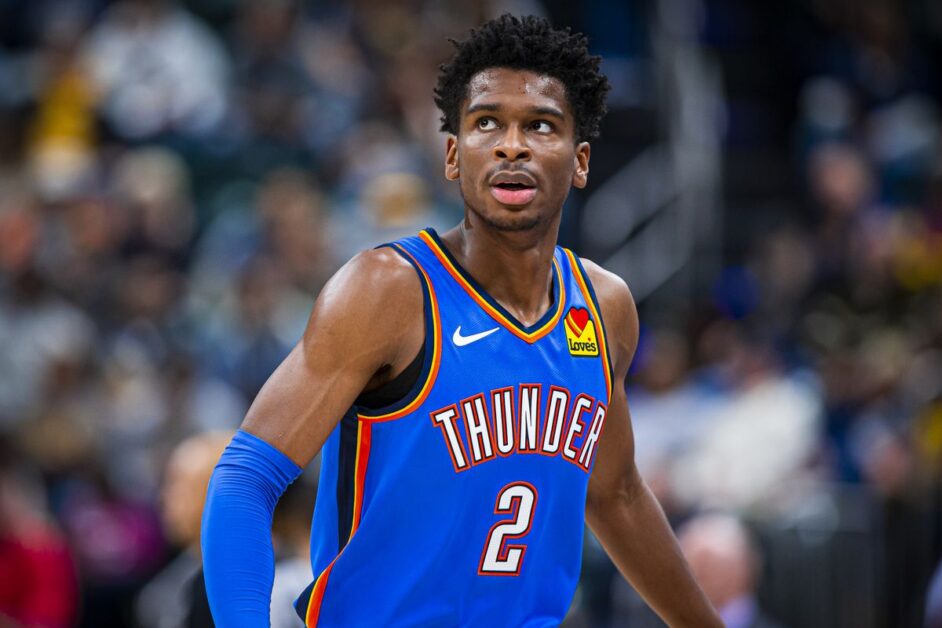 You may not know, but the NBA is being overrun by Canadian players. Young Canadian players ⎯ it's not out of the realm of possibility that in a few years, we could have multiple Canadian All-Stars, which is something that we don't think has ever happened before.
There have been some incredible Canadian players in the past, like Steve Nash, but never has there been the volume that we are seeing in the current season. And not just role players⎯shining talent and players who make a difference in their team on a nightly basis. In this article, we'll look at this takeover and check out some of the top Canadian talents in the NBA right now.
Current Potential Canadian NBA All-Stars
Let's first look at the current top Canadian talent⎯those players who have the potential to be All-Star material.
Shai Gilgeous-Alexander ⎯ Oklahoma City Thunder
No one thought SGA would develop into the player he has after his less-than-stellar rookie year with the Clippers. However, this year, he is one of the main talking points of platforms like Betway Insider, relating to the Canadian takeover of the NBA.
SGA is putting up career-high numbers in scoring and is right up there with the superstars of the league like Kevin Durant and Giannis. You can count on him easily dropping 30 on any given night with Oklahoma and this could be his first All-Star year! We hope that he continues to progress and show the league why his talents should be taken seriously.
Andrew Wiggins ⎯ Golden State Warriors
When Wiggins went to Golden State, it wasn't a blockbuster trade, but it was certainly the best move of his career. Since leaving Minnesota, Wiggins has seemingly improved in most areas of his game⎯most notably, defense. 
He is now rated as one of the top perimeter defenders in the league and his All-Star selection last year was well-earned. Indeed, aside from Steph Curry, Wiggins was easily the best player on the team and made much more impact than Klay Thompson and Draymond. He is still playing great this year and we are happy to see his fortunes improve with Steve Kerr and Co.
Jamal Murray ⎯ Denver Nuggets
Murray is back in shape and although he hasn't hit his best stride, there is still plenty of time for him to do so. If Murray gets back to how he played in the 2020 playoffs, we are in for a treat! His scoring and playmaking abilities during that run were incredible, and it was just such a shame that he took that injury.
If he had not suffered from the injury, he would undoubtedly be an All-Star this year. Regardless, he is making a difference with Denver, together with MPJ and Jokic.
Other Notable Active Canadian NBA Players
In total, there are 23 active Canadian players in the NBA. These are record numbers and although there are admittedly some bench-warmers, there is plenty of real talent too. The following are the other most notable Canadian NBA players
Nickeil Alexander-Walker
RJ Barrett
Khen Birch
Chris Boucher
Dillon Brooks
Brandon Clarke
Luguentz Dort
Cory Joseph
Dwight Powell
Kelly Olynyk
Bennedict Mathurin
Mathurin is currently in the top standings for the Kia Rookie of the Year, though most people thought Banchero would easily win. He is playing incredibly for Indiana and is a key part of their team already.
Brooks and Clarke are important players for the Memphis Grizzlies and were highly valued players from their incredible run last season. They continue to shine and show what Canadians are made of.
Kelly Olynyk has seemingly found a new home with Utah and is playing better than ever. This three-point shooting is off the charts, and he gives so much to the youngsters. Likewise, Dwight Powell remains a solid player for the Mavs and although he doesn't give mega numbers, he is reliable, consistent, and tough.
RJ Barrett is still improving and although his numbers have dipped a little, he is playing great for the Knicks, and with the right direction and development, he could easily be an All-Star in a few years' time. Other players like Nickeil Alexander-Walker, Birch, and Boucher may not get massive minutes, but they certainly show promise.
With this current list of Canadian NBA players, we are excited to see how things progress. Could we see a year where SGA, Murray, Wiggins, Mathurin, and Barret are all All-Stars? It's certainly not impossible! This Canadian invasion of the NBA is a breath of fresh air, and we will watch these young players' careers with keen interest.