After a brief postponement, NBA resumed the playoffs as Giannis Antetokounmpo and the Milwaukee Bucks showed no signs of rust as they send the Orlando Magic home after five games.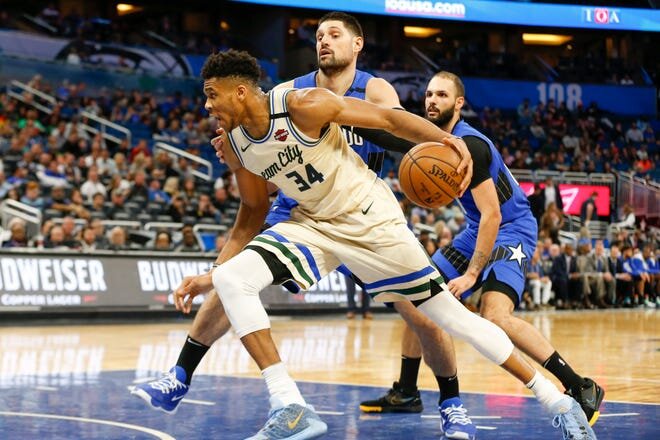 Giannis Antetokounmpo tallied a double-double in the series closer against Orlando. (Photo courtesy of Reinhold Matay/USA Today)
The MVP frontrunner tallied 28 points, 17 rebounds, 3 assists, and a block while two-time All-Star Khris Middleton added 21 points, 10 rebounds, 7 assists, and a steal to seal the series against the Magic. Brook Lopez contributed 16 points and 7 rebounds in 7 of 12 field goals to solidify the win. The Bucks won 4 straight games after losing the playoff opener.
Nikola Vucevic led the Magic with 22 points, 15 rebounds, and 5 assists as the team suffered from a jinx from last year's playoffs. After winning game 1, Orlando was not able maintain the momentum, losing the next 4 games. Without athletic forward Aaron Gordon, who was not able to play throughout the series due to hamstring injury, and Jonathan Isaac, who suffered a season-ending knee injury during the seeding games, containing the Greek Freak became a huge nightmare for the Magic.
The Bucks started to pull away in the second frame as the Cream City sparked a 41-29 run to end the first half. The Magic tried to fight back in the 3rd quarter, but it was not enough to get on equal footing with the streaking Bucks. The Bucks led as many as 21 points en route to a 118-104 win.
After a highly-expected dominant performance, Milwaukee booked a second round duel against Jimmy Butler and the Miami Heat.
SCORES
Bucks (118)– Antetokounmpo 28, Middleton 21, Lopez 16, Williams 12, Hill 11, Bledsoe 10, Korver 5, Connaughton 4, Ilyasova 4, DiVincenzo 4, Matthews 3
Magic (104)– Vucevic 22, Fournier 18, Augustin 15, Fultz 14, Ross 13, Ennis III 9, Iwundu 8, Birch 4, Clark 1