The Toronto Raptors and the Boston Celtics will face off in the conference semis as both teams swept their respective first-round opponents.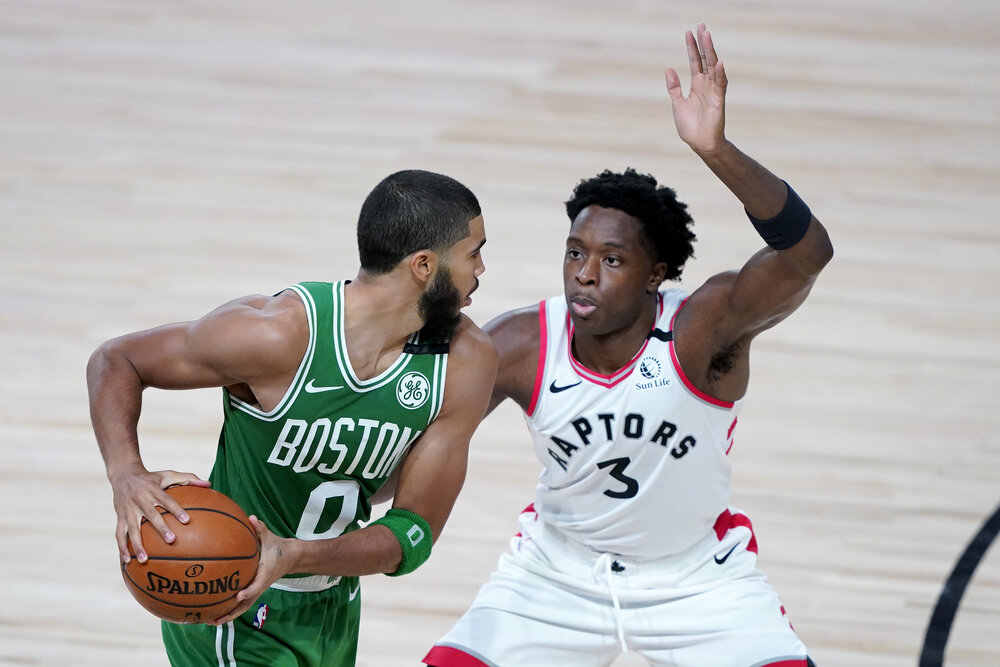 Photo by Ashley Landis/AP
Kemba, Celtics put away Embiid and Sixers
The Philadelphia 76ers had a precarious one-point lead by the end of the first half, but the Boston Celtics used a brilliant third quarter performance to hack out a 110-106 victory and move on to the second round of the playoffs. Kemba Walker led all scorers with 32 markers, while Jayson Tatum came up with a massive double-double outing of 28 points and 15 rebounds.
Embiid tried to do it all but his all-around numbers of 30 points, 10 boards, 3 steals and 2 blocks were not enough to will the Ben Simmons-less Sixers to the win. Tobias Harris produced 20 markers, while Josh Richardson and Shake Milton chipped in 14 apiece as the Sixers end their 2019-20 campaign with a disheartening first-round exit in the postseason.
Powell, Raptors trample Nets to sweep series
The defending champs wasted no time as they made easy work of the Brooklyn Nets and come up with a lopsided 150-122 victory. Norman Powell came off the bench to tally a team-high 29 markers, built on five hits from the three-point line. Veteran big man Serge Ibaka scored 27 points and hauled in 15 rebounds, while only missing two of his fourteen attempts from the field.
Caris LeVert led the charge for the Nets, finishing with a game-high 35 points, to go along with his 6 boards, 6 dimes and 2 interceptions. Tyler Johnson had 13 points, and Dzanan Musa contributed 12 off the bench. The loss ends the Nets' year, but there's no doubt that they will bounce back big time next season when Kyrie Irving and Kevin Durant return from their respective injuries.
For the Raptors, the win sets them up on a semifinals date with the Celtics. They only won once in the four games that they played against Boston this year, but the playoffs is always a different atmosphere and the Raps' championship experience will definitely be a boost.