Having teamed up with him during their glory days with the Phoenix Suns, Raja Bell believes that new Brooklyn Nets head coach Steve Nash will thrive and excel in his new role.
Steve Nash and Raja Bell during their glory days with the Phoenix Suns. (Photo by Jeff Topping/REUTERS)
During a recent episode of The Ringer NBA Show podcast, Bell told co-host Logan Murdock that he believes that Nash will achieve tons of success in his newfound career as an NBA head coach.
"I did know that if Steve wanted to, that he has a lot of good qualities that good coaches have. Number one, he sees the game in a way that not everybody can see the game," Bell told Murdock. "A lot of great ones see it like that, but not everyone can communicate it to you.
And Steve was always able to do that. If we're in practice the day after a game and situations have occurred in the game that we went over in film, I feel like I can go to Steve and say, 'Hey man, what did you see there? Talk to me about when you were going through that and what were you looking for.'
Most good players can see those plays, but they can't articulate them to you."
Bell and Nash were teammates from 2005-2009, an era in which the uptempo Suns squad first introduced the small-ball line-up under head coach Mike D'Antoni. Nash would win two Most Valuable Player of the Year trophies, and lead the Suns to the brink of making it to the Finals.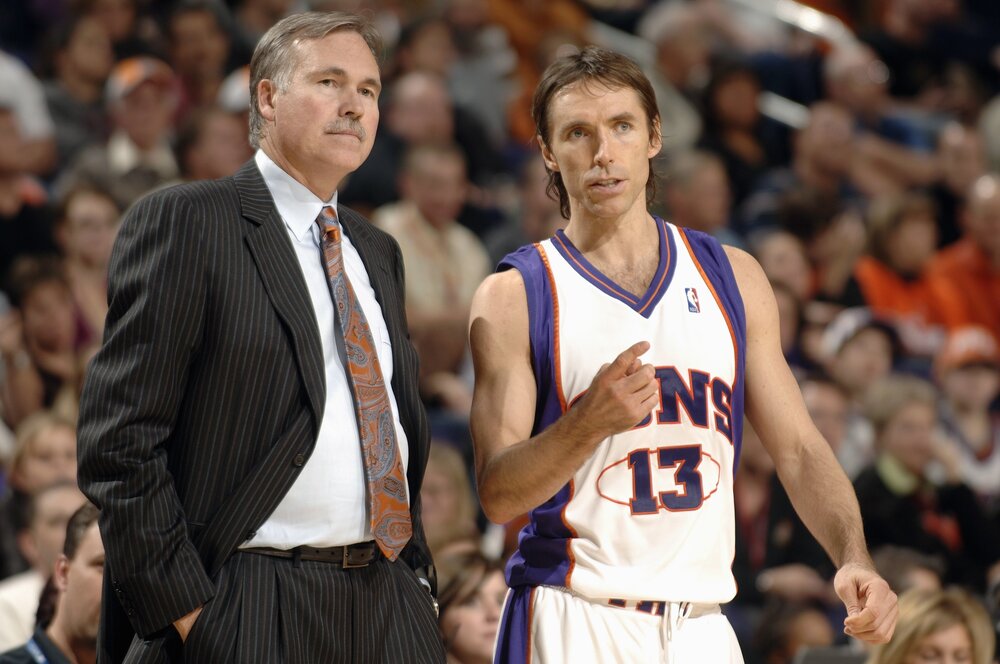 D'Antoni's "seven seconds or less" offense highlighted Nash's creative playmaking. (Photo by Barry Gossage/NBAE/Getty Images)
Despite the fact that Nash wasn't able to steer the Suns to a coveted championship, he remains as one of the best court generals in basketball history. The Brooklyn Nets recently hired Nash as their new head coach, an unprecedented move that shocked the NBA community.
After his playing career in the league, Nash served as a consultant for the Golden State Warriors. He is notable for bringing in his knowledge of shooting drills that Stephen Curry and Kevin Durant practiced to hone their long-range marksmanship. Nash's close relationship with Durant also became a factor in the Nets' decision to hire him.