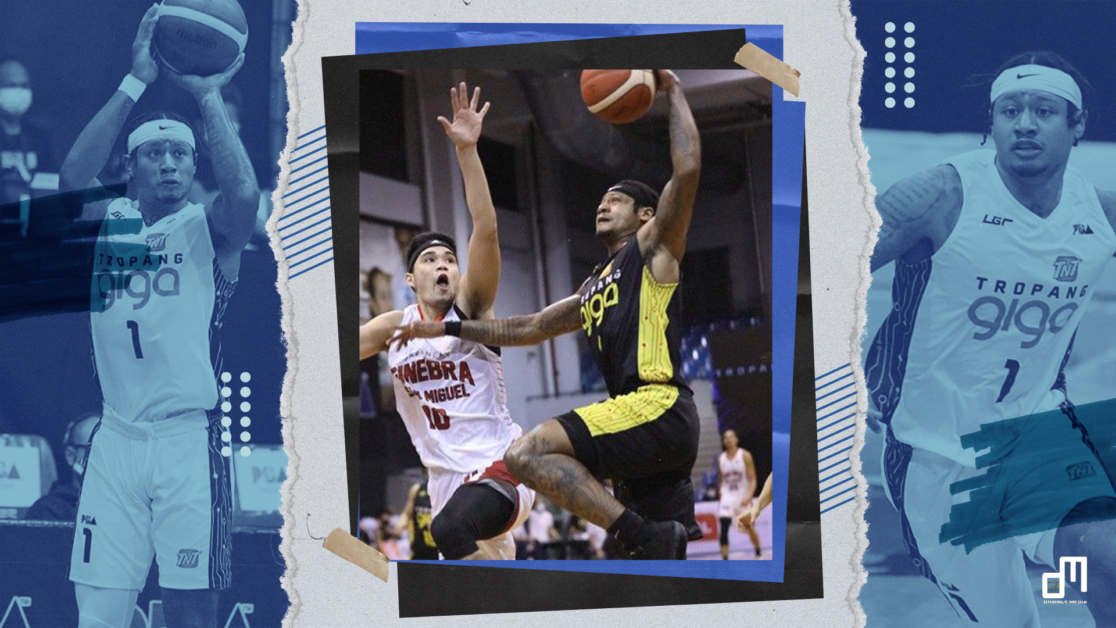 Back in 2011, Bobby Ray Parks Jr. took the local basketball scene by storm with an unmatched combination of skill and physical dominance. At 18, the Parañaque-born guard posted historic numbers in his debut season with the National University Bulldogs and took home what would be the first of back-to-back UAAP Most Valuable Player awards.
He's only gotten better since. But a little over 10 years later, for reasons unknown, Ray has become underrated in mainstream basketball discussion. His move to the Nagoya Diamond Dolphins in the B.League should feel bigger than it actually is. This isn't the story of a young player filled with potential headed to play in a foreign league; this is a PBA star, an MVP-level player in his prime leaving the domestic scene and playing abroad. 
We last saw Ray in the 2020 PBA Philippine Cup, where his TNT Tropang Giga lost in the Finals against Barangay Ginebra. Hobbled by a calf injury, he only played one game before spending the rest of the series watching from the sidelines. It wasn't the storybook ending that would have been a perfect way to cap off one of the most dominant All-Filipino Conference performances (from a guy not named June Mar Fajardo) in recent memory.
Despite his on-court dominance, there was little buzz. Off-court issues abound and award snubs happened. But none of this should make us forget that, on the floor and on the stat sheet, Parks was objectively the best player when he was healthy and available. 
Today, let's try to contextualize Parks' capabilities as a basketball player and why he's one of the best we have today. A good baseline would be the Phoenix-TNT series in the 2020 semifinals, where the 28-year-old star put on an absolute masterclass.
Parks was absolutely dominant in the series. With his teammates underperforming in terms of shooting efficiency, he absolutely lit up defenses to the tune of 27.8 points per game on 66.8 TS% (which was 15.4% above league average). Statistically, it's easy to see that he was the best player on the floor.
Even when we scale their performances on a per possession basis, Ray was still ridiculous compared to the field. He performed at a high level in every facet of the game  — he shot the ball well, scored a ton, helped his teammates with his playmaking, and defended at a high level. Now we can move on to the film.
On his first step and craft
Defending Parks going downhill is an uphill battle for whoever's in front of him. He can accelerate really well from a standstill and incorporates ripthroughs and shoulder fakes to attack defenders. As long as there's decent spacing on the floor and he has good teammates that defenders can't cheat off, whoever's guarding him rarely matters. It could be an average defender like Matthew Wright or an elite man defender like Calvin Abueva, and Parks could still blow them by.
He isn't a one-trick pony heading to the basket. The job isn't finished when he gets that first step in. He is a master at using his non-dribbling hand to aid the creation of separation. By physically warding his man off with his hand, he displaces them and provides a clearer path to the basket. He does so without threading the line of legality which ensures that the move is replicable multiple times in a game. Once he's at the rim, he's fantastic at using his body to create distance between his shooting hand and the closest defender. This ensures a clean shot at the rim and could create foul-drawing contact. 
Parks is listed at 6'4" and 215 lbs, which isn't far from Dwyane Wade's billing of 6'4" and 220 lbs. Simply put, Parks is well-built with a good frame for handling contact. Defenses aren't so simple as to pave an easy path to the rim after a blow-by, as rotations occur and bigs are waiting near the cup to send weak stuff back. But that's not a huge problem for Parks. He can absorb contact really well, which means that he can get hit and still manage to finish while drawing fouls. 
His frame also helps him embrace and initiate contact. He ranked 9th in the PBA among all non-bigs in FTAr (or the rate of foul drawing). In the top 10, only San Miguel's Chris Ross took a higher proportion of threes. In fact, only three players in the top 10 took more than 45% of their shots from three — Parks, Ross, and Rain or Shine's Rey Nambatac. This signals that when Ray wasn't shooting from downtown and instead chose to drive, there's hardly anyone in the PBA who could match him in baiting for fouls.   
Now, what happens when his first step doesn't work and there isn't an immediate gap for him to slide past? It's simple: he creates one for himself. Change of direction, change of speed, acceleration, misdirection — whatever you want, Parks has it in the bag. He can lull defenders to sleep and then burst into speed. He can feint right and then head left. The combination of the litany of moves he can pull off and his physical profile leads to a problem that most players at this level aren't equipped to deal with. 
This is not to say that he's a perfect specimen going to the basket. There are some limitations in his game such as a reliance on his dominant hand, the lack of outlier vertical pop, and an average floater game, but those limitations don't hinder him at the level of play he's on right now. Parks is a premiere slasher, and there's more to his game than that.
Parks was on fire inside the 2020 "bubble". He shot a Stephen Curry-esque 45.8% from three on major volume (7.1 attempts per game) in his 17 games. If he continued to shoot at the same rate and volume, this probably would have been the best shooting season on high volume the league has seen since Allan Caidic's 1992 season, where "The Triggerman" shot 42.1% on 6.5 attempts. 
Truth be told, this is an unsustainable hot streak. However, even if he cools down, he's proven himself to be more or less an accurate shooter from deep. He shot at a 38.8% rate in his 75-game Alab Pilipinas stint in the Asean Basketball League (ABL), and he shot at a 37.8% rate in his 49-game stay in the PBA.
Catch-and-shoot threes made up the chunk of his shot attempts from long range. He has a smooth one-motion jumper without any obvious structural defects. The shot is generally replicable, which aids consistency and allows him to shoot open looks really well. However, there are some issues that affect the versatility of his jumper.
He's not really a movement shooter. Most of his made threes are from a standstill, and when he does hit a shot off of movement, it's usually a transition three or a minor movement triple (meaning, threes made after slightly altering his position relative to the passer for a clearer angle). He's a pretty good off-the-dribble (OTD) shooter, but the variety of his OTD jumpers seems pretty limited. It's rare to see him pull-up going north or moving forward. Most of the OTDs are shots moving away from the defense (like stepbacks, for example). He is great at the shots that he takes, but there is still room for improvement — which is scary in its own way.
When TNT fielded its best five on the floor, Parks typically played the role of secondary ball-handler as Jayson Castro took the reins of the offense. However, Parks' ability to initiate the offense is what intrigues the most. In the last three games of the Phoenix series, TNT made a more concerted effort to play through Parks, and he paid them back in kind averaging 27.0 points and 5.0 assists. 
He performed well as the secondary in lineups with Castro because he has good vision and is capable of making the right read. He recognizes the advantages created by his teammates and he knows where to pass the ball to punish opposing defenses. 
When he took over the offense, Parks showed really good flashes as a primary playmaker. He showed the ability to attack at all three levels in the pick and roll. He took advantage of the roller, he punished the immediate help on the roller, and he picked apart the rotations caused by the help. He was able to consistently punish defenses with the threat of his scoring and he was able to strike a good balance between scoring and playmaking. However, this is not an endorsement of Ray Parks Jr., heliocentric centerpiece. Rather, it only means he is capable of running the pick and roll against both aggressive and conservative coverages. He goes through his reads well and he's able to make a good pass more often than not. 
Parks isn't perfect, by any means. Occasionally, such as in this clip, he can take too long to process the information, and against better defenses, the opportunities will pass him by. He also has certain passing limitations that prevent him from truly being elite in that regard.
The first limit to his passing is the limited passing releases. If you've noticed, his passes are either two handed or with his left hand. He has great velocity in his passes, but the absence of true passing ambidextrousness limits the passes that he can make. 
The second is his processing. There are certain times where he either doesn't recognize the passing opportunity and tries to score, or sees it, but ignores it. There are also times where it takes him a few seconds too long to realize an opportunity before it is lost. 
The third is the type of passes he throws. He prefers throwing lob passes and chest passes even when a bounce pass is more appropriate. 
And the fourth is simply accuracy. Though he isn't the most inaccurate passer, he isn't Hawkeye either. Passes can be too high or too low, and this kills the opportunity to score or even leads to a turnover.
Parks doesn't cease to exist when he doesn't have the ball in his hand, as his presence contorts the defense by itself. He requires attention at all times, and even moving around the court can disrupt defensive formations. His shooting lends itself well to spot-up shooting, and teams are always wary of him behind the arc. He is smart enough to recognize passing angles and constantly makes small adjustments to increase the passing windows available for him to receive the ball. If teams overplay the spot-up triples, he is a good enough ball handler to take advantage of closeouts. 
But the most notable part of his off-ball game is his screening. Parks has a great frame for setting screens and has wonderful technique. He runs towards screens to enter the picture with his man trailing, he has a good read of when to set screens, and he has good knowledge of screen craft to the point that he doesn't need to set a bone-cruncher to get separation for whoever he's screening for. He isn't a savvy or explosive cutter and he isn't exactly a beast on the offensive glass, but Parks does enough off-ball to not be redundant with other capable ball handlers.
All in all, Parks is a special offensive player. He's a great scorer with good playmaking chops. He's potentially a three level scorer, and an elite one at that. He can get to the rim with relative ease and finish over the defense and through contact. He's an elite spot-up shooter with good off-the-dribble chops, along with smooth and repeatable shot mechanics. When you couple his shooting and finishing with a good handle, you get an unstoppable scorer that can bend defenses at this level. To make things worse for his opponents, he has shown legitimate signs of being a quality playmaker despite certain limitations that prevent him from being a true primary initiator. All in all, his weaknesses are greatly overshadowed by his strengths, and he should be among the first names that come up when we think of who the best Filipino basketball player is today.
On his hand-eye coordination on defense
The thing that stands out about Parks is his hand-eye coordination on the defensive end. He isn't a gambler, and you won't see him taking too many risks trying to steal the ball, but he was still 19th in the PBA among all qualified players in steal percentage — higher than guys like Scottie Thompson, Arwind Santos, and Mac Belo. He's particularly dangerous in help situations, as he's one of the best in terms of digs. He has a feel for when to rotate to apply secondary ball pressure, and he can target the ball well and with speed, all without fouling much. 
Because of his superior hand-eye coordination, he gets steals without relying on gambling or playing the passing lane too much, and he manages to play solid man and team defense. By not gambling a lot, he doesn't end up ruining the shape of his team's defense when he whiffs on a steal attempt.
On his defensive versatility
Due to his particularly strong frame, Parks can be switched on to bigger players. He can handle post-ups well without giving up too much ground against the big, and he's still able to make shots difficult for them. This provides some leeway on where to slot him on defense. In the Phoenix series, he guarded Matthew Wright, Calvin Abueva, Jason Perkins, and Justin Chua for stretches of time. That type of defensive versatility is a pretty special commodity.
He possesses good feet on defense and a solid understanding of his role. He can slide laterally very well, allowing him to meet penetrators. His strong frame allows him to literally stop people in their tracks and force them to kick the ball out. He is able to move in all directions on defense in a single possession and he can stop penetration, closeout, and recover to guard the drive all in one fell swoop. Parks is also able to bring this type of energy and hustle while playing over 40 minutes a game and shouldering the largest scoring load on his team.
What really takes the cake with respect to his defensive versatility is his ability to act as a secondary rim protector. Parks seems to have a solid wingspan and has quick jumping mechanics, but what's really special is his awareness of positioning. He keeps his head on a swivel and sees breakdowns happening in real time. This allows him to rotate and bother shots at the rim, effectively saving possessions. He rarely gets blocks defending like this and thus, it doesn't show up on the score sheet, but what he does is essential to his team's wins. If teams allow their bigs to be taken out of the play, the rim is open for a lay-up. Parks is essentially capable of acting as a back-up rim protector when their big has been taken out of the equation.
It's not just a hustle thing, too. Parks employs verticality really well, able to jump straight up to contest shots but also without fouling. He contorts his body in ways to avoid contact and bother the shot. This is an intersection of smarts, skill, size, and athleticism that is honestly quite rare around these parts. 
Parks is a good man defender, but where he really shines is in a great defensive scheme. He has terrific savvy in terms of knowing when to help and rotate, which allows him to rack up steals off of swipes and lets him get great positioning to bother shots at the rim. He has the height and build to switch on to bigger players without getting punished, and he's strong and laterally quick enough to handle most guys his size or smaller. 
Parks is a unique convergence of size, athleticism, skill, and attentiveness on defense. I'm not saying he's Gabe Norwood (because no one is, except Gabe himself), but he's a great defender and he's a great piece to have on defense for any team, may it be in the Philippines or otherwise.
Bobby Ray Parks Jr. is really good at this basketball thing, it seems
If there's one thing you might pick up after reading this, it's that Ray is really talented. Discourse surrounding him has been a mixture of off-court drama attacks, misogynistic name calling, and personal attacks, and somewhere along the line, the things he's done on the court have been pushed to the side and largely ignored. 
Parks is a special talent on offense. He's a shooting guard who is actually the size of a shooting guard with actual shooting guard skills. He can do most anything on offense. He's also a very good defensive player capable of functioning well in a team setting. Taking everything into consideration, it's not a wild take to say he was the best player in the PBA in 2020. Now, he's left the PBA and will be among the trailblazing Filipinos playing in Japan. It's time we move on from the off-court narratives that have been spun about him and instead appreciate what he does: Ray Parks is a basketball player, and a great one at that. 
Advanced Stats are now available for Philippine basketball! Through Ryan Alba's Stats by Ryan, you can now look at team and player advanced stats for the current 2021 PBA Philippine Cup via the Dribble Media website.
Also, check out this glossary for a list of the basketball advanced stats terminologies.
You can also contact Ryan Alba via his Twitter handle (@_alba__).