Let's take a look at the winning formula that surrounded the 2020 NBA Draft, including the Golden State Warriors' calculated decision just mere hours after Klay Thompson's season-ending injury.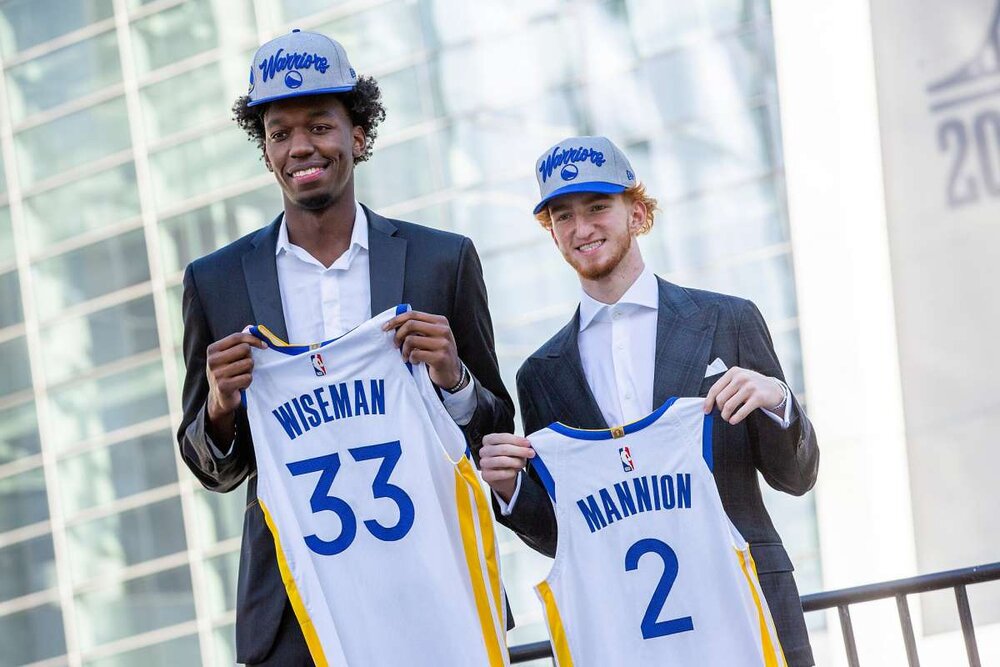 The Warriors selected James Wiseman and Nico Mannion in the recently-concluded NBA Draft. (Photo via SF Chronicle)
The 2020 NBA Draft was unique not just because of the circumstances it was done in, but also due to how teams selected their players. Each year, team executives, coaches, and sometimes owners want to leave their mark on the team through the draft, but their efforts in legacy building more often than not lead to their undoing.
It thus makes it interesting to see how this year's draft felt like more teams were looking to build on what works in the NBA rather than the hottest name left on the draft board. Sure, the draft has been labeled as a "weak" one and it still had its own head scratchers, but there was a concerted effort from team front offices in focusing more on needs rather than wants.
The Golden State Warriors lost Klay Thompson to a torn right Achilles just minutes before the draft began (and just as he was about to complete his rehab from a torn ACL), and it must have been really tempting to go for the flashy LaMelo Ball, the highly touted Killian Hayes, or the intriguing Tyrese Haliburton with the second overall pick. Instead they stayed the course and took James Wiseman, who for all intents and purposes will give them a big man who can stay on the floor when the game requires more skill than size.
It's also fair to say that the teams drafting at the top of the order had foundational pieces, with the Warriors just two years out of being in the NBA Finals and the likes of the Minnesota Timberwolves and the Atlanta Hawks having all-stars and relatively solid cores. However, the temptation to get cute in constructing an NBA roster sometimes gets in the way of focusing on what's in front.
Tactics surrounding the draft also continued outside of draft day itself, and undrafted players prove that not having your name called is not the end-all and be-all; it's where you end up and what you do with it that matters. Moments after the draft proper ended, The Athletic's Shams Charania and ESPN's Adrian Wojnarowski announced agreements between teams and undrafted players. It won't be surprising to see at least one of those undrafted free agent signings becoming contributors on a title contender come mid-July.
More teams gun for postseason success
It is important, however, to note that some teams treat the draft as a means to another end, and at times it leads to success. The freshly-crowned champions Los Angeles Lakers, traded their lone pick this year and thus left the draft without any selections, but their efforts landed them Dennis Schroeder, who finished second in the Sixth Man of the Year voting last season. Meanwhile, the Oklahoma City Thunder, the team the Lakers completed the trade with, seemed to have more transactions than draft selections and the differences in their roster pre- and post-draft were night and day. These moves may have been greeted with bewilderment from critics, but these squads could have the last laugh from playing the long game.
The main takeaway from this year's NBA draft is that teams want to compete for a spot in the postseason instead of slogging it out for next year's top selection. Next year's draft class is being touted as one of the deepest in recent years so teams may not see much marginal value between picks. It isn't uncommon for some squads to stray away from their respective goals for whatever reason, while others have impatient owners whose revolving rosters can't establish stability and consistency. Perhaps history has finally taught coaches and team executives what works and what won't or it could be that more and more squads have been hiring competent front office personnel.
Nevertheless, you play the game to win. It's as simple as that and yet it's so hard to execute. The prevailing sentiment in this NBA offseason is also shaping up to be along the same vein as that of the 2020 NBA draft, but drafting rookies entails more uncertainty than acquiring veterans with developed skill sets and experience under their belts. It is then refreshing to see teams combat the added uncertainty surrounding the draft process with a more strategic and forward looking approach that could eventually translate to championship results.