Marquese Chriss jumped from a laughingstock to a defensive anchor for the Golden State Warriors this season. Who among the 2020 free agents can also be a reclamation project like Chriss?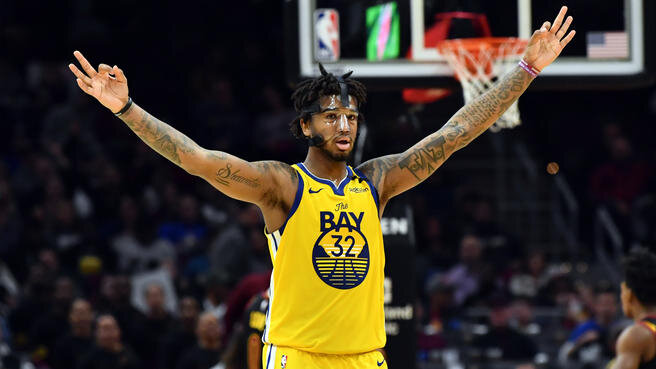 Photo courtesy of USA TODAY Sports
Marquese Chriss, Golden State Warriors
2019-20 Season Averages: 9.3 ppg, 6.2 rpg, 1.9 apg, 0.7 spg, 1.1 bpg, 55% FG, 77% FT
If a team is in a losing season just like what the Warriors went through, the bright spots usually come in the form of individual player development. The Warriors certainly got that in Chriss, a 6-foot-9 athletic combo big man who seemed to be finally tapping on his potential this season.
Trailer slams and lob dunks were expected of Chriss when the team brought him in, but he has done so much more. He is actively communicating on defense, and he perfectly times his help defense off the weakside. Among Golden State players who played more than five games this year, Chriss has the highest PER (player efficiency rating) of 19.4.
The Warriors already signed Chriss to a two-year contract last February, but he's here in this list to be an example of a reclamation project. The only uncertainty for now is if the 23-year old center has earned a starting role for head coach Steve Kerr next season.
Andre Roberson, Oklahoma City Thunder
Career Averages: 4.6 ppg, 4.0 rpg, 0.9 spg, 0.7 bpg, 54% FG
Since entering the Defensive Player of the Year conversation in 2017, consecutive injuries have hampered Roberson's progress. He is an awful shooter from long-range and from the free throw line, but his top-notch capabilities on defense were enough for the Thunder to sign him to a three-year, $30 million contract three years ago.
Roberson is unlike any other reclamation project as he already proved that he is a starting-caliber player in the league. But he also has to prove that he can stay healthy, and put in a bit more consistency to his three-point shooting. He recently made his much-awaited comeback in the bubble, and has not hesitated in putting up shots from beyond the arc.
The Thunder can bring him back next season, but there's no doubt that other contending teams will knock on Roberson's door when he enters unrestricted free agency in the offseason.
Josh Jackson, Memphis Grizzlies
2019-20 Season Averages: 10.4 ppg, 3.2 rpg, 1.7 apg, 1.0 spg, 19.8 mpg
It's not like Jackson has been really bad in his first two seasons with the Phoenix Suns since being selected 4th overall during the 2017 NBA Draft. In fact, Jackson averaged double-digit scoring in those two years, while also becoming a good rebounder for his position.
However, his shooting efficiency was abysmal. He shot 41% from the field and a lowly 26% three-point clip during his rookie year. His low impact on the floor didn't translate to winning plays, paving the way for the Suns to get rid of him after just a couple of seasons. Phoenix traded him to the Grizzlies last summer, then he spent a significant amount of time honing his game in the G League before being called up by Memphis.
With the Grizzlies, Jackson showed more consistency in his long-range shooting. He has the ability to make perfectly-timed baseline cuts, while also creating scoring opportunities for himself off the penetration. Jackson is still very young at 23 years of age, so there's still tons of room for improvement.
Harry Giles III, Sacramento Kings
2019-20 Season Averages: 7.0 ppg, 4.2 rpg, 1.3 apg, 56% FG, 77% FT
With the Kings opting to decline his option, Giles will be an unrestricted free agent this offseason. Giles only played seven out of the Kings' first 32 games this year, but he became a regular starter for head coach Luke Walton in the games leading up to the hiatus. Out of the last nine games that the Kings played until the season suspension, Giles put up double-digit scoring in seven of those contests.
Defense is still a weakness for the sophomore center, but he has the tools to be a multi-faceted option on offense. Giles has a decent post-up game to surprise defenders, and he can also make pull-up jumpers from the mid-range. He is yet to expand his range to the three-point line, but he has the shooting form to possibly thrive in that area.
Brandon Knight, Detroit Pistons
2019-20 Season Averages: 7.3 ppg, 1.6 rpg, 2.8 apg, 34% 3-pt
In the small sample size that he played for the Pistons this season, Knight normed decent numbers of 11.6 points, 4.2 assists and a 39% clip from beyond the arc. It's a great indicator that Knight can still ball out, especially considering how his on-court production spiralled downward in the past few years.
He may have been at the bad receiving end of the DeAndre Jordan dunk or the Kyrie Irving crossover in the past, but it's no secret that Knight can create plays for himself and for his teammates. If he can keep up this improving trend in terms of his three-point shooting, he could be a solid scorer/playmaker for a contending team next season.