Through the Kyrie 7 "Icons of Sport" colorway, Nike and Kyrie Irving gave nod to some of the greatest icons in the Brooklyn Nets star's basketball career.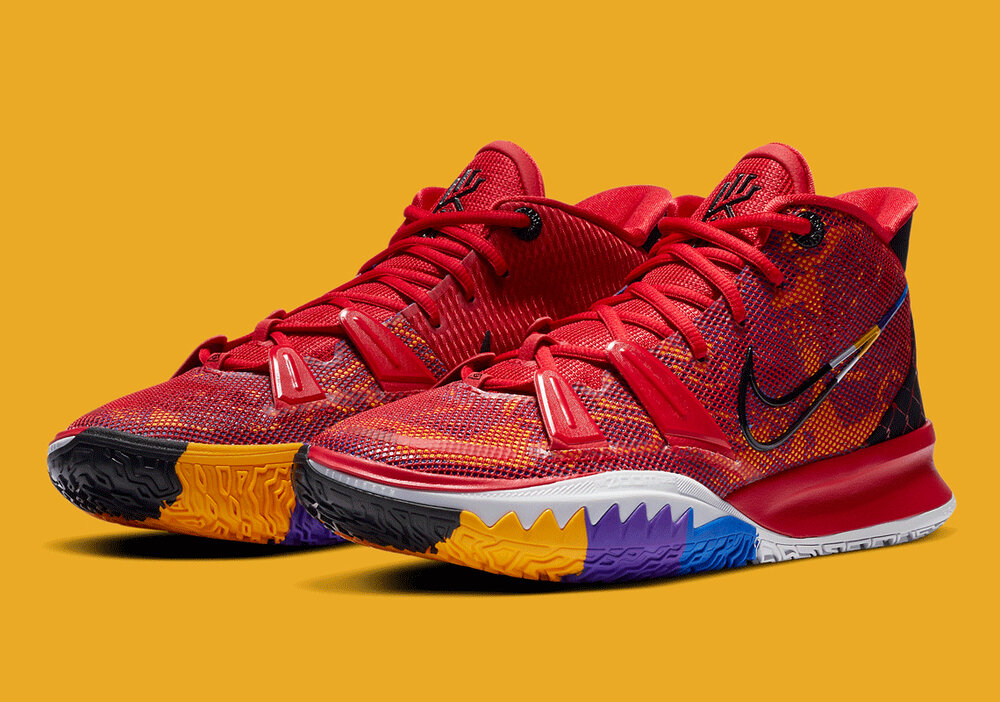 The Nike Kyrie 7 "Icons of Sport" draws inspiration from important basketball figures in Irving's career. (Photo courtesy of Nike)
Basketball has been the life of the now 28-yearold guard out of Duke University. Kyrie's career may have been plagued with several injuries and locker room issues but there is no doubt that the one-time champ has a glamorous basketball resume to go with his spectacular skill set.
Along with Irving's top-notch basketball talent, the former Rookie of the Year has a popular signature shoe line. The Kyrie series, along with some other model pairs, are known for their eye-catching designs, vibrant colorways, and awesome collaborations.
His newest signature, the Nike Kyrie 7, will have its early inspiration in the "Icons of Sport" colorway as this version will be included in the pair's inaugural release.
The Nike Kyrie 7 "Icons of Sport" gives a major nod to the late Kobe Bryant and the Los Angeles Lakers through the sole and the Swoosh's black, purple, and gold hues. It's no secret that Kobe became a huge inspiration to Kyrie.
Along with Kobe Bryant, the pair also honors Irving's school and college coach and, the Duke University and Coach Mike Krzyzewski.
The rich blue hue in the Swoosh and outsoles of the pair, along with the imprinted hand-drawn play on the heel, represent Irving's version of "The Shot" when he won the title with the Cleveland Cavaliers.
Though born in Melbourne, Australia, Irving embraced New Jersey as his home from age two until he left for Duke in 2010. The rich red textile uppers draws inspiration from Garden State, which served as Kyrie's home.
Lastly, the chain-like patterns in the rear evoke urban grounds where Kyrie's well-known character, Uncle Drew, and several other players started to make their names.
The Nike Kyrie 7 "Icons of Sport" is set for release on November 11, and will be a part of the pair's inaugural release. Pairs will be up for cop at selected Nike stores for US$130.
Here are more detailed angles of the new Nike Kyrie 7 "Icons of Sport".
The Nike Kyrie 7 will be Irving's 7th pair in his main signature shoe line. (Photos courtesy of Nike)