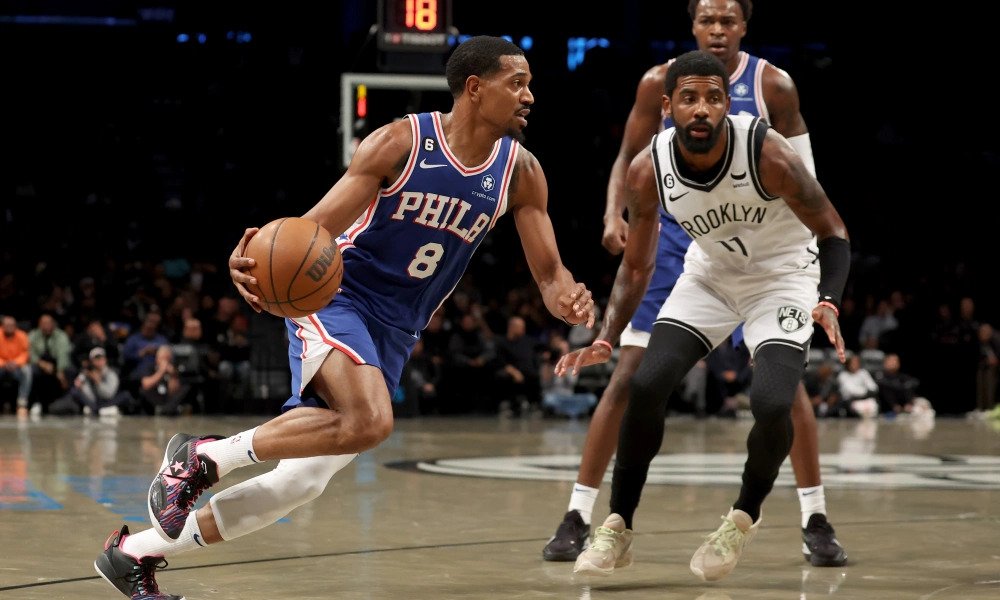 The 2022-23 NBA season is just a couple of days away, and it's exciting to see how things will shake out at the beginning of the year. We looked at some of the under-the-radar acquisitions that projected contenders in the Western Conference made in the offseason, and we'll do the same for the Eastern Conference today.
Depth is an important factor for a contending team, especially in fielding different situational lineups or when injuries come into play. This is the reason why the following names could provide a much-needed boost to their new teams, particularly come playoff time.
De'Anthony Melton, Philadelphia 76ers
Much of the Sixers' offseason talk centered on their acquisition of P.J. Tucker and the continuous development of Tyrese Maxey, but new face De'Antony Melton could prove to be a low-risk gamble that will provide high returns.
Melton is a versatile backcourt defender who also rebounds well. He only stands at 6-foot-2 but has a lengthy wingspan that allows him to ball hawk and play the passing lanes. He led the Memphis Grizzlies last season in steal percentage (3.0), which is the second-highest in the whole league, interestingly trailing that of Sixers defensive specialist Matisse Thybulle's (3.4).
Thybulle and Tucker may be the Sixers' first and second option to defend the other team's best offensive player, but Melton offers a different two-way value to the table. Melton struggled shooting in his first couple of years in the league, but he has shot at least 37% from three-point land in the past two seasons (41%, 37%).
Moreover, Melton can also do ball-handling duties, as he did for the Grizzlies and his one year with the Phoenix Suns during his rookie season. If the Sixers decide to stagger Maxey with the second unit, Melton could take the ball-handling responsibility, with Maxey looking for more off-ball scoring opportunities. Of course, Melton could also mesh well with James Harden, but the team will need more of Melton's defense and off-ball scoring in such situations. It's hard to imagine Harden letting go of primary ball-handling duties, anyway.
Royce O'Neale, Brooklyn Nets
Royce O'Neale has a play on a starting role for the Brooklyn Nets, and that tells us how much his team values the versatility and toughness he brings to the table. Acquired from the Utah Jazz last season, O'Neale brings with him a legit 3-and-D resume that comes in handy for a Nets team trying to win a championship this year.
O'Neale is a career 38.1% three-point shooter, so he'll work well with two incredible scorers in Kevin Durant and Kyrie Irving, and an excellent playmaker in Ben Simmons. Nets head coach Steve Nash said it best when he mentioned that O'Neale's long stint in a ball movement-heavy Jazz system will help him become an excellent space-out shooter for Brooklyn.
Defense is O'Neale's calling card, and it could be the deciding factor if he's going to start for his new team. Joe Harris, who could be the other candidate for the starting job, is a better outside shooter but a less effective defender than O'Neale. Harris is coming off ankle injuries though, so there's a huge chance that O'Neale becomes the Nets' designated starter at the start of the regular season.
Malcolm Brogdon, Boston Celtics
Brogdon may not be a role player like the first two names on this list, but the Celtics pulling off a trade deal to acquire his services was surprising. NBA general managers voted the Brogdon deal as the most underrated player acquisition during the offseason, and why shouldn't they? The 29-year-old Brogdon is coming off another productive season, seeing him put up 19.1 points, 5.1 rebounds, and 5.9 assists for the Indiana Pacers. All the Celtics have to give up are bench players and a protected future first-round pick. 
Having started in all of the games he played in the last four years, Brogdon will find himself navigating through a Sixth Man role for the Celtics. It may be a new role, but Brogdon should have the same all-around impact on both ends of the floor. The Celtics were a top-heavy squad last season, and depth was an issue that they wanted to address in their upcoming campaign.
Enter Brogdon, a 6-foot-5, 230-pound combo guard who could shoot, pass, and defend. Although his three-point percentage dropped to 31.2% last season, Brogdon is still a top-notch outside shooter, having averaged at least a 40% clip from beyond the arc twice in his career. Along with his outside shooting, he also mixes it up with his downhill drives. Brogdon has the physical tools to absorb contact around the rim, and that helped him produce a career-high 4.6 free throw attempts last season.     
Defense is not a problem, either. He's not a liability on that end, as his 6'5 frame could defend all perimeter positions, so there's no question that he will fit in well with the Celtics' switching defense.