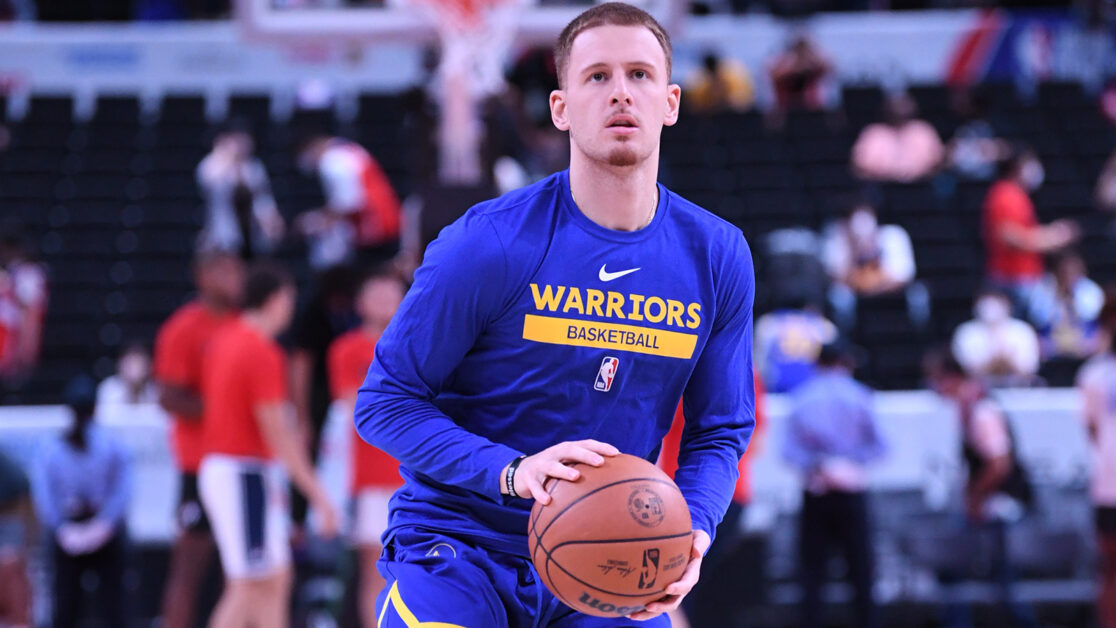 The team rosters are already shaping up with the 2022-23 NBA season about to tip off next week. Some contenders boosted their chances with a homerun attempt, while others stay put in the hopes that they could get their superstars to buy in once more to the franchise's lofty ambitions.
There are also other contenders that didn't reel in big names but potentially raised their ceiling by acquiring players who could fill in their new teams' gaps and weaknesses from last season.
Let's take a look at the underrated acquisitions in the Western Conference, and analyze how they could make a winning difference for their new squads.
Kentavious Caldwell-Pope, Denver Nuggets
KCP does not create shots for himself; in fact, 93% of his three-point attempts were assisted during the three years that he played for the LeBron James-led Los Angeles Lakers. But he did make the most of those opportunities, having averaged above 38% in three-point percentage in the last three seasons (including a brief one-year stint with the Washington Wizards), while making at least 43% of his corner threes in the previous two.
Caldwell-Pope didn't have to create his own shots to be effective for the Lakers, as they had LeBron and Anthony Davis who could generate scoring opportunities for the whole team. Now with the Nuggets, KCP will enjoy that privilege again with the returning Jamal Murray and a passing wiz like Nikola Jokic.
Along with his three-point shooting, KCP will help the Nuggets even more on the defensive end. He's an above-average defender who can guard on the backcourt, which is something that the Nuggets lacked last season.
Caldwell-Pope's good defensive chops should have him start and close games alongside Murray on the backcourt. A Murray-Bones Hyland backcourt is an intriguing combo on offense but may become a defensive liability, especially since they don't have an excellent rim protector to funnel their matchups onto.
Donte DiVincenzo, Golden State Warriors
Gary Payton II's ascent into an elite defender was a magnificent thing to behold, and he fulfilled that role for the Warriors to a great extent. He has rightfully earned a hefty paycheck with the Portland Trail Blazers this season, but his departure will sting for the Warriors.
The defending champions didn't wait too long to look for a replacement, bringing in the 25-year-old Donte DiVincenzo to the fold. DiVincenzo suffered a torn ligament in his left ankle in the first round of the Milwaukee Bucks' championship run in 2021, but prior to that setback, he was already an excellent defender.
In his second year in the league, DiVincenzo ranked 6th in defensive box plus/minus (2.4) and 10th in steal percentage (2.6). Of course, it helped that he was with a good defensive team like the Bucks — who topped the league in defensive rating (103.3) that season — but that's not a bad thing at all, is it?
DiVincenzo will make winning plays on the defensive end, and he's no slouch on offense, either. He's not yet a deadeye three-point shooter, but he did put up decent shooting displays of 37% in 2021 and 36% during his 25-game stint with the Sacramento Kings last season. If he could increase that to at least 38% from long range, then that is already a welcome development for the Dubs.
DiVincenzo won't be another GP2, but he could fill in some of the gaps, granted that he can overcome the injuries that hindered his development in the past.
Kyle Anderson, Minnesota Timberwolves
The Wolves went all-in to trade for three-time Defensive Player of the Year Rudy Gobert, so much of the talk around their camp is centered on how they could take advantage of Gobert's defense and his vertical spacing on offense. But lost in that shuffle is the Wolves' acquisition of Kyle Anderson, who they inked to a two-year, $18 million deal in the offseason.
Anderson might not get the starting nod this season, with Jaden McDaniels probably starting with Gobert and Karl-Anthony Towns in the frontcourt. But a leadership role in the second unit may actually be the better situation for Anderson, as it could magnify his underrated playmaking ability. In the past couple of seasons that he played for the Memphis Grizzlies, Anderson ranked third on the team in assist percentage (18.3% in 2021 and 16.2% in 2022). Blessed with a high basketball IQ and a 6-foot-9 frame, he could see over defenders and whip out perfectly timed passes.
Outside shooting is not Anderson's trump card, but he makes enough three-pointers so as not to be called a liability on that end. He doesn't take a lot of shots beyond the arc (career average of 1.3 three-point attempts), but he did go above the usual when he attempted 3.8 three-pointers during the 2020-21 season, hitting a decent rate of 36%. Last season, Anderson only took a total of 109 three-point attempts, with 42.2% of those being corner threes. It's a small sample size, but Anderson hit 43.5% of those corner threes, so there might be potential if he taps on it even more.
Anderson can handily contribute on defense too. Back in 2018 when he was still playing for the San Antonio Spurs, his then-teammate Rudy Gay said that Anderson is a very smart and pesky defender, even if people see him as slow and lethargic. He is a good rebounder and he has good instincts and quick hands (averaged at least 5.3 rebounds and 1.1 steals in four of the past five seasons).
Minnesota has an excellent Sixth Man on their roster, and there's no doubt that Anderson will provide a winning impact for his new team.