Scottie Thompson took over the lead guard duties for Gilas Pilipinas and led the national team to an inspiring win against Jordan.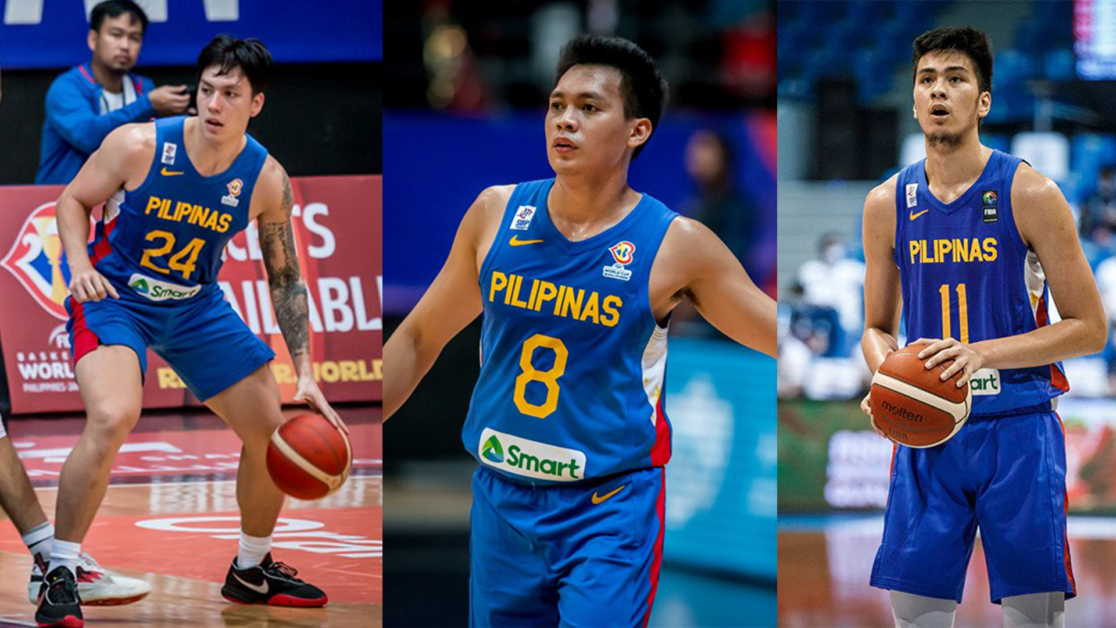 In one of their best team performances in recent memory, Gilas Pilipinas turned in a 74-66 road win over Jordan in the fifth window of the FIBA World Cup Asian Qualifiers. Thanks to their active defense and frankly a sloppy Jordan offense in the second half, Gilas won their second straight win in a row and bumped their record to 4-3.
We also saw a bevy of excellent individual outings from our national team players. How did each player perform in the win against Jordan? Check out our Gilas Pilipinas Player Grades below!
Scottie Thompson: A+
8 points, 13 rebounds, 8 assists, 1 steal
Scottie did a tremendous job penetrating the Jordan defense and finding the seams and gaps all game long. When Gilas was struggling with their offense midway through the second quarter, Scottie subbed in and immediately changed the momentum with a bail-out floater and a nifty assist to a Ray Parks triple. His hustle is always a treat (seven offensive rebounds), but Scottie's playmaking undoubtedly fueled Gilas' offense.
Bobby Ray Parks Jr.: A
13 points, 2 assists, 2 steals, 3-of-9 3PT
Parks showed what he can do with his outside shooting, drilling three triples and keeping the offense afloat in the first half. The lefty gunner punished the defense when they went under the ball screens, and took advantage of open opportunities when Jordan went zone. He was also better (a bit) at defense against Jordan, as compared to the previous Gilas games when he struggled mightily in keeping his assignments in front of him.
Kai Sotto: A-
16 points, 7 rebounds, 2 blocks, 5-of-8 FG
It's encouraging to see Kai make two treys and be efficient from the charity stripe (4-of-5 FT). He made his presence felt in the second half, particularly on the offensive end of the floor when he made a couple of assists and showed some footwork in the paint. However, Kai has a lot of things to work on, as he missed a number of rotations on defense and was stripped of the ball multiple times on offense. Still, this is a productive outing for the 7-foot-2 Filipino big man, and look for him to get more scoring opportunities in the upcoming match against Saudi Arabia.
CJ Perez: B+
11 points, 5 assists, 4-of-9 FG
After a forgettable first half when he committed two early fouls and struggled to create anything on offense, Perez turned things around in the third quarter. He found success with his downhill attacks and had a couple of good assists to Kai and Ange Kouame. Perez did a decent job as the backup point, and we'd love to see him building up on his second-half performance against Jordan.
Ange Kouame: B+
2 points, 3 rebounds, 2 blocks
Not a lot of box score production from Kouame, but his work on defense was astounding. He was the best matchup against Ahmad Al Dwairi, limiting the Jordan star big man's touches on the post and forcing him to commit boatloads of miscues (10 turnovers). Of course, the entire Gilas defense (especially the frontcourt) had a hand in getting Al Dwairi out of his groove, but Kouame definitely showcased his defensive chops in the win.
Japeth Aguilar: B+
5 points, 3 rebounds, 3 assists, 1 steal, 1 block
The coaching staff's decision to switch up assignments in the second half and put Japeth (instead of Kai) against Al Dwairi was a smart one. Japeth is the more difficult player to back down in the post, and he's quicker on his feet as compared to Kai. The Ginebra big man did what he was asked for on defense, and also added a bonus fake handoff leading to a dunk on offense.
Dwight Ramos: B
5 points, 4 assists, 4 steals, 6 turnovers
This wasn't the very efficient Dwight Ramos we've grown accustomed to, and even though he did force Dar Tucker to multiple tough shots, the Jordan scoring wing still had his way on offense. But Ramos was a key cog in forcing Jordan to a turnover party, as he compiled a game-high four steals in the Gilas win.
Jamie Malonzo: B
3 points, 1 rebound
In just under five minutes of play, Malonzo showed what he can do as an undersized yet switchable and athletic power forward on defense. He can cover a lot of ground as a help defender (as evident in that block that turned into a foul on Tucker) and can keep up with guards on switches.
Roger Pogoy: B
7 points, 3 rebounds, 2 steals
Pogoy did a good job getting inside Jordan's defense and scoring two early buckets in the opening quarter. But we didn't see more from the TNT sniper the rest of the game, as he only had one three-point attempt the whole contest. He fared well enough on defense (two steals), but we'd like to see him take more threes and provide more spacing for Gilas.
Poy Erram: B-
4 points, 3 rebounds, 4 turnovers
Just like the other Gilas frontcourt players, Erram was decent on defense. He was a bit erratic on offense though, as his iffy footwork negated his good cuts and rolls to the rim.
Calvin Oftana: C
3 rebounds
Oftana only logged five minutes and one field goal attempt against Jordan. Will we see a more involved Oftana in the Saudi Arabia match?
Kevin Quiambao: N/A
Did not play