Having lost their first two games in the 2022 PBA Commissioner's Cup, the Meralco Bolts are looking to tally their first win in a matchup with the Terrafirma Dyip. On the other hand, the Bay Area Dragons are in the hunt for their fourth straight victory when they clash with the Converge FiberXers on PBA Friday.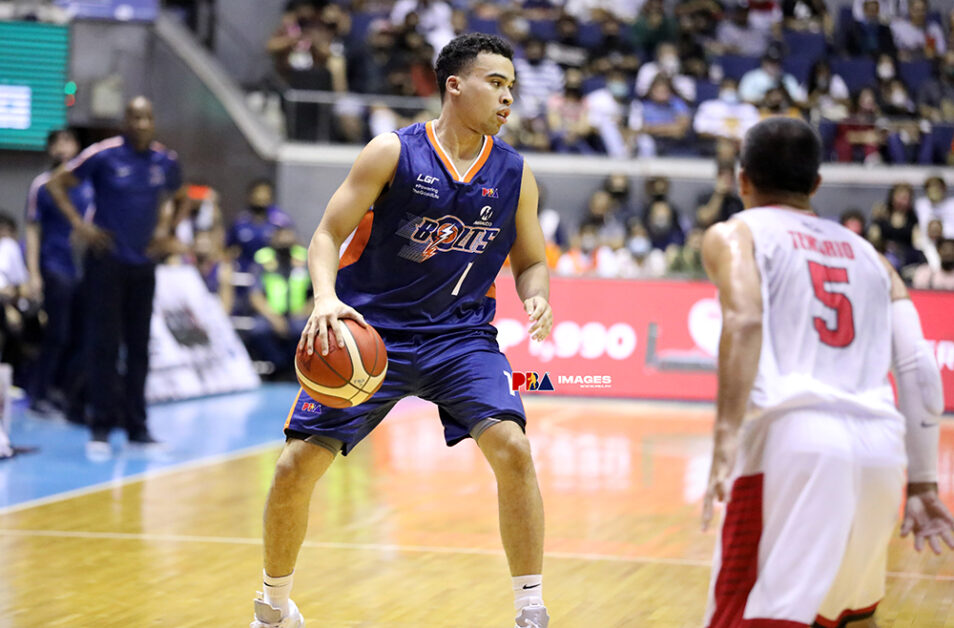 Games Today (October 7, 2022)
Venue: Smart Araneta Coliseum
First Game: Terrafirma Dyip versus Meralco Bolts (3:00 PM)
Second Game: Bay Area Dragons versus Converge FiberXers (5:45 PM)
Meralco, Terrafirma Look to Chalk Up First Win
| | | |
| --- | --- | --- |
| | Meralco Bolts | Terrafirma Dyip |
| Offensive Rating | 99.2 (10th) | 101.7 (9th) |
| Defensive Rating | 106.6 (9th) | 113.4 (12th) |
| Pace | 74.3 (12th) | 80.9 (4th) |
| Standing | 0-2 (11th) | 0-3 (13th) |
*Stats per RealGM (as of 10/06/2022)
Previous Games: Meralco lost to Barangay Ginebra, 99-91; Terrafirma lost to Rain or Shine Elasto Painters, 106-94
Meralco's offense hasn't been clicking as it did when they had the 4th-best offensive rating in the league during the 2022 Philippine Cup. Import Johnny O'Bryant is averaging 30.0 points across the first two games, but he is only converting 20% of his 7.5 three-point attempts. The high volume of his threes means that he and the team know that he can shoot from deep, so there's reason to believe that his efficiency will only increase moving forward. Chris Newsome has played only 14 total minutes after injuring his calf in the first game, so the rest of the Meralco locals will have to step up.
It's a good thing that this is a deep lineup; Allein Maliksi is having a decent start to the conference (15.5 points on 35% 3P shooting) and Raymond Almazan is averaging a near double-double (13.5 points and 9.0 rebounds). Even with the possibility of Newsome missing a couple more games, the Bolts have a good playmaker in Aaron Black, who had seven assists against NorthPort and nine against Ginebra.
The 0-2 start is just a minor setback (if at all) for Meralco, and they'll be the heavy favorites entering Friday's duel against the similarly-winless Terrafirma side.
---
Can the Dragons Go 4-0?
| | | |
| --- | --- | --- |
| | Bay Area Dragons | Converge FiberXers |
| Offensive Rating | 115.4 (2nd) | 116.4 (1st) |
| Defensive Rating | 96.0 (2nd) | 111.3 (10th) |
| Pace | 81.6 (3rd) | 82.0 (2nd) |
| Standing | 3-0 (1st) | 1-1 (7th) |
*Stats per RealGM (as of 10/06/2022)
Previous Games: Bay Area won against Phoenix Super LPG, 101-91; Converge lost to Magnolia Chicken Timplados Hotshots, 109-105
These two teams absolutely love to run up the score, which means that their respective defenses will be put to a test. So far, Bay Area's defense has been as good as their offense, but there's no definite stamp on that yet, considering that it's still too early and that two of their three wins came against a couple of teams who don't boast tons of offensive firepower (Blackwater and Phoenix).
For Converge, their defense has an obvious priority, which is how to contain Bay Area star Myles Powell. Powell is averaging 36.7 points, and he gets to the free throw line at will (83.3% FT on 12.0 attempts). We haven't seen the playmaking side of Powell, but the thing is he doesn't have to show it yet, especially with how he can overpower and "overskill" his defenders. But if Converge successfully forces him to pick up the ball, Powell has several good options to pass to, including Glen Yang and Hayden Blankley, who are averaging a combined 13-of-26 from beyond the arc in the first three games.