Magnolia is looking to keep their spot at the top when they duke it out with NLEX, while NorthPort and Blackwater will try to climb up from the middle pack of the standings. Let's look at some interesting numbers heading into PBA Wednesday.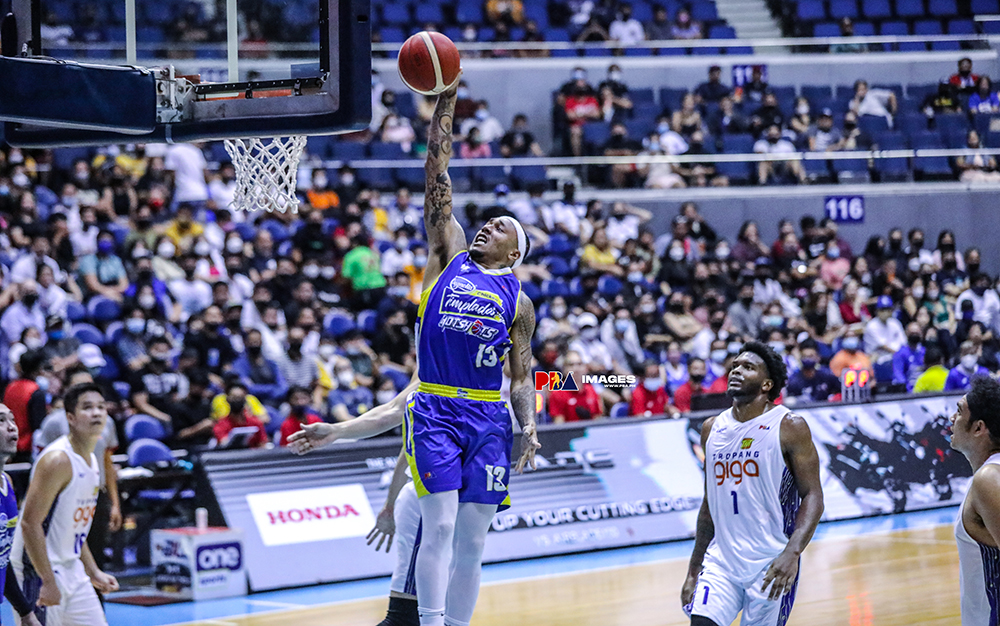 PBA Wednesday Games (October 12, 2022)
Venue: Smart Araneta Coliseum
First Game: NorthPort Batang Pier versus Blackwater Bossing (3:00 PM)
Second Game: NLEX Road Warriors versus Magnolia Chicken Timplados Hotshots (5:45 PM)
battle of middle-pack teams
| | | |
| --- | --- | --- |
| | NorthPort Batang Pier | Blackwater Bossing |
| Offensive Rating | 102.3 (11th) | 102.9 (11th) |
| Defensive Rating | 106.5 (8th) | 111.7 (12th) |
| Pace | 77.4 (11th) | 80.0 (6th) |
| Standing | 2-2 (T-5th) | 2-2 (T-5th) |
*Stats per RealGM (as of 10/11/2022)
Previous Games: NorthPort lost to the TNT Tropang Giga, 117-93; Blackwater won against the San Miguel Beermen, 109-106
We've been talking a lot about Robert Bolick's tremendous start to the conference, but let's also shine the spotlight on Baser Amer, who is also having a dream start for Blackwater. Scoring-wise, this is the best version of Amer so far. He is averaging a career-high 19.0 points, slotting him sixth among local players in that category. Most importantly, Amer is shooting the lights out from three-point territory. His 7.2 three-point attempts this conference is the highest in his career so far, and he's hitting those at a very efficient rate (42.9% 3P). Amer isn't ultimately relying on his three-point shots though; he is also getting to the free throw line at an increased rate (career-high 3.8 FT attempts).
At age 30, Amer is still at the peak of his physical abilities. It's only been four games so it's still too early to say that this second wind in his career will catapult him to star status. There are still some rough edges from a playmaking standpoint, and a part of that might depend on the supporting cast that Blackwater will offer to him. The Troy Rosario acquisition is a good get, at least in this conference where Troy could space the floor for his 6-foot-9 import, while also using his defensive versatility in more help situations rather than getting stuck in the paint guarding the center of the opposing team.
Let's see what Amer, Rosario, and the Bossing can do against Bolick and the Batang Pier on PBA Wednesday.
---
Magnolia Try to Keep win streak going
| | | |
| --- | --- | --- |
| | NLEX Road Warriors | Magnolia Hotshots |
| Offensive Rating | 106.4 (6th) | 107.4 (5th) |
| Defensive Rating | 108.2 (9th) | 102.4 (5th) |
| Pace | 77.8 (10th) | 78.4 (8th) |
| Standing | 2-1 (4th) | 3-0 (1st) |
*Stats per RealGM (as of 10/11/2022)
Previous Games: NLEX lost to the Phoenix Super LPG, 111-97; Magnolia won against TNT, 94-92
Fresh off a close win against an undermanned TNT Tropang Giga team, the Hotshots are facing Earl Clark and the Road Warriors next. Clark is a difficult player to deal with on defense, as he asserts his will on offense not just in scoring but also in involving his teammates as well. The NLEX import is averaging 33.3 points and 5.3 assists, so the Magnolia defense should be prepared for Clark's ability in finding his open guys.
On the other side, Calvin Abueva has been tremendous in his two games this conference. He is norming 17.5 points on 52.6% shooting, and his aggressiveness is producing great results in the free throw line (93.8% on 8.0 FT attempts). Abueva and the Magnolia defense have a lot of work to do though, especially on containing Clark. The three imports that they faced so far have averaged 40.7 points against them, so let's see how Magnolia could limit Clark's production. Of course, Clark isn't the only problem for the Magnolia defense but finding a way to contain his overall production is a start.