How far of a leap will the Rain or Shine Elasto Painters take in the 2022 PBA Commissioner's Cup? Their pool of young guns may be the answer.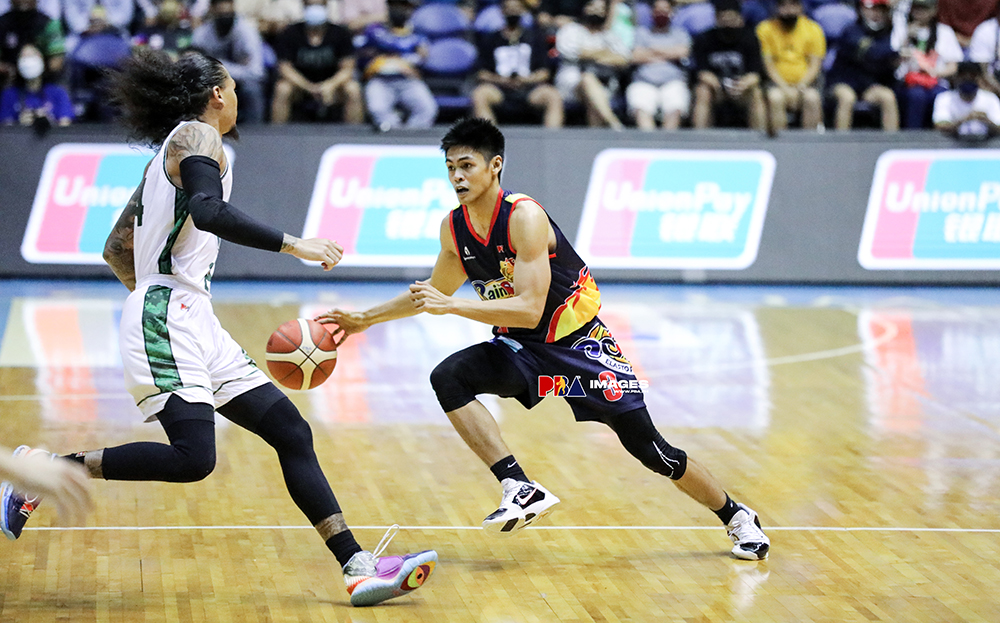 In the last three conferences, Rain or Shine only made it to the playoffs once, and that was an early quarterfinals exit during the 2021 Philippine Cup. They were a great defensive team under former head coach Chris Gavina, but their offense posed more questions than answers. The return of Yeng Guiao could allay some of their concerns on offense, but this is still a team without much star power when compared to the top-tier teams in the league.
Their import Steve Taylor Jr. is not as offensively-gifted as the other reinforcements this conference. He is averaging 20.7 points across three games, but his relatively low 49% True Shooting is compounded by a measly 21.4% three-point shooting (4.7 3P attempts) and 42.9% free throw percentage (7.0 FT attempts). 
Taking a step down the ladder, there is combo guard Rey Nambatac, who is the only Rain or Shine local player averaging at least 30 minutes so far. He will get his touches in Guaio's offense, but he's yet to take advantage of those opportunities. Nambatac is only norming 7.7 points on shooting splits of 21.4/27.3/66.7 for a career-low 34.6 TS%.
Fortunately, Rain or Shine is getting timely contributions from their young players. First up is Andrei Caracut, who is becoming a steady hand at the point. Even during his collegiate career in the UAAP, there is a cool and collected demeanor that Caracut exudes in his play. He doesn't get rattled easily, and he has the basketball smarts that can easily translate to the pros.
Caracut doesn't have flashy handles, but his reputation as a three-point shooter keeps the defense honest. Caracut still has to improve on his 31.3% three-point shooting, but he sure has the green light from the coaching staff to shoot from deep (5.3 3P attempts this conference). A simple hesitation move — just like what he did to NLEX's Kevin Alas in the first clip — could force his defender to contest, allowing him to blow past for a drop pass or for one of his favorite floaters. 
Another Elasto Painter who is getting better off the dribble is Mike Nieto. You know Nieto's story — a 6-foot-2 big man in high school who transitioned into a wing in college and international play. We previously talked about his defensive chops while playing for Gilas, but one thing that he's constantly improving on is his ability to put the ball on the floor and make plays for his teammates.
Rain or Shine is giving Nieto more ball-handling duties this conference, and he is rewarding his team's trust by making good decisions with the ball and rarely turning it over (only one turnover in three games). Shot creation is still a question mark in Nieto's arsenal, but he is showing some glimpses of mid-range pull-ups and straight-line drives coming off screens.
Along with Nieto, another former Ateneo Blue Eagle is displaying his potential in the Rain or Shine camp. Gian Mamuyac's work as a defender is already well-known; he's not the tallest wing out there but his lengthy wingspan, quick hands, and excellent defensive instincts help him cover bases on that end of the floor.
For Mamuyac, it's his offense that's under scrutiny in his rookie year in the PBA. Can he shoot from long range well enough to be considered a 3-and-D wing? Or does he have the offensive chops to thrive as a ball-handler in pick-and-roll situations? 
In his 17-point performance against Terrafirma, Mamuyac showed a little bit of everything on offense. He made two of his three tries from deep while showing the propensity to make plays off the dribble.
Mamuyac doesn't have a really quick first step, but he covers a lot of ground with his long strides. These long strides, when combined with his tendency to change pace off the dribble, could help him get to his spots. 
It's just one game, though. Producing these highly-productive outings on a consistent basis is a tough hurdle for young players to overcome, but Mamuyac does pack the potential to become a game-changer on both ends of the floor.
The development of Rain or Shine's pool of young talented players is exciting to keep track of, and the team may need them to speed up their growth to make noise this conference. Beating an elite team like Ginebra is a good start, but the Elasto Painters are about to face more challenges in their attempt to return to prominence.