The fourth-seeded San Miguel Beermen will take on the fifth-ranked NorthPort Batang Pier in a best-of-three quarterfinals series in the 2021 PBA Philippine Cup.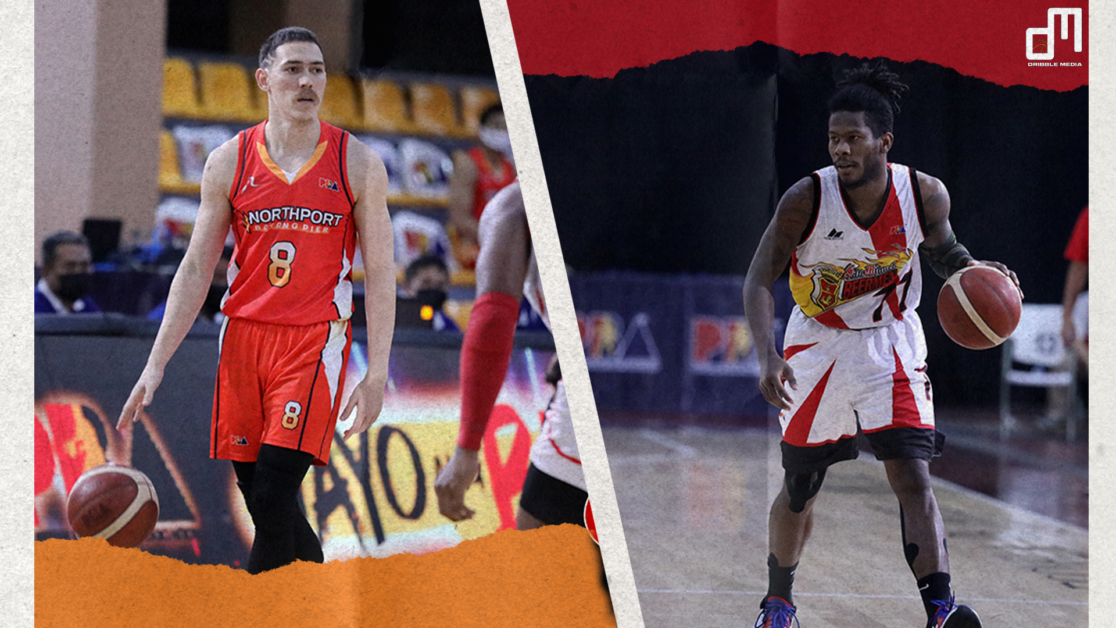 Team Stats Comparison
| | | | | |
| --- | --- | --- | --- | --- |
| Teams | Offensive Rating | Defensive Rating | Net Rating | Pace |
| San Miguel | 106.8 (1st) | 99.9 (7th) | +6.9 (3rd) | 90.7 (1st) |
| NorthPort | 104.3 (2nd) | 96.6 (4th) | +7.7 (2nd) | 89.9 (2nd) |
*
Numbers courtesy of
Stats by Ryan
on Dribble Media
Key Individual Performers
CJ Perez, San Miguel: 17.2 points (5th) on 53.7% true shooting percentage, 1.4 steals (10th), 3.5 VORP or Value Over Replacement Player (8th)
Robert Bolick, NorthPort: 18.1 points (3rd) on 51.8 TS%, 6.9 rebounds, 7.3 assists (1st), 3.7 VORP (6th), 7.4 Box Creation (3rd)
Key Absences
Terrence Romeo, San Miguel (foot): 19.0 points (1st) on 55.5 TS%, 4.5 assists, 1.5 steals (T-7th), 8.8 Box Creation (1st), 6.2 Offensive Box Plus-Minus (1st)
Alex Cabagnot, San Miguel (knee): 12.3 points on 56.0 TS%, 3.8 rebounds, 2.8 assists, 1.0 steals
Perez, Bolick renew NCAA rivalry
Much has been said about the gigantic matchup between June Mar Fajardo and Greg Slaughter, but people forget that there is a more explosive guard battle in this series. Without the injured Terrence Romeo, CJ Perez will be the top player for San Miguel, and the same could be said about NorthPort's Robert Bolick.
Bolick has the best all-around stat line among any guards in this conference, and he capped that with a massive triple-double performance during their recent win against Alaska. He is the most important player in a team producing the second-best offense in the league. As pointed out by Dribble Media's Ryan Alba in his recent BPC rankings, a staggering 41% of the Batang Pier's possessions end in either a Bolick shot, turnover, or assist. His ability to switch gears from being a playmaker to a scorer (and vice versa) is the main engine of NorthPort's high-ranking offense.
On the other hand, Perez' efficiency as a scorer has improved with San Miguel. His scoring averages may have dipped from 24.4 last year to 17.2 this conference, but that's only because this Beermen squad is already loaded with topnotch offensive players. The three-point shot still needs more honing, but Perez has improved his field goal percentage and true shooting percentage this conference.
With Bolick and Perez duking it out in an all-important series, it will be an explosive duel reminiscent of their San Beda-Lyceum battles in the NCAA. 
What version of Fajardo will show up? 
June Mar Fajardo is still not in his most optimal shape after taking a year off to recover from a fractured tibia injury. He's logging the minutes out there, but San Miguel has drastically eased his workload on the offensive end of the floor. He's only averaging single digits in field goal attempts (8.8), and his Offensive Load (OffLoad) of 28.3 is only the fourth-highest within his team, placing him behind Romeo, Perez, and Mo Tautuaa.
On a more positive note, Fajardo's rebounding is still the best in the league. He may be behind Greg Slaughter and Christian Standhardinger in raw rebounding numbers, but that's because Fajardo is logging less playing time than those two big men. If you look at his total rebounding percentage, you'll see that he is the most efficient rebounder in the league.
Fajardo's rebounding percentages (as compared to Slaughter and Standhardinger)
| | | | |
| --- | --- | --- | --- |
| | Minutes Played | Rebounds Per Game | Total Rebounding Percentage (TREB%) |
| Greg Slaughter | 32.8 | 10.7 | 15.4% (8th) |
| Christian Standhardinger | 36.2 | 10.6 | 14.6% (11th) |
| June Mar Fajardo | 27.5 | 9.8 | 18.1% (1st) |
Still, the Beermen need him to be more aggressive in getting his touches on offense. Will going up against Slaughter motivate him to be more assertive? The answer to that question is something to look forward to in this series.
NorthPort's underrated supporting cast
Even without Romeo and Cabagnot, San Miguel's depth is already a proven advantage for them. Along with Perez and Fajardo, they still have championship-seasoned veterans in Chris Ross, Marcio Lassiter, Arwind Santos, and Mo Tautuaa on their lineup.
But NorthPort's roster has probably the most overlooked supporting cast in the league right now. With Bolick and Slaughter taking hold of the reins, the Batang Pier have also been getting productive performances from Jamie Malonzo and Paolo Taha, and they still have the likes of Sean Anthony, Kevin Ferrer, and Sidney Onwubere contributing on both ends of the floor.
The rookie Malonzo is shaping up to be NorthPort's best two-way player. His versatility on both ends of the floor is already showing in his first year in the league. Malonzo is averaging double digits in the scoring column, and he is ranked 5th in rebounds (9.0) and 3rd in blocks (1.8). Along with his work on defense, the high-flying Malonzo has also shown that he can hit from long range, which is a testament to his potential as an elite 3-and-D stalwart in the PBA. 
Prediction: NorthPort pulls off the stunner and advances
Predicting outcomes in a playoff series is always a tricky business, but let's not always play the safer card. Obviously, the safer bet for this matchup is San Miguel, given their championship experience. On top of that, if (and this is a big if) Fajardo suddenly returns to deadly form and asserts his will on offense, then this Beermen squad becomes a different monster to deal with.
But there's no doubt that Fajardo isn't in peak condition, and the absence of their top scorer (Romeo) and their steadiest ball-handler (Cabagnot) could be San Miguel's downfall. Moreover, NorthPort is riding a really good momentum right now, and it seems like they are really playing for each other. They have won five of their last seven games, and that could have been six if not for the Calvin Abueva game-winner in that loss to Magnolia.
Backed by their most versatile lineup in recent years, NorthPort has what it takes to defeat the undermanned San Miguel and advance to the semifinals.
---
Advanced Stats are now available for Philippine basketball! Through Ryan Alba's 'Stats by Ryan', you can now look at team and player advanced stats for the current 2021 PBA Philippine Cup (and the previous three seasons) via the Dribble Media website.
Check out this glossary for a list of the basketball advanced stats terminologies.
You can also contact Ryan via his Twitter handle (@_alba__).
---
GET MORE BASKETBALL AND SNEAKER UPDATES WHEN YOU SUBSCRIBE TO DRIBBLE MEDIA'S YOUTUBE CHANNEL!