Ja Morant jump-starts his MVP aspirations in a Memphis Grizzlies overtime win over the New York Knicks.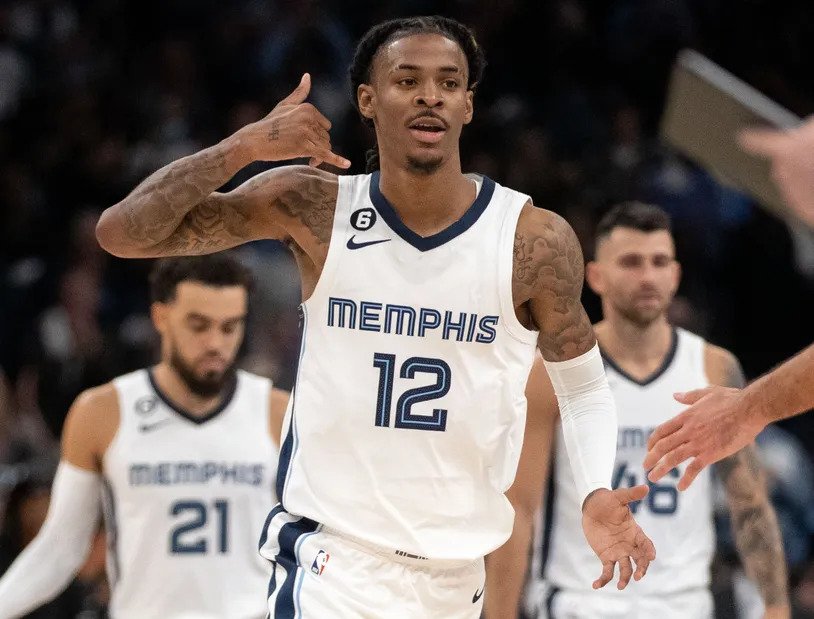 Morant's Electrifying performance and other takeaways (October 20)
Ja Morant is in further takeover mode this season. With Jaren Jackson Jr. possibly sitting out until December or January, the Grizzlies will rely even more on Morant's shot-creating and playmaking — two skills that he displayed in the Grizzlies' 115-112 victory over the Knicks. The fourth-year guard put up game-highs of 34 points and 9 assists, as his team needed every bit of him with Desmond Bane struggling a bit (16 points on 6-of-22 shooting). Morant himself said that it's his individual goal to win the MVP award this season. Look for the All-Star guard to average 30 points this season, along with a healthy number of assists like this one:
The Dallas Mavericks lost a close 107-105 decision to the Phoenix Suns, but newly-acquired Christian Wood showcased what he can do on offense. He had 16 consecutive points at one point in the second half and finished with 25 points in the loss. Wood can lead the offense when Luka Doncic takes his rest, and his versatility will help him mesh with the latter. He can make plays off the short roll when Luka gets blitzed, and he has adequate ballhandling chops to attack the rim. Moreover, he had four triples today, showing his ability to space the floor for the Mavericks.
The young 'uns showed their stuff today, with Orlando Magic's Paolo Banchero leading the way. Banchero, the top overall pick in this year's draft, compiled 27 points, 9 rebounds, and 5 assists. Despite the 113-109 loss to the Detroit Pistons, Banchero showed the full package: post hooks, mid-range pull-ups, poster dunks, and a chasedown block leading to a transition bucket, you name it.
Two more rookies stood out in that Pistons-Magic game. Pistons rookie Jaden Ivey did it on both ends of the floor, tallying 19 points, 4 assists, and 3 steals in the win. Jalen Duren also hauled down a double-double of 14 points and 10 boards, along with three rejections. With Cade Cunningham's playmaking, and Ivey and Duren entering the fold, the Pistons are building something exciting in Detroit.
Turnovers, along with Kyle Lowry and Bam Adebayo's poor shooting, haunted the Miami Heat in their 116-108 loss to the Chicago Bulls. Adebayo was more aggressive in looking for his shots, but he only hit five of his 15 tries from the field. To make matters worse, Lowry was 1-of-7 from the field and missed all five three-point attempts. The Bulls didn't shoot particularly well (44.1% FG compared to Miami's 46.3%) but the Heat's abundance of turnovers (19) gave the opposing team a lot of chances to score.