The San Miguel Beermen will still be without June Mar Fajardo, but they'll bring in a new import heading into PBA Friday.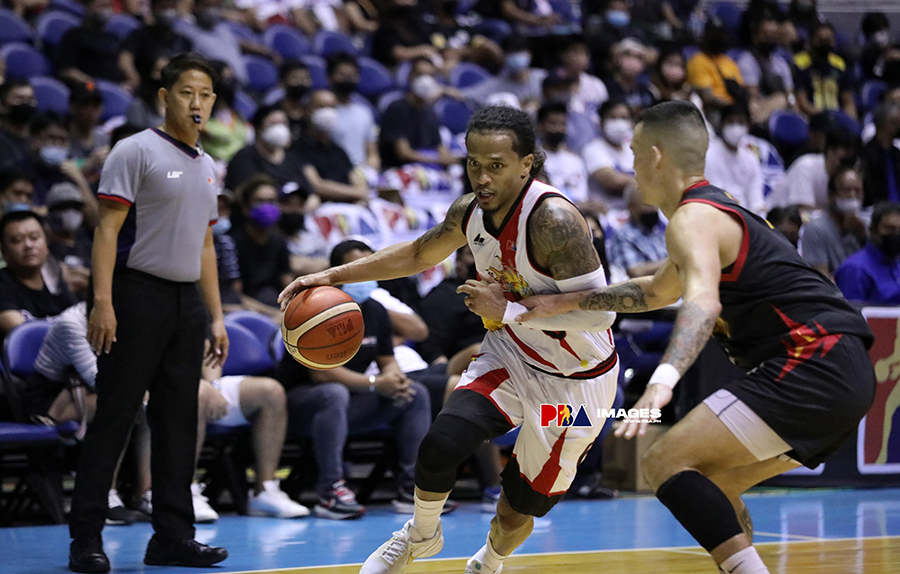 PBA Friday Games (October 21, 2022)
Venue: PhilSports Arena
First Game: Terrafirma Dyip versus Bay Area Dragons (3:00 PM)
Second Game: San Miguel Beermen versus Converge FiberXers (5:45 PM)
Bay Area Warms Up against terrafirma
| | | |
| --- | --- | --- |
| | Terrafirma Dyip | Bay Area Dragons |
| Offensive Rating | 100.2 (11th) | 111.8 (2nd) |
| Defensive Rating | 111.6 (12th) | 99.6 (2nd) |
| Pace | 78.9 (6th) | 80.8 (2nd) |
| Standing | 0-5 (13th) | 5-1 (2nd) |
*Stats per RealGM (as of 10/20/2022)
Previous Games: Terrafirma lost to Blackwater Bossing, 93-86; Bay Area won against San Miguel, 113-87
After being soundly defeated by Barangay Ginebra, Bay Area took out their rage against SMB in their last game. Andrew Nicholson put up 39 points in his second official PBA game. He drilled five three-pointers and shot the ball 30 times, which is not surprising as it's expected that he will have at least 25 attempts each game. His ability to score from the outside and pound the ball inside (also 8-of-8 from the FT line) will be a nightmare for his defenders.
Terrafirma, with their second-worst defensive rating, can't do much to contain Nicholson but they could hone in on the other Bay Area players. In that win against the Beermen, the Dragons had four double-digit scorers outside Nicholson — and lead guard Glen Yang's zero-point outing wasn't even one of them.
---
SMB, Converge showcase their running game
| | | |
| --- | --- | --- |
| | San Miguel Beermen | Converge FiberXers |
| Offensive Rating | 104.7 (6th) | 112.4 (1st) |
| Defensive Rating | 111.9 (13th) | 109.6 (11th) |
| Pace | 81.2 (1st) | 80.6 (3rd) |
| Standing | 1-2 (11th) | 2-2 (T-6th) |
*Stats per RealGM (as of 10/20/2022)
Previous Games: San Miguel lost to Bay Area, 113-87; Converge won against Meralco Bolts, 106-99
We might be in for a fireworks display on the offensive end. The Beermen and the FiberXers rank 1st and 3rd in pace this conference, and they're both at the top half of the league in offensive rating. As they'll be without June Mar Fajardo for the next several weeks, SMB might increase their tempo even more, with CJ Perez leading the way. The team will also field a new import in Devon Scott. Looking at his numbers during his stints in Canada, Israel, and Brazil, Scott doesn't shoot from the outside, so we might see rim-running game a lot.
Offense has been the best asset of the FiberXers, but their 11th-ranked defense still needs a lot of fine-tuning. Their defense did show potential when they beat Meralco in their last timeout, especially in that pivotal fourth quarter when they held them to only 17 total points. Quincy Miller should be able to put up another 30-piece on offense, but their transition defense should tighten up, particularly against Perez's knack to go coast-to-coast.