Kevin Durant and the Brooklyn Nets extend their winning streak to nine games.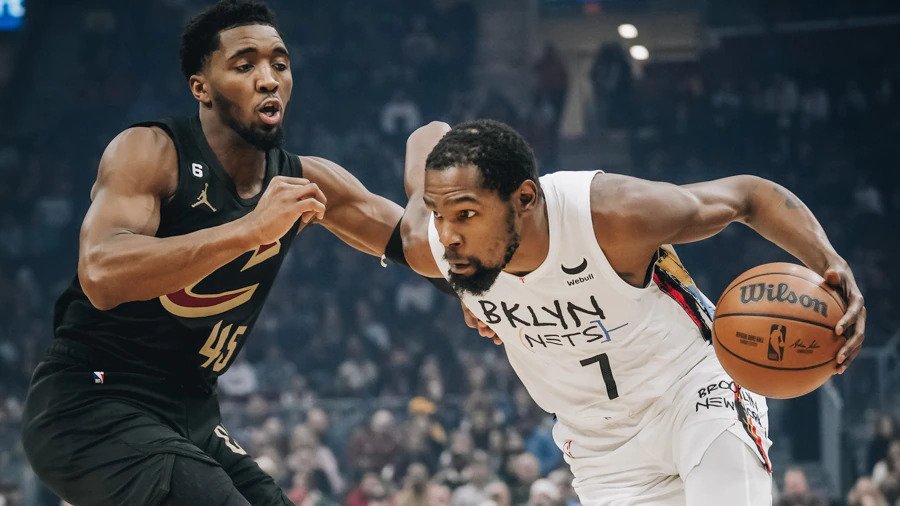 Streaking Nets and other takeaways (December 27)
With a 125-117 win today against the Cleveland Cavaliers, the Brooklyn Nets have extended their winning streak to nine games. The Nets got 32 points apiece from stars Kevin Durant and Kyrie Irving, while Ben Simmons showed out with Swiss Knife numbers of nine rebounds, eight assists, and three steals. According to StatMuse, the Nets are ranked first in offensive and 3rd in net rating this December, an impressive stretch that saw them lose only one of 11 games.
With Jimmy Butler and Bam Adebayo sitting out, it was expected that reigning Sixth Man of the Year Tyler Herro will take charge of the Miami Heat's offense in today's 113-110 win over the Minnesota Timberwolves. Herro did just that — but not in his usual high-scoring method. In fact, Herro went 0-for-8 from beyond the arc, but he did pick the Wolves' defense apart with his playmaking. Lowry and Herro only combined for 32 points but they also compiled 17 assists to lead the Heat's offense.
Damian Lillard received the biggest distinction today, but his teammates got his back this time around. Jerami Grant and Jusuf Nurkic paced the Portland Trail Blazers as they rallied past the Charlotte Hornets, 124-113. Grant and Nurkic put in 32 and 27 markers, respectively, fueling a Blazers' fightback in the second half. Lillard only notched 17 points but it was enough to overtake Blazers legend Clyde Drexler to become the all-time leading scorer in franchise history.
Rising Stock: Alperen Sengun
The Houston Rockets are having another forgettable season, but their young big man Alperen Sengun is recently turning it up. In the last four games, including today's 133-118 victory over the Chicago Bulls, Sengun is averaging 19.8 points, 7.8 rebounds, and 5.5 assists. Sengun's efficiency from the field (29-of-39 FG, 74.4%) and his ability to get to the free throw line (6.5 FTA, 76.9%) could take his offense to another level if he can keep this up.
League Pass Game to Rewatch
The battle for the current 3rd spot in the Eastern Conference standings ended with the Nets scoring their first win against the Cavaliers this season. The stars came out shining in this one, with Durant and Irving combining for 64 points, and Cavaliers All-Star guard Darius Garland producing an efficient 45-point outing (14-of-20 FG, 5-of-7 3P).
Along with the show on offense, we also saw some tremendous defense from Ben Simmons. He clamped down on Cavaliers star Donovan Mitchell, limiting the latter to only 15 markers on 5-of-16 shooting. Simmons only had four points, but his work as a defender and playmaker had a great impact on extending the Nets' winning streak to nine games.