Bulls star Zach LaVine put up quite the masterclass in the fourth quarter.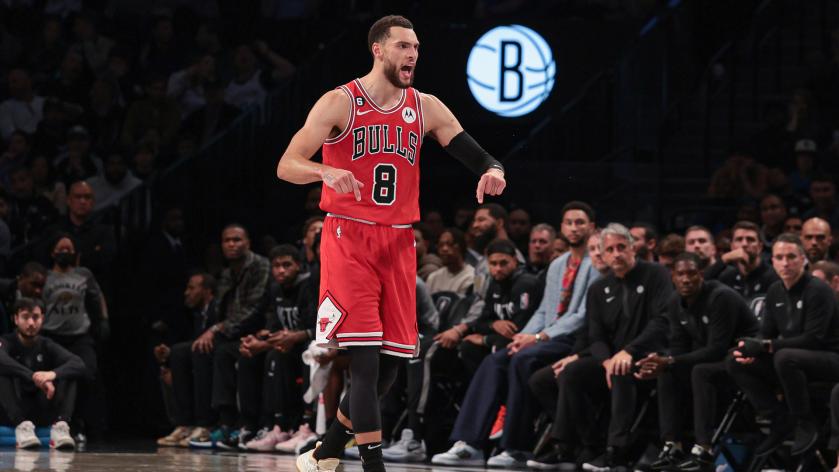 LaVine's Scoring Outburst and other takeaways (November 2)
Zach LaVine is a scoring maestro when he's on, and he sure showed that during the Chicago Bulls' 108-99 win over the Brooklyn Nets. LaVine had 29 points in the win, including a masterful 20-point fourth-quarter outburst that helped the Bulls run away with the W. The Bulls All-Star guard has been on and off through five games — he only shot 2-of-9 from three in their previous game against the Philadelphia 76ers. But Chicago hoops fans are hoping that LaVine's fourth-quarter explosion is a sign of good things to come.
After six straight games of scoring at least 27 points, Nets star Kyrie Irving fired blanks today. He finished with a measly output of four points and three turnovers, and missed all of his six attempts from the three-point line. Perhaps it's because of being on the second night of a back-to-back schedule, but Kyrie looked a bit off today after logging almost 43 minutes in yesterday's win against the Indiana Pacers.
Thanks to Shai Gilgeous-Alexander's spectacular shot-making, the Chet Holmgren-less Oklahoma City Thunder is still must-see TV. He produced 34 points in the Thunder's recent 116-108 win over the Orlando Magic. Through six games this season, SGA is averaging career-bests of 31.5 points, 6.8 assists, 2.5 steals, and 1.3 blocks. While it's unlikely that the Thunder will maintain their current 7th position in the Western Conference, SGA should be on his way to his first career All-Star appearance this year.
Tyler Herro exited the game early (eye injury) against the Golden State Warriors, and it paved the way for the Miami Heat's other sharpshooters to showcase their long-range marksmanship. Max Strus and Duncan Robinson combined for 40 points built on nine triples off the bench, lifting Miami to a 116-109 victory over the defending champs. Known primarily for his movement shooting, Robinson also showed that he can put the ball on the floor and make plays for his teammates. By adding more layers to his offense, D-Rob might actually make his way back to a consistent rotation spot this season.
Don't look now but the Phoenix Suns have won five straight to climb to the top of the West. They defeated the Minnesota Timberwolves, 116-107, and improved their record to a 6-1 slate. The Suns are a difficult team to beat on both ends of the floor, as they now rank 1st in offensive rating (119.8) and 5th in defensive rating (5th). Health will be an important factor, but it looks like the Suns are still an elite championship contender this season.