The second-seeded Meralco Bolts hold a twice-to-beat advantage over the seventh-ranked NLEX Road Warriors in their quarterfinals matchup in the 2021 PBA Philippine Cup.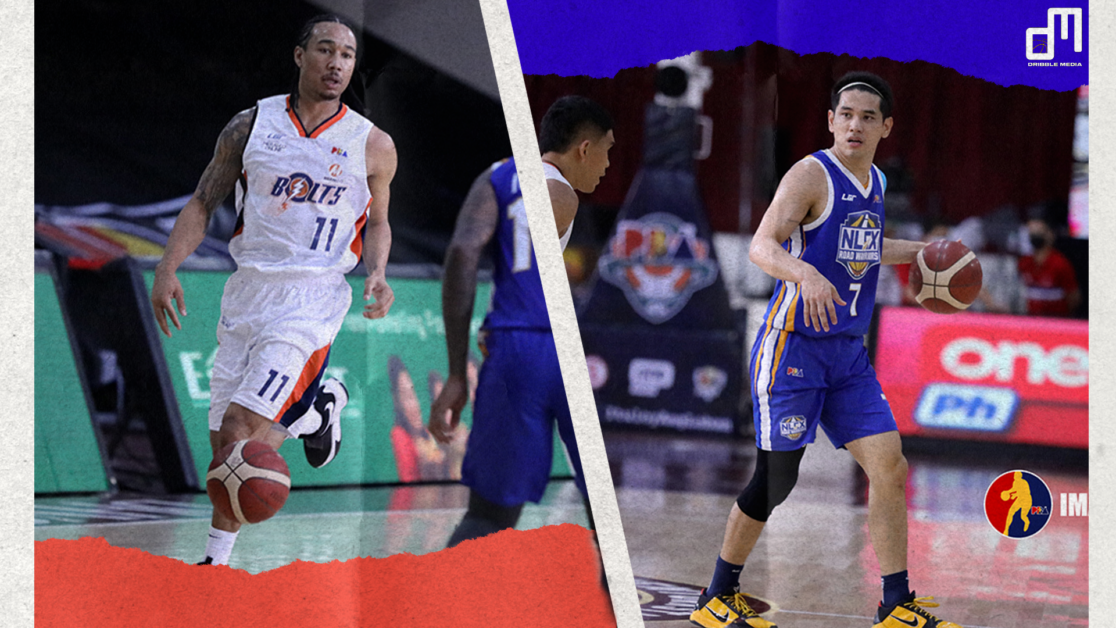 Team Stats Comparison
| | | | | |
| --- | --- | --- | --- | --- |
| Teams | Offensive Rating | Defensive Rating | Net Rating | Pace |
| Meralco | 102.6 (3rd) | 96.8 (5th) | +5.8 (5th) | 87.1 (11th) |
| NLEX | 102.3 (4th) | 98.9 (6th) | +3.3 (3rd) | 89.8 (3rd) |
*
Numbers courtesy of
Stats by Ryan
on Dribble Media
Key Individual Performers
Chris Newsome, Meralco: 11.1 points on 56.9% true shooting percentage, 4.3 rebounds, 4.4 assists, 1.2 steals, 7.4 Box Creation (2nd), 6.7 Passing Production (2nd)
Kevin Alas, NLEX: 13.8 points on 46.5% TS%, 4.4 rebounds, 4.2 assists, 4.9 Box Creation (14th), 6.3 Passer Rating (7th)
Key Absences
Kiefer Ravena, NLEX (Set to play in Japan's B.League): 15.8 points on 53.6 TS%, 6.5 assists, 1.8 steals, 12.5 Box Creation
Aaron Black, Meralco (hand) – 5.8 points, 2.9 rebounds, 1.4 assists
Duel of two underrated playmakers
When coming up with a list of the best active point guards in the PBA, people would still think of the more established names of Ginebra's LA Tenorio, Magnolia's Mark Barroca, or TNT's Jayson Castro. But a new crop of excellent playmakers is steadily taking over the league, and that group includes Chris Newsome and Kevin Alas.
With the departure of Baser Amer in the offseason, Newsome has become the primary playmaker for Meralco. He is norming 4.4 assists this conference, while also producing an excellent 7.4 rating in box creation (BoxCr), an advanced metric that estimates the number of scoring opportunities a player creates for his teammates based on his scoring, shooting, passing, and assisting. Per Stats by Ryan, an advanced stats platform for Philippine basketball, Newsome's 7.4 box creation rating is ranked second-best among players averaging at least 15 minutes per contest (minimum of six games played), which means that he is already a topnotch playmaker in the league.
As for Alas, he has struggled in terms of his efficiency as of late. That trend may have been caused by the absence of Kiefer Ravena, who attracted a lot of gravity from the defense and provided Alas with more leeway to operate. Still, Alas is one of the most complete guards in the league, and his combination of scoring and playmaking will be of utmost value for NLEX in this series.
This duel may not be as explosive as the guard matchup between CJ Perez and Robert Bolick in the San Miguel-NorthPort series, but some of the questions and doubts we have towards the playmaking and facilitating of Newsome and Alas could be answered in this battle.  
The guessing game that is Meralco's offense 
With an excellent 102.6 offensive rating, the Bolts command the third-best offense in the league. But they're doing this with Mac Belo, their top scorer, only averaging 11.8 points. How is that possible?
Meralco has 11 players who are putting up at least five points per game, including four players averaging in double-digits. This is a team with a wide array of arsenal on offense, which was how they managed to win games this conference even with multiple absences from Newsome, Aaron Black, and Cliff Hodge.
The versatility in the Bolts' lineup has given head coach Norman Black the luxury of distributing the minutes and always having fresh legs on the floor. They have 11 players logging at least 15 minutes per game, with Newsome, their top minutes-getter, not even eclipsing 30 minutes in average playing time. It's not everyday that a coach can legitimately say that he has 11 players he can trust to produce quality minutes, but Black has that luxury and that's what makes this Meralco squad a tough team to handle.
Prediction: Meralco moves on to the semifinals
NLEX rookie Calvin Oftana broke out of his shell in his recent scintillating 34-point performance against Meralco. But the Road Warriors lost that game, mainly because their two key cogs, Alas and Jericho Cruz, combined for only five points on a lowly 1-of-13 shooting from the field. The best scenario for the Yeng Guiao-led squad is to have a good all-around game from both Alas and Cruz, and also get a huge scoring boost from the likes of Oftana, Raul Soyud, or Don Trollano.
But it's just doubtful that they can beat Meralco twice in a row. With the insertion of Belo and the much-improved consistency of their supporting cast, this is the best All-Filipino version of the Bolts that we have seen in recent years. They are a well-oiled machine on both ends of the floor, they should be expected to dispose of the Road Warriors and advance to the semifinals to face either Magnolia or Rain or Shine.
---
Advanced Stats are now available for Philippine basketball! Through Ryan Alba's 'Stats by Ryan', you can now look at team and player advanced stats for the current 2021 PBA Philippine Cup (and the previous three seasons) via the Dribble Media website.
Check out this glossary for a list of the basketball advanced stats terminologies.
You can also contact Ryan via his Twitter handle (@_alba__).