The San Miguel Beermen will try to stop the Bay Area Dragons in a best-of-five semifinals series in the 2022 PBA Commissioner's Cup.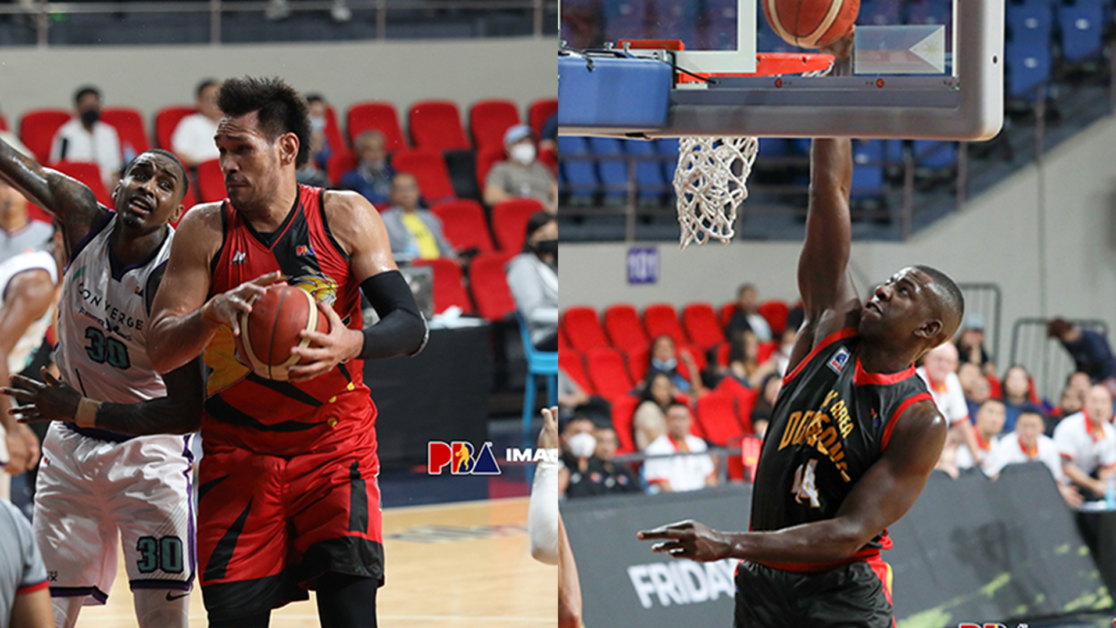 SMB flaunts healthy lineup against Bay Area
Much has changed since Bay Area and San Miguel first faced each other on October 16, especially on the side of the Beermen. SMB still had Diamond Stone as their import at that time, and they also missed the services of stars June Mar Fajardo and Terrence Romeo. Behind Andrew Nicholson's 39-point outing, the Dragons handed the Beermen a 113-87 beating.
Devon Scott has since replaced Stone, and the former has been the better fit for the team. Unlike other imports who always need the ball in their hands, Scott works well within the flow of the Beermen's offense. He has a usage rate of 24.9%, which is tied with CJ Perez and just two ticks above Fajardo's 22.4%. Scott also has passing chops (5.6 assists) in his skill set and the ability to score down low.
Now heading into their best-of-five semifinals series, San Miguel flaunts a healthy lineup boosted by the return of Fajardo and Romeo. Fajardo is again an efficient double-double machine through seven games this conference, and Romeo (22 points, 5-of-6 3PT in the previous game) is steadily getting his rhythm back.
Indeed, the Beermen couldn't have picked a better time to be fully healthy.
Will it be Nicholson or Powell?
Before their quarterfinals battle with the Rain or Shine Elasto Painters, Bay Area had to make last-minute changes when Myles Powell went down with a foot injury in practice. Nicholson stepped into the import role, pouring in 32 points to help his team defeat Rain or Shine.
If Powell recovers in time before Wednesday's Game 1 matchup against San Miguel, Bay Area can still field him in the place of Nicholson. However, that will be the last time that the Dragons will be allowed to shuffle imports. So even if Powell aggravates his foot injury or suffers another setback, Bay Area will continue the rest of their campaign without an import.
The Bay Area coaching staff certainly has a difficult choice to make, particularly if Powell is healthy enough to play. The 6-foot-10 Nicholson is another body to match up with Fajardo. Liu Chuanxing (7'5) may be too slow to defend Fajardo, especially with the latter's ability to face up and put the ball on the floor. Duncan Reid (6'9) could be the better match, but can he keep up with Fajardo the whole game? 
Prediction: SMB wins in five
Depending on which import Bay Area will field, both present different challenges for San Miguel. Myles Powell would be more difficult to defend, especially when he's coming off screens, whether on the ball or off. Bay Area would surely force Fajardo to defend these picks so that would be a problem for SMB.
Defending Andrew Nicholson on the post might be less challenging for the Beermen than keeping up with Powell-led pick-and-rolls. Of course, Nicholson could mix it up with his ability to shoot the three-ball so the San Miguel defense has to be wary of that too.
Either way, SMB has the arsenal to beat Bay Area in different situations. It will be difficult, especially since Bay Area is also a great defensive team. But the return of Romeo and Fajardo, plus the overall production of Scott, could help this loaded San Miguel squad advance to the next round.