The Week 5 of the 2021 PBA Philippine Cup continues with a double-header game day on Wednesday at the Don Honorario Ventura State University Gym in Bacolor, Pampanga. The Phoenix Super LPG Fuel Masters will take on a red-hot Terrafirma Dyip at 2:00 p.m., followed by a match-up between the NorthPort Batang Pier and the Blackwater Bossing at 4:35 p.m.
Here are a couple of interesting storylines to be excited about on PBA Thursday.
Surging Terrafirma continues playoff push
Following their impressive 3-0 slate last week, all eyes are now set on Terrafirma's pursuit of a coveted ticket to the playoffs. Three of their next four games come against teams positioned in the bottom half of the standings, which makes their playoff dream a doable goal in this conference.
But this is not just a feel-good narrative for Terrafirma. Week 4 Player of the Week Juami Tiongson's incredible string of scoring performances against San Miguel and Ginebra fittingly made the headlines, but we can't count out the fact that he and his teammates are playing great as a group. As a team, Terrafirma is currently third in total points per game (90.6), second in assists (20.1), first in three-pointers made (10.3), and first in three-point percentage (32.6%). Their offense is integrating the value of modern spacing and ball movement, resulting in a fifth-best offensive rating of 98.8.
However, their defense will be tested against a Phoenix squad that is hungry for a win. The Fuel Masters rank 10th in offensive rating (89.1) this conference, but this is still a team that has good scorers like Matthew Wright, Vic Manuel, Chris Banchero, Jason Perkins, and RJ Jazul. When Phoenix finally figures out what works for them on the offensive end of the floor, their array of scoring weapons will make them a tough team to defend.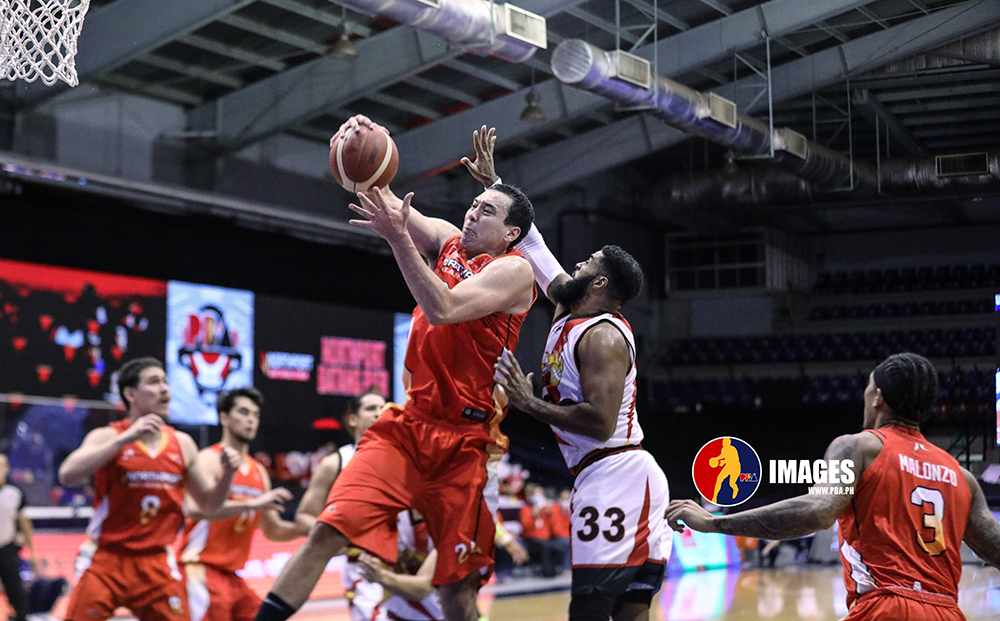 More Slaughter coming up
After not playing at all last week, the NorthPort Batang Pier will finally return to action. It will be a rigorous schedule for the Batang Pier as they will play three games in five days, including a back-to-back slate against Terrafirma and NLEX on Saturday and Sunday, respectively.
One thing that will be exciting to see in NorthPort's return is that we will be getting more games from Greg Slaughter. The 7-foot big man has only played in two games this conference, but the small sample size is promising.
The former Ginebra star is putting up 19.5 points, ranking him second in the league in scoring. More importantly, Slaughter is also hauling down a league-best 15.5 rebounds, along with a fourth-best 17.5% total rebounding percentage (TREB%), which means that Slaughter has had an excellent rebounding rate. It's even more impressive when you look at the teams that he played against in his first two games with NorthPort. Against San Miguel, Slaughter had to battle June Mar Fajardo and Mo Tautuaa on the boards; and versus Ginebra, he duked it out with Christian Standhardinger and Japeth Aguilar.
But more than his rebounding, we'll be getting more chances to see how the Batang Pier will incorporate Slaughter on their offensive sets. He's playing with a good playmaker in Robert Bolick, who is currently ranked third in assists with 6.0. NorthPort will do more pick-and-rolls with Bolick and Slaughter, but the team still has to figure out what to do when they feed their new big man on the post. Whether that be integrating a four-out offense or doing more off-ball actions, it's the perfect time for the Batang Pier to test out some offensive sets against a lowly defensive team like Blackwater.
---
Advanced Stats are now available for Philippine basketball! Through Ryan Alba's 'Stats by Ryan', you can now look at team and player advanced stats for the current 2021 PBA Philippine Cup (and the previous three seasons) via the Dribble Media website.
Check out this glossary for a list of the basketball advanced stats terminologies.
You can also contact Ryan via his Twitter handle (@_alba__).