The 2021 PBA Philippine Cup will be holding another triple-header gameday on Friday at the Don Honorario Ventura State University Gym at Bacolor, Pampanga. The Magnolia Pambansang Manok Hotshots will take on the Blackwater Bossing at 12:30 p.m., followed by a match between Barangay Ginebra San Miguel and Terrafirma Dyip at 3:00 p.m. The third game will then feature the TNT Tropang Giga and the Meralco Bolts at 6:00 p.m.
Here are some exciting things to watch for tomorrow.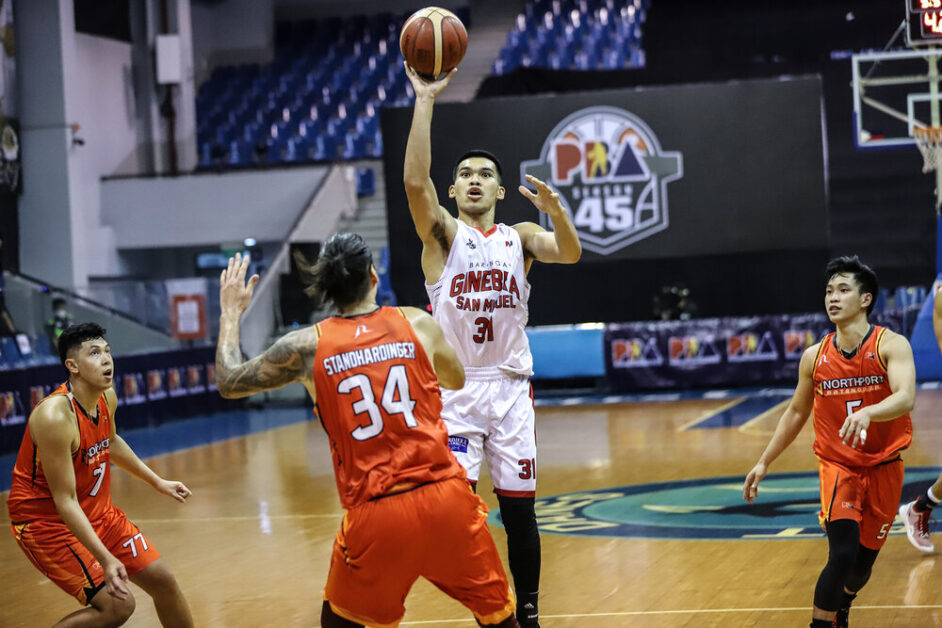 MARIANO'S RETURN ADDS MORE PLAYMAKING FOR GINEBRA​
Aljon Mariano missed the first four games of the conference due to a surgery he had to go through to remove bone spurs in his foot. But per reports, Ginebra head coach Tim Cone said that the combo forward is now "available and ready to go." The multi-titled mentor points out that Mariano is their "most underrated player", and that's because the latter adds toughness and another dimension of playmaking to a team that relies heavily on ball movement.
In fact, Ginebra has always been at the top half of the league in terms of assists as a team. Look at how the Gin Kings stack up against other teams in the assists department in the past three years.  
GINEBRA TEAM ASSISTS (BY CONFERENCE)​
| | | |
| --- | --- | --- |
|   | APG | RANK |
| 2021 Philippine Cup | 20.5 | 2nd |
| 2020 Philippine Cup | 22.7 | 3rd |
| 2019 Governor's Cup | 26.6 | 1st |
| 2019 Commissioner's Cup | 25.5 | 1st |
| 2019 Philippine Cup | 24.2 | 2nd |
Just by looking at the frontcourt players that Ginebra acquired since Cone's arrival in 2015, you could see that playmaking is one common skill among them. Mariano, Joe Devance, Arthur Dela Cruz, and Jared Dillinger are all willing passers. Christian Standhardinger, their most recent acquisition, is a 6-foot-8 big man who is arguably the best playmaking center in the league right now.
Cone likes to field versatile frontcourt players, and this was how Mariano carved a niche in the Gin Kings' rotation. The 6-foot-3 forward normed 8.5 points, 6.1 rebounds, and 2.0 assists last conference, and was a key cog in the team's successful title run. In Game 2 of their match-up against TNT in the 2020 PBA Philippine Cup Finals, Mariano's versatility was on full display as he put up a career-high 20 points along with nine rebounds to help Ginebra forge a huge comeback win. 
Mariano should log a significant amount of minutes in his return, especially with Devance reportedly on the team's reserve list due to knee issues. This next game against Terrafirma should be a great opportunity for Mariano and Ginebra to get into a groove as they have yet to notch consecutive wins in this conference.
Meralco and TNT fight for pole position
The TNT-Meralco battle for the top position heading into the second half of the eliminations is certainly intriguing, because both of these teams have played slow, methodical offense and have been largely reliant on their tremendous defense to hack out wins. 
Look at how the Bolts and the Tropang Giga compare to each other in terms of offense and defense:
| | | |
| --- | --- | --- |
|   | TNT | Meralco |
| Points | 86.3 (7th) | 86.0 (8th) |
| Field Goal% | 38.9% (6th) | 38.8% (7th) |
| Pace (Offense) | 88.5 (10th) | 85.2 (11th) |
| Opponent Points | 76.0 (2nd) | 79.0 (3rd) |
Despite the fact that TNT (4-0) and Meralco (5-1) are the frontrunners in the standings, they are just average offensive teams. Their pace on offense is in the bottom half of the league, which means that games are slow and half-court sets are more deliberate.
Defense is the name of the game for both these squads. TNT holds opponents to the second-lowest mark in points per game (76); first in field goal percentage (35%); third in turnovers forced (18.0), and second in opponents' made three-pointers per game (7.5). With their bevy of tough and versatile defenders like Ryan Reyes, Troy Rosario, RR Pogoy, and Poy Erram, the Tropang Giga closes out well on shooters and forces teams to take difficult shots.
On the other hand, the Bolts' defense in this conference has also been exceptional. They have held opponents to the third-lowest mark in points per game (79); third in field goal percentage (35.5%), and fourth in the fewest made three-pointers (8.2). 
This battle will be tough and rugged. Meralco's defense could focus on forcing TNT to commit more turnovers; the Tropang Giga has taken good care of the ball this conference, averaging the least turnovers in the league with only 13.5 miscues. 
On the flip side, TNT is excellent at making things difficult for the opposing teams' best players. In their win against Phoenix on August 1, they forced Vic Manuel and Matthew Wright to a combined 13 turnovers. When they faced Rain or Shine last July 30th, the Tropang Giga also held Rey Nambatac to only four points on a lowly 2-12 clip from the field, along with four turnovers. If TNT can make life very miserable for Chris Newsome and Mac Belo, two of Meralco's top players, then they have a huge chance of maintaining their spot at the top of the standings.
How will Magnolia respond?
In their last game, the Hotshots held a 13-point lead over the Bolts with only two minutes left in the game clock. Magnolia was on its way to a fifth-straight victory, but they let the game slip away. They didn't have an answer to Meralco's full-court press, coughed up the ball in consecutive possessions, and a three-pointer and a game-winning lay-up from Meralco star Chris Newsome did them in.
The last two minutes of that loss was certainly a disappointment, but Magnolia actually played well prior to that. Paul Lee shrugged off any concerns about his hamstring injury and finished the game with 21 points and five triples while producing a very efficient 50% clip from the field. Calvin Abueva raked in a double-double night of 18 points and 14 rebounds, and only committed one turnover. 
But that massive collapse that led to a bizarre ending is inexcusable, especially for a team with very high expectations. Magnolia can get back on track if they can easily put away the winless Blackwater tomorrow.
Advanced Stats are now available for Philippine basketball! Through Ryan Alba's Stats by Ryan, you can now look at team and player advanced stats for the current 2021 PBA Philippine Cup via the Dribble Media website.
Also, check out this glossary for a list of the basketball advanced stats terminologies.
You can also contact Ryan Alba via his Twitter handle (@_alba__).
SUBSCRIBE TO THE DM KICKS YOUTUBE CHANNEL FOR THE LATEST SNEAKER UNBOXING AND REVIEWS!