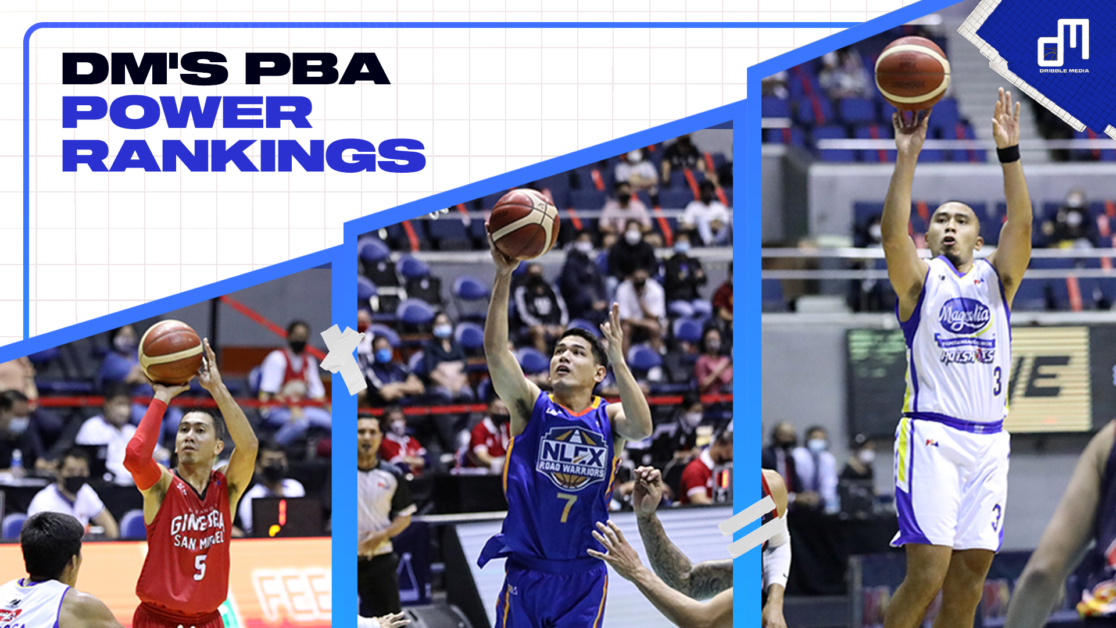 The first edition of Dribble Media's 2021 PBA Governors' Cup Power Rankings is here! The start to the new conference saw what was expected to be a middle-of-the-pack squad rise to the top of the standings, along with a couple of teams who are toiling through injuries to their respective imports. The surge in the metro's COVID-19 cases again forced the postponement of games before the conference reached its halfway mark, but there's already plenty to unpack here.
As we again await for the resumption of the games, let's look at how each team has performed so far, and how they stack up against each other.
How do we do the Power Rankings?
Taking a page out of the NBA Power Rankings made by The Athletic's Zach Harper's, this is also a no-fly zone for the transitive property logic. Last December 12, Barangay Ginebra beat the Alaska Aces, then the Magnolia Hotshots defeated Ginebra last December 25. Since we're taking out the principle of the transitive property, we won't automatically say that Magnolia is already a better team than Alaska.
The rankings are not just based on the teams' recent game results. We cannot immediately assume that a team that tallied a 1-1 slate to begin the season should rank higher than another team that began 0-2. We also have to project if the performances of these teams are sustainable for the long run.
Numbers and advanced stats are courtesy of RealGM and Dribble Media's Stats by Ryan.
1. Magnolia Hotshots (3-0)
OffRtg: 129.7 (1st) | DefRtg: 106.4 (10th) | NetRtg: +23.3 (1st)
The Hotshots are encapsulating what it means to be an efficient offensive team. They are shooting the ball at a spectacular rate, and they are taking really good care of the rock. Look at how efficient the Magnolia offense is through their first three games of the conference.
Magnolia's offense through three games
| | | | | |
| --- | --- | --- | --- | --- |
| FG% | 3P% | FT% | APG | TOV |
| 51% (1st) | 42% (1st) | 80% (1st) | 22.3 (5th) | 8.0 (1st) |
These are just three games, but the Hotshots have been impressive. Two of these three wins came against expected contenders in Ginebra and Rain or Shine. They defeated the Elasto Painters in a game in which they only committed five turnovers, then proceeded to blow out the Gin Kings via a 23-point Christmas Game beating. Magnolia has won their assignments by an average margin of 20.3 points, and their offense has served as a catalyst to this blistering start to their campaign.
Magnolia import Mike Harris has stayed true to his huge credentials, as he is putting up 28.3 points on 53.1/33.3/85.7 shooting splits for a True Shooting percentage (TS%) of 60.6%. But with the Hotshots' key locals performing at a high level, Harris is also getting all the help that he needs. Jio Jalalon is currently ranked third in the league in assists (7.3), while Calvin Abueva is sixth among locals in the scoring column (16.0). Paul Lee has bounced back from the frustrating shooting display he had last playoffs, and is now shooting a decent 36.8% clip from the three-point line (6.3 3PA).
Magnolia has the third-worst defensive rating in the league, but there's no need to worry about that — at least not while they are trouncing their opponents like this. Besides, the Hotshots are having too much fun right now — the right kind of fun that comes from an ultra-efficient offense.
2. NLEX Road Warriors (4-1)
OffRtg: 111.4 (2nd) | DefRtg: 103.2 (6th) | NetRtg: +8.2 (3rd)
K.J. McDaniels is taking fewer shots than he did a couple of seasons ago when he suited up for TNT, but he is still producing the numbers on both ends of the floor. Through five games for NLEX, McDaniels is averaging 29.2 points, 11.4 rebounds, 3.8 assists, 1.8 steals, and 1.8 blocks — arguably the best two-way stat line among all imports this conference. McDaniels' impactful output, combined with consistent performances from some of their key players, has pushed the Road Warriors to a 4-1 start this conference, including morale-boosting wins over powerhouse squads such as TNT and San Miguel.
Lead guard Kevin Alas is having a miserable start from three-point land — making only 22.2% of his 3.6 three-point attempts per game — but his overall numbers of 15.0 points (49% FG), 3.6 rebounds, and 5.0 assists are still fairly good. NLEX is also receiving some timely boosts — and efficient boosts at that — from forwards Don Trollano and Calvin Oftana. Take a look at the numbers that these two versatile wingmen are putting up for the Road Warriors.
Trollano and Oftana's averages through five games
| | | | | |
| --- | --- | --- | --- | --- |
| | PPG | RPG | FG% | 3P% |
| Don Trollano | 12.0 | 5.8 | 62% | 47% (3.4 attempts) |
| Calvin Oftana | 11.8 | 7.2 | 56% | 39% (3.6 attempts) |
Trollano and Oftana's combined scoring average of 23.8 points is a much-needed reinforcement for NLEX, as it mitigates Jericho Cruz's lack of production to start this conference. Cruz, who was one of the best combo guards during the 2021 Philippine Cup and is definitely the second-best local player in this team, has struggled from the get-go, averaging just 5.6 points on a lowly 32.4% shooting from the field, including 22% from beyond the arc. Despite NLEX's rousing start to the conference, they can only reach their peak form when Cruz brings his A-game.
3. Barangay Ginebra San Miguel (3-1)
OffRtg: 108.9 (3rd) | DefRtg: 106.2 (8th) | NetRtg: +2.7 (7th)
The defense still needs tons of work, but Ginebra is back to being a good offensive team, at least in terms of their ball movement and three-point shooting. Ginebra has always been a great assist team, with the exception of their abysmal 2021 Philippine Cup showing when they produced a 59.6% assist percentage, their lowest in the past five conferences. The ball movement was not as crisp as they wanted it to be last conference, but the Gin Kings are steadily gaining traction now, as they are dishing out a total of 24.8 assists in their current campaign, which is good for the second-best mark in the league behind Meralco.
Along with their much-improved passing, Ginebra is also shooting better from deep. Ginebra's offense isn't predicated on how well they shoot from long range, but when your team is shooting 27.8% from the three-point line like they did last conference, chances are your offense will struggle because you are left with fewer options to score. To go back to their winning ways, the Gin Kings have to shoot better, and they're doing just that this conference as they're tied for third in the league in three-point shooting (33.7%). They have three players averaging more than four three-point attempts per game and making at least 38% of them, including Arvin Tolentino who is hitting 40% of his 7.5 attempts.
Of course, it also helps that import Justin Brownlee is still doing it all for Ginebra (27-10-5 averages on points, rebounds, and assists) while also staying on the floor for literally the most part (44.4 minutes per game). However, the loss of scoring guard Stanley Pringle will strip them of a primary offensive weapon this conference. The acquisition of free agent John Pinto could help cushion the blow, but that is more of a Meralco loss than a Ginebra win.
4. Phoenix Super LPG Fuel Masters (3-2)
OffRtg: 106.1 (4th) | DefRtg: 102.6 (4th) | NetRtg: +3.4 (6th)
Phoenix guard Chris Banchero is exemplifying what it means to have a bounce-back performance. Banchero was one of the biggest disappointments last conference, as he only tallied 9.1 points in his first stint as a Fuel Master, which was also his lowest scoring output since the 2016-17 season. But this conference — which is interestingly his "contract year" as he has recently entered unrestricted free agency — the 31-year-old combo guard is producing a team-high 18.0 points on a very efficient 55% shooting, including a 39% clip from beyond the arc. On top of that, Banchero is also doing other things too, as evident in his averages of 4.4 assists and 2.4 steals.
Their import, Paul Harris, is only taking the third-most field goal attempts within the team, but the Fuel Masters have impressed quite strongly early on. They struck NLEX with their only loss in five games, and have expectedly put away weaker teams such as Blackwater and Terrafirma. Phoenix's two losses came at an average margin of only 3.0 points, and those are against two good teams in Ginebra and Rain or Shine. With their backcourt pairing of Banchero and Matthew Wright doing wonders for them, along with Harris' solid contributions across the board, Phoenix is back to being a playoff contender this conference.
5. Alaska Aces (3-2)
OffRtg: 97.4 (10th) | DefRtg: 92.2 (2nd) | NetRtg: +5.1 (4th)
Without a lot of weapons on offense, the Aces have focused their sights on becoming a great defensive team, and it is paying dividends. They have the second-best defensive rating in the league (92.2), limiting their opponents to a lowly average of 83.0 points. The Aces are closing out strong on shooters, as they are forcing their opponents to a second-worst mark of 25.5% from the three-point line. They have two good perimeter defenders in Maverick Ahanmisi and Robbie Herndon, both of whom are averaging at least one steal per game. Kevin Racal is managing his load (only 12.6 MPG) in his first conference back from a torn ACL injury in 2020, but he should help boost Alaska's defense even more when he regains full strength.
The obvious concern for the Aces here is their offense. Import Olu Ashaolu is hauling in a double-double stat line of 20.2 points and 14.0 rebounds, but his offense is limited to inside the arc. He is only making 20% of his three-point shots and his paltry 57.9% clip from the free throw line is not helping, either. The other seven Alaska players who are making significant contributions of at least five points per contest are shooting below 40%, with center Yousef Taha as the only exception.
Alaska's problem right now mirrors that of Rain or Shine's struggle in recent years — excellent defense but subpar offense. For the Aces to maintain their current position and book a ticket to the playoffs, they have to sustain their defense and improve their offense to at least an average level.
6. San Miguel Beermen (3-2)
OffRtg: 105.7 (5th) | DefRtg: 102.1 (3rd) | NetRtg: +3.6 (5th)
The Beermen have won three of their first five games, but there's still a cloud of uncertainty at this early stage of their campaign. Their wins came against teams (Blackwater, Terrafirma, NorthPort) who hold the three worst records in the league so far. Import Brandon Brown has put in the numbers, but reports say that he will be replaced by Orlando Johnson, an NBA veteran and a former Ginebra import. Brown delivered all-around numbers of 23.4 points, 12.6 rebounds, 5.0 assists, and 3.0 steals, but the San Miguel coaching staff may be looking for someone who is more fluid on the perimeter and can space the floor more effectively to allow June Mar Fajardo and Vic Manuel more freedom to operate inside. Brown had decent scoring outputs, but his abysmal 25% shooting from the three-point line, as well as his high count of 4.6 turnovers, could have forced the Beermen to look for a better fit.
The good thing going on for San Miguel is that they are in full strength in terms of health. When Johnson comes in, they can immediately tinker with their rotations and identify their better-performing lineups ahead of the more important games in the playoffs.
7. Meralco Bolts (2-0)
OffRtg: 104.4 (7th) | DefRtg: 90.6 (1st) | NetRtg: +13.8 (2nd)
The Bolts have achieved a lot of success with resident import Allen Durham, so it was a dampener that they couldn't get his services this conference as Durham is still suiting up for the Ryukyu Golden Kings of the Japanese B.League. But Meralco has struck gold again in their import hunt, this time in the form of Tony Bishop Jr., who is leading all players in scoring (32.0) and rebounding (15.0). Most importantly, Bishop is scoring at a highly-efficient rate, as evidenced in his shooting splits of 53.3/71.4/73.3 for an excellent 62 TS%.
Bishop and the Bolts have won their first two games of the conference, and they will definitely make a jump to the top of this list if they sustain this momentum in their next assignments. They have produced a league-best defensive rating of 90.6, although it's hard to put much weight into it given the small sample size, not to mention that one of their two wins to start the conference was against Blackwater.
One concern for Meralco moving forward is the loss of John Pinto, who has signed with Ginebra in free agency. Pinto was a solid rotational piece for them last conference, and he gave the Bolts a steady presence in the backcourt. Chris Newsome will still be their primary playmaker but with Pinto's departure, Meralco is also pinning their hopes on Aaron Black and Kier Quinto, two young players who also have playmaking potential.
8. TNT Tropang Giga (2-2)
OffRtg: 103.3 (8th) | DefRtg: 102.7 (4th) | NetRtg: +0.6 (8th)
This isn't the start that the Tropang Giga wanted, but there's no need to worry this early in their campaign. The locals are making significant contributions across the board, with their backcourt trio of Mikey Williams, Jayson Castro and RR Pogoy combining for a scoring average of 46.0 points through four games. Most importantly, they still have the fourth-best defensive rating in the league. It's a dip of two places from their second-best defensive rating last conference, but this just shows that they have the right pieces to be a solid team on that end of the floor.
The glaring concern in the TNT camp right now is the production from their import, or the lack of it. McKenzie Moore, who was reportedly playing through an injury, averaged only 10.7 points on a rough 32.4% shooting from the field, including 15.4% from deep. This is an import-laden conference, and a team who doesn't get much from their import will be put into immediate disadvantage. But things are looking up for TNT as Aaron Fuller has taken over the import duties, not to mention that the conference hiatus has given more time for Troy Rosario, who has yet to log a single game, to recover from the injuries he sustained during the team's successful title run last conference.
9. Rain or Shine Elasto Painters (2-3)
OffRtg: 105.2 (6th) | DefRtg: 106.3 (9th) | NetRtg: -1.1 (9th)
The win-loss slate is a bit disappointing and their defensive rating has gone down, but the Elasto Painters are showing some real improvements on their offense. They have increased their three-point attempts from 33.2 last conference to 36.2 in their current campaign, and they are shooting the three-ball at a far more efficient rate (from 27.3% to 33.7%). That six-point increase in their three-point shooting percentage is a massive jump, especially in the PBA where teams' long-range shooting percentages tend to be very low.
The defense will eventually catch up to Rain or Shine's usual high standards, and if they sustain this more effective brand of offense, they could be a sleeper team come playoff time.
10. NorthPort Batang Pier (0-4)
OffRtg: 95.6 (11th) | DefRtg: 104.9 (6th) | NetRtg: -9.3 (10th)
Despite their winless start to the conference, NorthPort is showing a lot of promise, especially with how their locals are performing at a very high level. Their import Cameron Forte sustained a knee injury that forced him to sit out the team's last two games, with the Batang Pier now reportedly scouring the import market for a replacement. But even with Forte's presence in their first couple of assignments, the Batang Pier didn't rely heavily on their import. Forte only averaged 17.5 points, and he was never the leading scorer for NorthPort in each of those two games that he played.
If NorthPort could find a suitable replacement for Forte, they should be able to rack up the wins. Robert Bolick is playing at an all-time high, and newly-acquired veteran Arwind Santos is proving to be a seamless fit. Greg Slaughter and rookie Jamie Malonzo are scoring in double figures, while also rebounding at a high rate (combined average of 17.8 rebounds).
In their search for a new import, the Batang Pier could opt for someone who is comfortable with his perimeter game, rather than another inside operator like Forte. If they could bring in an import who can handle the ball in the perimeter and create scoring opportunities for his teammates, that would take a lot of load off Bolick's shoulders, which would prove beneficial for NorthPort as they try to secure a playoff seat.
11. Terrafirma Dyip (1-4)
OffRtg: 98.4 (9th) | DefRtg: 112.1 (12th) | NetRtg: -13.7 (11th)
Terrafirma surprised everyone last conference when they put up an offensive rating (100.1) that was above the league average. But their abysmal defense was a problem, and that remains true this conference. Terrafirma currently has the worst defensive rating in the league, and with the personnel that they have right now, that is a trend that will not change anytime soon. Their import Antonio Hester has been a force to reckon with on offense, as he is averaging 27.0 points on an efficient 56.8% overall clip from the field. But Hester will not move the needle for Terrafirma's defense, and their other new acquisitions in Alex Cabagnot and Ed Daquioag might not, either.
12. Blackwater Bossing (0-5)
OffRtg: 91.8 (12th) | DefRtg: 110.9 (11th) | NetRtg: -19.1 (12th)
Things are not getting any better in the Blackwater camp. Import Jaylen Bond is only scoring 12.0 points, which is the second-worst mark among all imports. Aside from Bond, only one other Blackwater player is averaging double digits in the scoring column — Rashawn McCarthy is producing 15.4 points but on a lowly 38% shooting. With their roster makeup and lack of direction, Blackwater is again expected to finish with the worst record this conference.