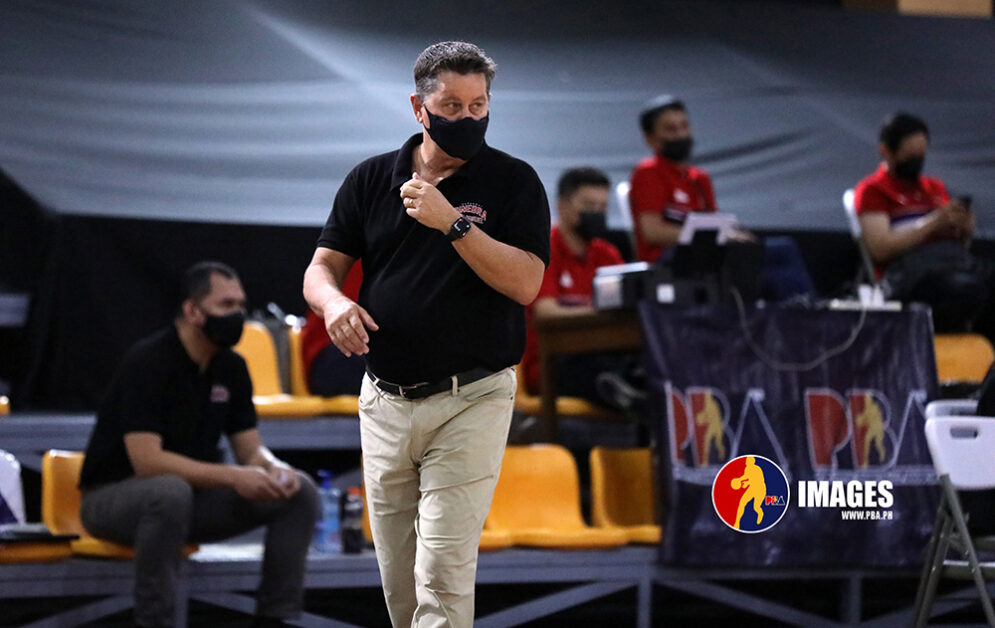 For the first time in Week 6, the 2021 PBA Philippine Cup will again feature an exciting triple-header bill on Friday at the Don Honorario Ventura State University Gym at Bacolor, Pampanga. The first game will pit the NorthPort Batang Pier against the Magnolia Hotshots at 12:30 p.m., followed by a bout between the San Miguel Beermen and the Phoenix Super LPG Fuel Masters at 3:00 p.m. Barangay Ginebra San Miguel will then duke it out with the Alaska Aces for the third game slated at 6:00 p.m.
Here are some storylines to look forward to heading into Friday's games.
Defense still remains a question mark for Ginebra
Masterful performances from Stanley Pringle and LA Tenorio saved Ginebra in their comeback win over Phoenix, but it's their defense that still leaves more questions than answers. The Fuel Masters hit almost half of their shots (47% FG) against the Gin Kings, including 42 points in the paint. Oh, and they did that with their top frontcourt scorer Vic Manuel playing only eight minutes due to a leg injury he apparently sustained early in the game.
Per Stats by Ryan, an advanced stats platform for Philippine basketball, Ginebra ranks as the third-worst defense, allowing teams to score 102.4 points per 100 possessions. The two teams ranking below Ginebra are Terrafirma and Blackwater, which tells us how dismal the Gin Kings' defense has been in this conference. Christian Standhardinger is an excellent rebounder, but he lacks that intimidating presence in protecting the rim. With Japeth Aguilar reportedly set to miss a couple of weeks more due to an MCL sprain, they will be stripped of their best interior defender.
In their game against Alaska tomorrow, that interior defense will again be put to the test. With Aguilar gone, look for the Aces to challenge the Gin Kings in the paint and focus on possibly putting Standhardinger in foul trouble.
Can NorthPort's fast-paced offense work against Magnolia?
NorthPort's mantra on offense in this conference is to push the ball at all times, evidenced by the fact that they are ranked second in pace (90.2), and first in total points per game (105.6). Bolstered by Robert Bolick's all-around skill set as a lead guard, the Batang Pier have been largely dependent on their run-and-gun game, and they will continue to do so especially if Greg Slaughter again sits out tomorrow.
However, they will be going up against a Magnolia team that has held their opponents to the fifth-lowest mark of 83.7 points. On top of that, the Hotshots have been excellent in closing out on shooters, as they limit opponents to a lowly 23.9% clip from the three-point line, which is the second-lowest mark in this conference. That will come in handy against a NorthPort squad that launches triples at will, characterized by their 36.4 three-point attempts per contest, which is the second-highest mark this conference.
In three of their four losses so far, the Batang Pier failed to hit the 90-point mark, so the Hotshots will surely aim to keep this a low-scoring affair.
How serious is Vic Manuel's injury?
It has been an utterly disappointing conference for Phoenix, but they still have a chance to book a seat in the playoffs if they win their next game. This will be their last assignment in the eliminations, and tacking on another loss will drop them to a 4-7 record, which will further dampen their chances of making it to the next stage.
However, their next game will be against the San Miguel Beermen, who have won two of their last three games, including big victories against Ginebra and TNT. It will be tough going up against a talent-laden team like the Beermen, and it will be even tougher for the Fuel Masters if Vic Manuel sits out tomorrow. Due to a leg injury, Manuel played only nine minutes in their recent loss to Ginebra. It has been an up-and-down conference for Manuel, but he is still one of the only three Phoenix players putting up double-digits in the scoring column. With so much at stake tomorrow, the Fuel Masters can't afford an absence from their scoring power forward.
---
Advanced Stats are now available for Philippine basketball! Through Ryan Alba's 'Stats by Ryan', you can now look at team and player advanced stats for the current 2021 PBA Philippine Cup (and the previous three seasons) via the Dribble Media website.
Check out this glossary for a list of the basketball advanced stats terminologies.
You can also contact Ryan via his Twitter handle (@_alba__).
---
SUBSCRIBE TO DRIBBLE MEDIA'S YOUTUBE CHANNEL FOR THE LATEST SNEAKER UNBOXING AND REVIEWS!