If you happened to miss out on the 2021 PBA Philippine Cup's Friday double-header slate, here's a quick rundown to keep you updated.
TNT's offense clicks on all fronts
The TNT Tropang Giga dominated their counterparts on their way to a lopsided 115-98 win over the San Miguel Beermen to take a 2-1 lead in their best-of-seven semifinals series.
Main Takeaways:
Even in the early moments of their Game 2 loss last Wednesday, the Tropang Giga were deliberate in trying to outrun the Beermen. In Game 3, TNT returned to that offensive game plan as they recorded 115 points, their highest single-game output in this conference. Even though they pushed the ball almost every time, the Tropang Giga took care of the ball really well, as they only committed 12 turnovers the whole night. With their increased shooting efficiency and their low turnover count, TNT was surely a very tough team to beat tonight. 
On the other hand, San Miguel turned the ball over 24 times and they only had 13 assists as a team. That's a dismal assist-to-turnover ratio, and it's a testament to how good TNT is in forcing miscues from the opposing team. TNT is the best in the league in forcing turnovers (18.9) as they have a club of pesky perimeter defenders that make a living out of hounding ball-handlers. The Beermen averaged 23.5 turnovers in their two losses in this series, while they only committed 13 in their Game 2 win. It's without a doubt that the high count in turnovers is killing San Miguel.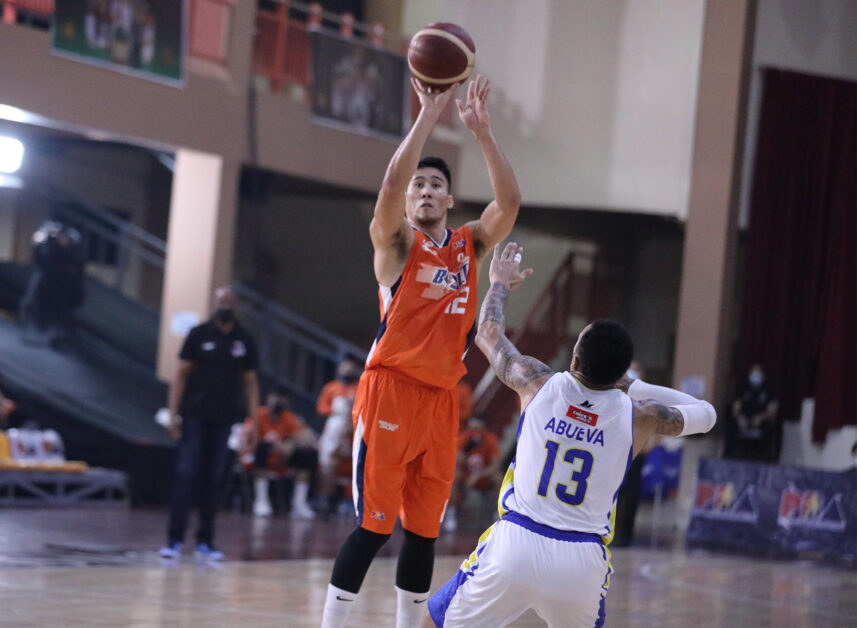 Magnolia's early shooting struggles lead to Game 3 loss
The Meralco Bolts avoided a 0-3 hole by hacking out a 91-86 victory against the Magnolia Hotshots in Game 3 of their best-of-seven semifinals series.
Main Takeaways:
Magnolia tried to crawl back from a huge 21-point deficit but their outside shooting struggles in the first three quarters set them up for failure. There was even an instance in the first quarter when they fielded in Jio Jalalon, Justin Melton, Calvin Abueva, Jackson Corpuz, and Ian Sangalang at the same time, a lineup that had glaring problems in terms of spacing and shooting. In that quarter, the Hotshots only had 14 total points and went 0-of-7 from the three-point line. Outside shooting has been lacking for Magnolia this conference, as they are only compiling 7.7 three-pointers per contest, which is the second-lowest mark in the league.
The insertion of Jerrick Ahanmisi in the fourth quarter somehow brought life to the Hotshots' sputtering offense. He produced a perfect 3-of-3 clip from the field, including two consecutive three-pointers to give the struggling Magnolia a much-needed jolt. Ahanmisi and the Hotshots outscored the Bolts, 32-18, in the payoff period although that was not enough to make up for their early struggles. Ahanmisi's shooting and the defensive gravity that he attracts should be two important assets that will catapult him into head coach Chito Victolero's rotation for the rest of the series.
The absence of the injured Raymond Almazan certainly stripped them of their best rim protector, but without him, Meralco had better spacing on the offensive end of the floor. They made 41% of their 29 three-point attempts in Game 3, and their shooters got a lot of open looks from long range. The Bolts haven't been a good outside shooting team this conference, as evidenced by their third-worst mark of 8.3 made triples, but they are at the top half of the league in three-point percentage (31.1%). It just means that launching tons of triples isn't in their playbook, but that could change with how well they shot from deep in the Game 3 win.
---
Advanced Stats are now available for Philippine basketball! Through Ryan Alba's 'Stats by Ryan', you can now look at team and player advanced stats for the current 2021 PBA Philippine Cup (and the previous three seasons) via the Dribble Media website.
Check out this glossary for a list of the basketball advanced stats terminologies.
You can also contact Ryan via his Twitter handle (@_alba__).