Here are some storylines and trends that highlighted the 2021 PBA Philippine Cup's double-header bill on Wednesday.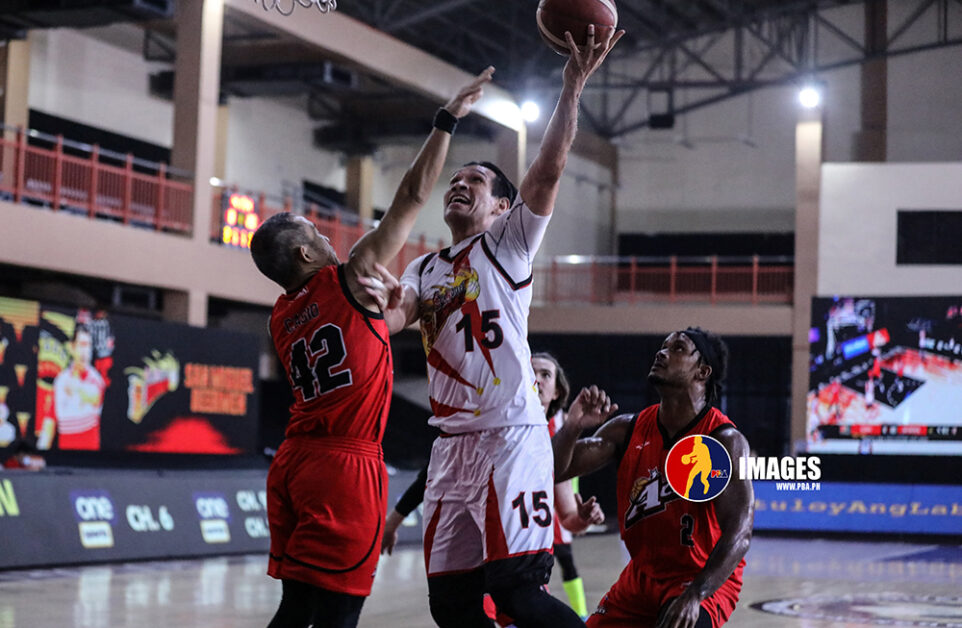 June Mar is looking better
The San Miguel Beermen (7-4) secured the fourth seed in the playoffs by defeating the Alaska Aces (3-7), 101-100.
Main Takeaways:
The Marcio Lassiter game-winning corner trifecta saved the day, but San Miguel fans should also be happy that June Mar Fajardo is slowly getting into his groove, at least on the offensive end of the floor. He tallied 17 points on an efficient 7-of-10 shooting, then hauled in 10 boards and dished out six assists. It was Fajardo's best performance in the past five games, so that's something to build on heading into the postseason.
However, Fajardo had his troubles on the other end of the floor. The Alaska big men tested the six-time Most Valuable Player's lateral defense, and they succeeded. Abu Tratter put up a game-high 24 points, and Rodney Brondial contributed 17 markers. By putting the ball on the floor and aggressively attacking the rim, they were able to put Fajardo in foul trouble. It was a disappointing result and overall a frustrating campaign for the Aces, but their team defense and the play of their big men were positive takeaways.
The Calvin Oftana game
Despite an inspired performance from rookie Calvin Oftana, the Meralco Bolts (8-2) carved out a 104-101 victory over the NLEX Road Warriors (5-6).
Main Takeaways:
We mentioned in our first power rankings that Meralco has more or less ten players who can explode on offense at any given time. In fact, their top scorer Chris Newsome is only putting up 12.9 points, but there are nine other Bolts who are averaging at least five points per game. That "strength in numbers" was again an advantage for Meralco last night, as six of their players scored in double-digits, with Allein Maliksi pouring in 22, and Alvin Pasaol and Mac Belo contributing 17 and 16 markers, respectively.
Raymond Almazan had another impactful outing. The Meralco big man tallied 13 points, 11 rebounds, and 3 blocks, a stat line that's very similar to his averages in the previous two contests. Almazan is on his best stretch of games as a member of the Bolts, and the team needs every ounce of his defense and rebounding in the playoffs. You don't get a lot of quality big men in the PBA, but Meralco has one in Almazan if he remains fully healthy.
NLEX's first-year forward Calvin Oftana torched the nets with eight triples on his way to a game-high 34 points, breaking Allan Caidic's all-time record in made three-pointers for a rookie. The talented youngster also showed some glimpses of his improved ball-handling, including an in-and-out dribble that he capped with a step-back mid-range jumper. Unfortunately, Oftana didn't get a lot of help from his teammates, especially with Kevin Alas and Jericho Cruz combining for only five points on a lowly 1-of-13 shooting.
---
Advanced Stats are now available for Philippine basketball! Through Ryan Alba's 'Stats by Ryan', you can now look at team and player advanced stats for the current 2021 PBA Philippine Cup (and the previous three seasons) via the Dribble Media website.
Check out this glossary for a list of the basketball advanced stats terminologies.
You can also contact Ryan via his Twitter handle (@_alba__).
---
GET MORE BASKETBALL AND SNEAKER UPDATES WHEN YOU SUBSCRIBE TO DRIBBLE MEDIA'S YOUTUBE CHANNEL!