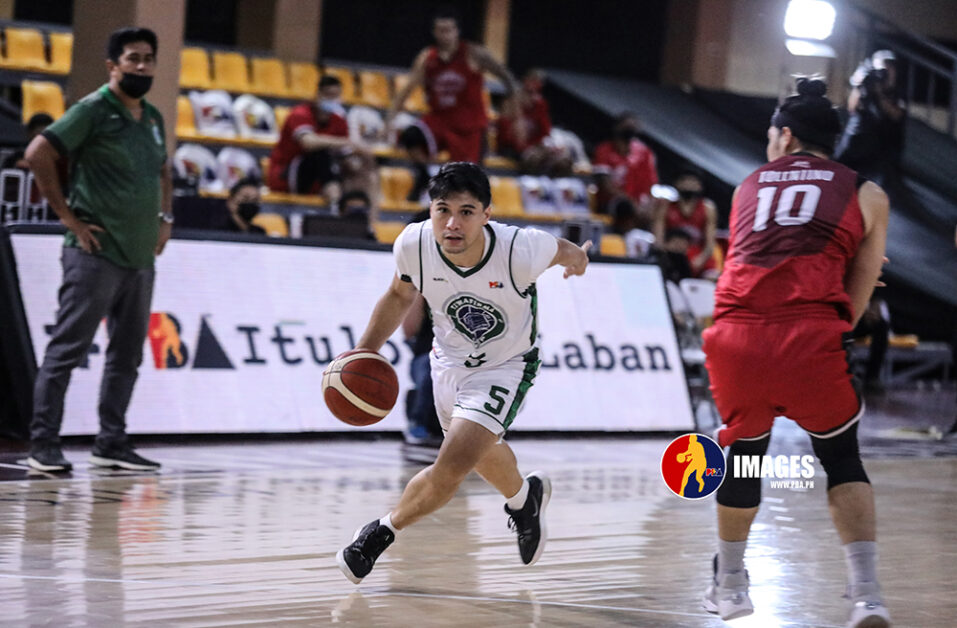 For the third time in five days, the 2021 PBA Philippine Cup will again feature a jam-packed triple-header bill on Sunday at the Don Honorario Ventura State University Gym at Bacolor, Pampanga. The first game will pit the streaking Terrafirma Dyip against the Blackwater Bossing at 2:00 p.m., followed by a bout between the Meralco Bolts and the Barangay Ginebra San Miguel at 4:35 p.m. The Magnolia Pambansang Manok Hotshots will then duke it out with the TNT Tropang Giga for the third game slated at 7:00 p.m.
Here are some storylines to be excited for heading into Sunday's games.
Are you joining the Tiongson bandwagon?
'Magic' Tiongson? 'Klay' Tiongson? Luka 'Tiongcic'?
Funny nicknames aside, Terrafirma lead guard Juami Tiongson has undoubtedly grabbed the attention of most of the league. He poured in 28 points to beat the San Miguel Beermen on Thursday, then he followed it up with a scintillating 31-point outing to take down Ginebra.
It might feel something akin to the "Linsanity" days when then-New York Knicks point guard Jeremy Lin suddenly burst into the scene after surprisingly compiling a string of consecutive incredible performances, but the truth is that the 30-year-old Tiongson was really due to have high-scoring games like this.
During the 2020 PBA Philippine Cup, Tiongson averaged 13.4 points on shooting splits of 43/39/88 for a true shooting percentage of 54.5%. Among players who attempted at least four three-pointers a game, he ranked sixth in three-point percentage with 39.6%. Per Stats by Ryan, an advanced stats platform for Philippine basketball, Tiongson's per-36 minutes stat line is as follows: 16.7 points, 3.9 rebounds, 3.3 assists, and 1.8 steals. While it's true that these numbers are just estimated measures, the stat line also shows Tiongson's potential if he is given more minutes and more opportunities to score.
In 2020, Tiongson was very efficient with his shooting, but he didn't get a lot of touches on offense as he played behind CJ Perez, who put up a league-high 19.2 field goal attempts last season. Now that Terrafirma head coach John Cardel has handed him the keys to the offense, Tiongson is finally showing what he can truly do with his multidimensional skill set on offense. 
Another Battle of the Top Dogs
For the second consecutive night, the league-leading TNT will battle it out with a top contender. After putting on a defensive masterclass against the Meralco Bolts, the undefeated Tropang Giga are set to test the mettle of the current second-seeded Magnolia.
The Tropang Giga's defense has been so good in forcing star players to bad outings. Just take a look at how these players performed against the stingy TNT defense:
Chris Newsome (MER): 5 points, 5 turnovers
Mac Belo (MER): 6 points, 2-8 FG, 0-3 3P
Matthew Wright (PHO): 15 points, 7 turnovers
Vic Manuel (PHO): 13 points, 6 turnovers
Beau Belga (ROS): 0 points, 0-7 FG, 5 turnovers
Rey Nambatac (ROS): 4 points, 2-12 FG, 0-5 3P, 4 turnovers
Joshua Munzon (TER): 6 points, 3-15 FG, 0-5 3P
But the Tropang Giga's defense will be heavily tested against the Hotshots. Paul Lee is still the head of the snake in Magnolia, but Ian Sangalang, Calvin Abueva, and Mark Barroca have been very consistent this conference. In their previous six games, both Sangalang and Abueva have accumulated double digits in scoring in five contests, with Barroca trailing with four double-digit performances. It's very difficult to pick your poison when you're up against the Magnolia offense because they evenly distribute the load as those four aforementioned players can score at a high level at any given night.
Whoever wins this matchup will take the top spot in the standings, so expect TNT and Magnolia to go all-out on Sunday.
Can Ginebra finally break through?
Early in the third quarter of their recent loss to Terrafirma, Ginebra head coach Tim Cone replaced all of his starters with a lineup of Kent Salado, Scottie Thompson, MJ Ayaay, Jared Dillinger, and Prince Caperal. That sparingly-used lineup may have been fielded because Cone didn't see much urgency from his starters.
But it's not just the lack of urgency that the Gin Kings are having problems with. With the arrival of newly-acquired center Christian Standhardinger, the Gin Kings are also struggling with familiarity on both ends of the floor. Their points per game of 85.4 and offensive rating of 95.2 are both below the league average, which is a surprising trend considering that they have a bevy of good playmakers and scorers.
The unfamiliarity issue also extends to the defensive end of the floor. In their previous assignment against Terrafirma, Ginebra's defense gave up 17 triples. The lack of effort in closing out on shooters is always a factor in this kind of mishap, but there's also the fact that unfamiliarity with defensive schemes and failure to communicate will affect rotations and close-outs. 
Per ESPN5, Cone pointed out that the absence of preseason games prior to the start of the conference really hurt the team's preparation. The multi-titled mentor followed it up by saying that it's more difficult to test out various defensive schemes in real games, but that he is confident that the team will "work it out in time."
The Gin Kings (2-3) are currently in the bottom half of the league, and losing their next game against the Bolts (5-2) will drop them even further. It's certainly a tough situation to be in heading to the second half of the eliminations, so expect a hungrier Ginebra squad in their battle against Meralco.
Advanced Stats are now available for Philippine basketball! Through Ryan Alba's Stats by Ryan, you can now look at team and player advanced stats for the current 2021 PBA Philippine Cup via the Dribble Media website.
Also, check out this glossary for a list of the basketball advanced stats terminologies.
You can also contact Ryan Alba via his Twitter handle (@_alba__).