If you happened to miss out on the 2021 PBA Philippine Cup's Wednesday double-header slate, here's a quick rundown to keep you updated.
San Miguel escapes with a Game 2 win
The San Miguel Beermen carved out a 98-96 comeback victory over the TNT Tropang Giga to take Game 2 of their best-of-seven semifinals series.
Main Takeaways:
Along with the Marcio Lassiter game-winner, there were a couple more things for Beermen fans to be optimistic about in this series. First up is the increased aggressiveness of June Mar Fajardo, at least on the offensive end of the floor. The six-time Most Valuable Player did most of his damage in the first half when he put up 19 of his 22 points, and his added aggressiveness helped him troop to the free throw line eleven times. He was still very slow on defense, but there's no doubt that Fajardo just came up with his best game this conference.
After seeing limited minutes in the past couple of games, Terrence Romeo surely brushed off any injury concerns with a fiery outing in Game 2. The spitfire gunner hit 24 of his 26 total points in the second half, including 15 markers in the payoff period. The biggest takeaway from his performance was that he did not hesitate at all in driving to the rim, which is always a good sign for a player coming off a foot injury scare. With Romeo potentially regaining his deadly form and Fajardo showing increased aggressiveness on offense, the Beermen just presented two big hurdles for the Kelly Williams-less TNT defense to overcome.
TNT raced right out the gates in the opening quarter as they pushed the pace and tried to outrun San Miguel in almost every offensive possession. The Beermen then opted to go into a zone defense to arguably hide Fajardo's limitations as a defender, but that shouldn't have been a problem if only TNT had a better shooting night from outside. The Tropang Giga only produced a measly 27% clip from the three-point line, with Mikey Williams, Jayson Castro, and Brian Heruela combining for a paltry 2-of-18 shooting. San Miguel will constantly go back to the zone for the rest of this series if TNT fails to capitalize with their outside shooting.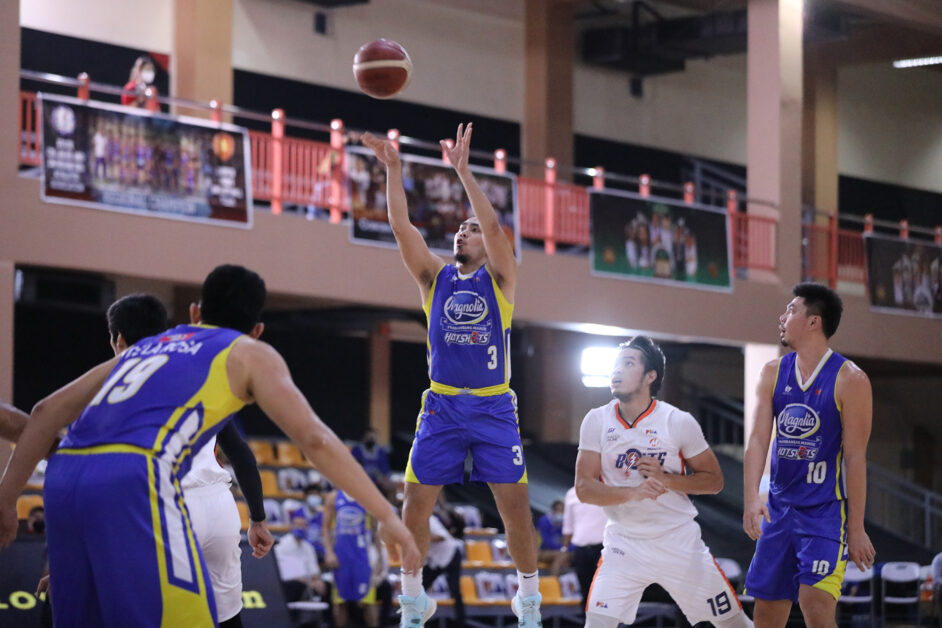 Magnolia takes a commanding 2-0 lead 
Behind the exploits of Paul Lee, the Magnolia Hotshots came away with a 92-78 win over the Meralco Bolts to take an early 2-0 lead in their semifinals matchup.
Main Takeaways:
Paul Lee has been the Hotshots' leading scorer this conference, but he has also struggled with his shooting efficiency. Prior to Game 2 of this series, Lee only shot a measly 31.9% overall clip from the field, although his excellent 89.2% rating on his 7.3 free throw attempts per game has been the saving grace of his offense. So how would a Paul Lee stat line look if he becomes more efficient with his shots? He answered that with a stellar performance in Game 2 as he compiled 28 points on a tremendous 50% shooting. It remains to be seen if this is a sustainable trend for Lee, but his most efficient game this conference fittingly came at a time when the other key Magnolia players (Sangalang, Barroca, Abueva) misfired in the early goings.
A Raymond Almazan ankle injury and a Cliff Hodge ejection definitely hurt Meralco on the boards and on their interior defense. They were outrebounded, 53-39, and gave up 18 offensive rebounds to Magnolia. Without Almazan and Hodge in the fourth quarter, Magnolia big man Ian Sangalang had his way inside the paint, delivering the final touches and finishing with a double-double night of 16 points and 10 rebounds.
---
Advanced Stats are now available for Philippine basketball! Through Ryan Alba's 'Stats by Ryan', you can now look at team and player advanced stats for the current 2021 PBA Philippine Cup (and the previous three seasons) via the Dribble Media website.
Check out this glossary for a list of the basketball advanced stats terminologies.
You can also contact Ryan via his Twitter handle (@_alba__).