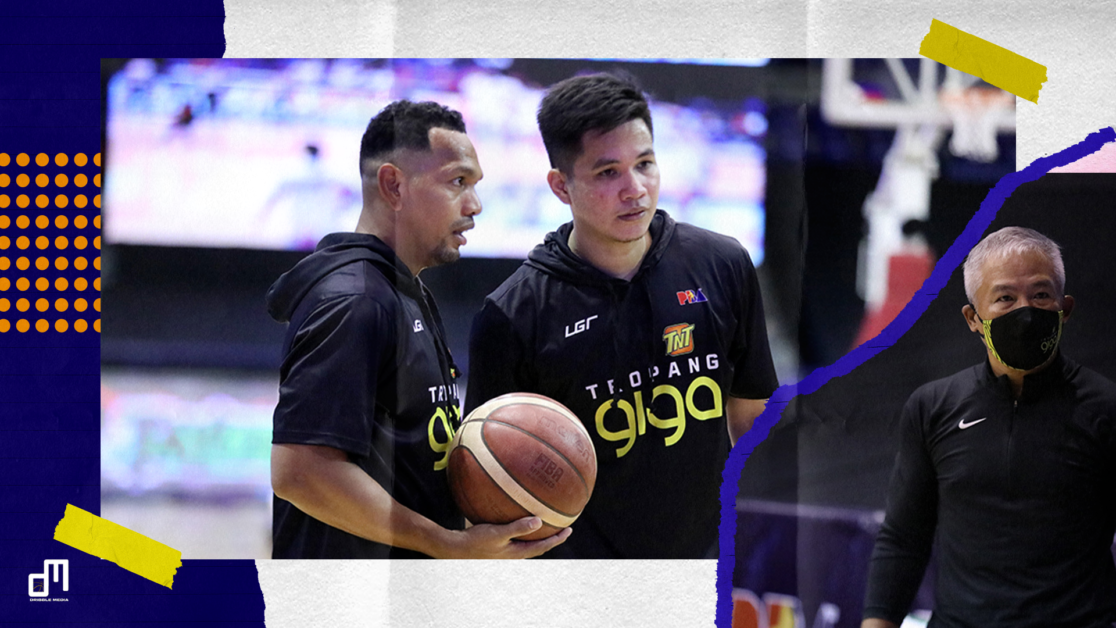 When multi-titled mentor Chot Reyes announced his comeback as the head coach of the TNT Tropang Giga, we already knew that a familiar offensive system would also return with him: the dribble drive offense. It's a system that's already familiar not just to his former players, but to the whole country as well, as Reyes' Gilas Pilipinas teams used the dribble drive a lot to catch a lot of international teams off guard, especially during the 2014 FIBA World Cup held at Spain.
TNT shooting guard Roger Pogoy reportedly said he won't have any problems adjusting to Reyes as he already learned the offense during his Gilas stint. Jayson Castro was also a fixture in Reyes' Talk 'N Text and Gilas teams, leaving little doubt that the point guard's skill set perfectly fits the system.
But aside from Pogoy and Castro, TNT doesn't have a lot of players who can create on offense. Of course, the oozing potential of rookie Mikey Williams is there and could pay dividends later on, but the departure of Ray Parks Jr. might hurt the team in the short-term, especially on the offensive end of the floor. During the 2020 PBA Philippine Cup, Parks led TNT in scoring with 22.4 points per game on 49.2/45.84.5 shooting splits. Per Stats by Ryan, an advanced stats platform for Philippine basketball, Parks led the league in true shooting percentage (TS%) with 66.1% (minimum of six field goal attempts per game). 
Parks' production will be hard to replace in a jiffy, so some struggles may abound until TNT settles in. But much of the talk entering the conference was onReyes' dribble drive offense; in reality, to beat the serious contenders, the Tropang Giga will have to rely a lot on their defense.
So far, TNT's defense has held up well and has been the catalyst to their 3-0 start to the conference. They hold opponents to the second-lowest marks in points per game (76); second-lowest in three-pointers made (7.3); third-lowest in three-point percentage (25), third in turnovers forced (17.3), and fourth in opponent field goal percentage (36.6). 
These are good numbers, but we should also factor in the fact that two of their three wins came against teams at the bottom half of the standings in Phoenix and Terrafirma. The Fuel Masters have only one win in their first five games, while Terrafirma Dyip has yet to notch a victory (0-4). Of course, TNT also defeated Rain or Shine; the Elasto Painters are sporting a 4-2 win-loss slate, but their paltry 48-point showing in a lopsided loss to the Alaska Aces exposed their weaknesses on offense.
Still, there's a reason to believe that TNT's defense has the potential to do good against contending teams like Magnolia, San Miguel, or Ginebra. So far, TNT has been excellent in forcing key players of the opposite teams to have bad games. Look at how these players fared against the TNT defense:
Matthew Wright (PHO): 15 points, 7 turnovers
Vic Manuel (PHO): 13 points, 6 turnovers
Beau Belga (ROS): 0 points, 0-7 FG, 5 turnovers
Rey Nambatac (ROS): 4 points, 2-12 FG, 0-5 3P, 4 turnovers
Joshua Munzon (TER): 6 points, 3-15 FG, 0-5 3P
With the departure of Parks, TNT filled the rest of its roster with defensive-minded, "bulldog-type" players. They have the veteran Ryan Reyes, who had nine rebounds and four steals against Terrafirma; sophomore guard Kib Montalbo established his name as the head of the defense during his collegiate career at La Salle; Glenn Khobuntin is a physical combo wing who can rebound and defend multiple positions; guards Brian Heruela and Chris Exciminiano will hound ball-handlers and make their lives miserable; big men Troy Rosario, JP Erram, and Kelly Williams aren't necessarily big in terms of length, but they make up for that with their athleticism and "workhorse" type of approach to defense; and Dave Marcelo is another undersized center who is not afraid to bang against other bodies inside the paint.
The Tropang Giga should not be afraid to use up all their energy on defense. This is thrown around a lot, but to have a chance to defeat the other contending squads, they must win the hustle and effort game. That's just the reality for this Parks-less TNT as they (currently) lag behind elite teams in terms of offensive talent. Still, they did a tremendous job of bringing in these defensive-oriented players, and that's exactly what they need to capture the title this conference.
Advanced Stats are now available for Philippine basketball! Through Ryan Alba's Stats by Ryan, you can now look at team and player advanced stats for the current 2021 PBA Philippine Cup via the Dribble Media website.
Also, check out this glossary for a list of the basketball advanced stats terminologies.
You can also contact Ryan Alba via his Twitter handle (@_alba__).