With reports revealing that Lou Williams is among the players disgruntled with how the Clippers gave special treatment to Kawhi Leonard, it's most likely that the three-time Sixth Man of the Year will be on his way out soon.
Lou Williams can provide instant offense for the soon-to-be-completed Brooklyn Nets. (Photo courtesy of Kathy Willens/Associated Press)
Aside from Williams, it was also stated that Patrick Beverley and Montrezl Harrell were also unhappy with how things developed on the Clippers side. The management allowed Leonard to take games off to preserve his body, and to live in San Diego, which often caused the two-time champion to be late in team flights. It was also revealed that Leonard can dictate to former Clippers coach Doc Rivers if when to load manage a game which caused ire to some Clippers players.
In addition, several players were also reported to be irritated with the speech Paul George gave after the Clippers were knocked out by the Denver Nuggets in 7 games. George tried to persuade the team to stay together and run it back next season but his teammates didn't agree. With the latest development in the Clippers locker room, it will not be a surprise if some of the players will not return, with some will we be dealt to another team.
Sweet Lou is known for his spectacular offensive arsenal and his ability to provide the spark off the bench. Williams averaged 20.4 points, 2.8 rebounds, and 5.4 assists in his 3 seasons with the Clippers. Now, the 45th overall pick of the 2005 draft is entering his last year with the Clips with a guaranteed contract of $8 million.
As the team was not able to live up the hype of the Leonard-George pairing, the squad's chemistry might still require more time to fully furnish. This might then be a win-win situation to deal the 33-year old scorer to another team. Given his long resume of Sixth Man of the Year Awards, the scoring guard is an instant bolster in any team's bench.
However, in order to improve his chances to win a ring, there is no second thought that Lou must be dealt to a contender.
With probably 2 to 3 good basketball years stretch left in his tank, Williams might be able to support the team's superstar duo of Kyrie Irving and Kevin Durant in Brooklyn.
Lou Williams and Patrick Beverley might team up with Kyrie Irving and Kevin Durant in Brooklyn. (Photo courtesy of Kelley L. Cox/USA Today Sports)
Brooklyn Nets
Players to acquire: Lou Williams (LAC), Patrick Beverley (LAC)
Players to trade: Spencer Dinwiddie, Lance Thomas, Dzanan Musa
Williams averaged 18.2 points per game last season. Just like with his former teams, he will easily provide the needs of the Nets' second unit. With Kyrie and KD causing offensive onslaught as starters, Lou will reinforce the scoring whenever one of the two superstars takes his rest.
As a player who knows his role and thrives in it, it will only take little effort for Williams to complement the style of the Brooklyn superstars. The Brooklyn will also be in need of a player capable of creating his own shots and can pair up with center Jarrett Allen as the main players coming off the bench. While Lou will be another one-way player in the roster and is not expected much to show up in the defensive end, it will be a good chance for the Nets to be a total threat in the East knowing that they will have a deeper bench with a legitimate bench scorer.
The three-time Sixth Man of the Year awardee has a lot to offer on the table on the offensive end. Williams' offensive skill set is undoubtedly on par with other stars, and can score at will over defenders. He has some serious midrange game, can penetrate the basket even against bigger defenders, and can create on his own.
Most especially, given his long resume of game-winners and crucial baskets, Williams is reliable during crunch time as another offensive weapon for the Brooklyn squad when closing out down-the-wire games.
Aside from Williams, Beverley will also be a part of the deal that will send former Sixth Man of the Year to Brooklyn. This might be a bit awkward for KD knowing the history he shared with the resilient and pesky guard, but their tandem would actually work in Brooklyn. The two went head-to-head a lot of times when Durant was still with Golden State, where the two-time champ got involved in a lot of heated exchanges with Beverley.
Both players are highly competitive, and their passion for the game is never to be questioned. Beverley is known for his pesky defense and thrash talking habits, and the Nets will require the 31-year-old guard's defensive skills and mentality as they try to capture the crown next season.
While the 6'1" guard will not really suit up full-time offensively for the Nets due to his lack of shot creation and real offensive arsenal, Beverley can knock down plenty of three-point shots. The 2009 42nd overall pick will not be required to take a lot of shots, and can solely focus in defending the other teams' stars since there are plenty of options offensively for the Nets that will include rising star Caris LeVert.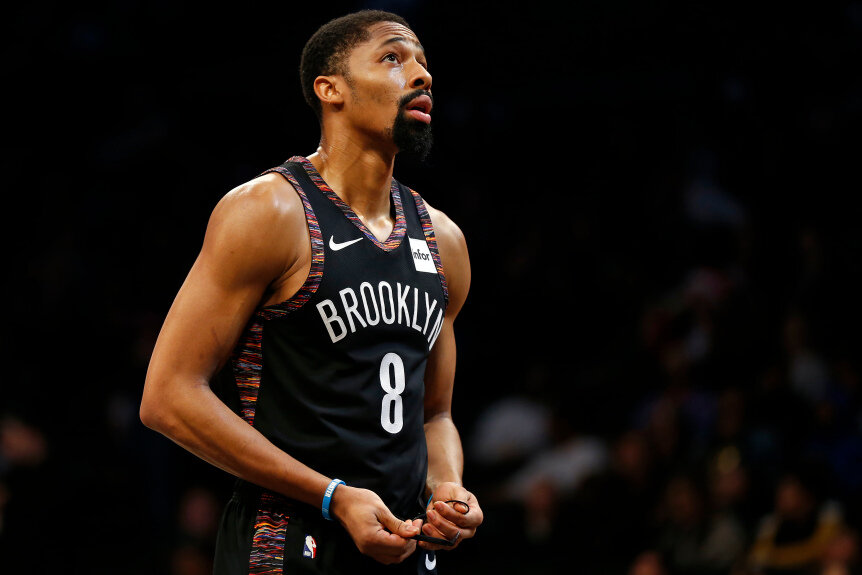 Spencer Dinwiddie can suit up for the Clippers. (Photo courtesy of Adam Hunger/Associated Press)
Los Angeles Clippers
Players to Acquire: Spencer Dinwiddie (BKN), Lance Thomas (BKN), Dzanan Musa (BKN)
The Clippers just signed former Cavs coach Ty Lue to a five-year contract to replace Doc Rivers. Lue will now take over the superstar duo of Leonard and George, which is already a familiar territory for him as he coached Irving and LeBron James in 2016 when Cleveland won their first title.
With the roster already built to surround the two Clippers stars, Lue might consider bringing capable players who can help the Clippers go deeper in the playoffs.
The Clips heavily relied on their superstar duo on offense, and the terrible performance of George during last year's playoff run backfired. The Clippers squad is a piece away from becoming a fully contending team. Assuming that Harrell will re-sign, and Ivica Zubac can reach his potential as the Clippers starting center, the team will have to consider a point guard who can actually score, and take away some pressure from the team's superstars.
Spencer Dinwiddie has been phenomenal for the Nets as he averaged double digits in scoring in the last 3 seasons. The 26-year-old guard also posted his career-best last season, norming 20.6 points per game along with 6.8 assists. With the absence of Nets' main scorers in KD and Kyrie, it was Dinwiddie who benefitted the most as he continues to gain progress and attention around the league.
As Kyrie eyes a return next season, Dinwiddie might regress in points and minutes, so it will be a smart choice for the former Colorado standout to take his talents somewhere. Considering the conditions set for Dinwiddie, the Clippers will be the most suitable landing spot for the rising point guard.
The former All-Star Skills Competition champion can be a starter on any team and is also a big point guard. He is a legit 6'5 stalwart who can create his own shot, facilitate the offense, and can take over games.
Dinwiddie can provide what the Clippers lacked last season: a scoring point guard. With Beverley and Reggie Jackson as their main point guards, the Clippers' offense is a bit predictable. Opposing teams can easily adjust since they know the offense with repeatedly revolve around George, Leonard, and Williams.
The addition of Dinwiddie can eliminate this particular weakness since he has the option to score on his own if the team's superstars are being limited.
While Dinwiddie is the best option for this trade, veteran forward Lance Thomas and sophomore Dzanan Musa will be included in the package deal to make this trade work.
Thomas was one of the better outside shooters during his stint with the New York Knicks when he shot a career best 44.7% from the three-point territory during 2016-2017 season. If he remains healthy, and get back his shooting range, it will most likely that he can be back in rotation in no time and can provide more outside shooting for the Clippers.
Dzanan Musa, on the other hand, is a young and promising perimeter player. Musa is a legitimate 6'9" and is only 20 years old. His numbers significantly rose during his second season with the Nets and is more likely get more minutes next year.
Musa can contribute off-the-bench for the Clippers squad, with his shot creation and quickness along with his lengthy frame and height. If Lue will be able to utilize the potential of the young Bosnian, he will become a relevant piece to the team's championship bid next season.
This trade is intriguing, but both teams will actually benefit a lot from it.