Phoenix Super LPG Fuel Masters' Justin Chua and Barangay Ginebra's Prince Caperal top the list of the most improved players in the 2020 PBA Philippine Cup.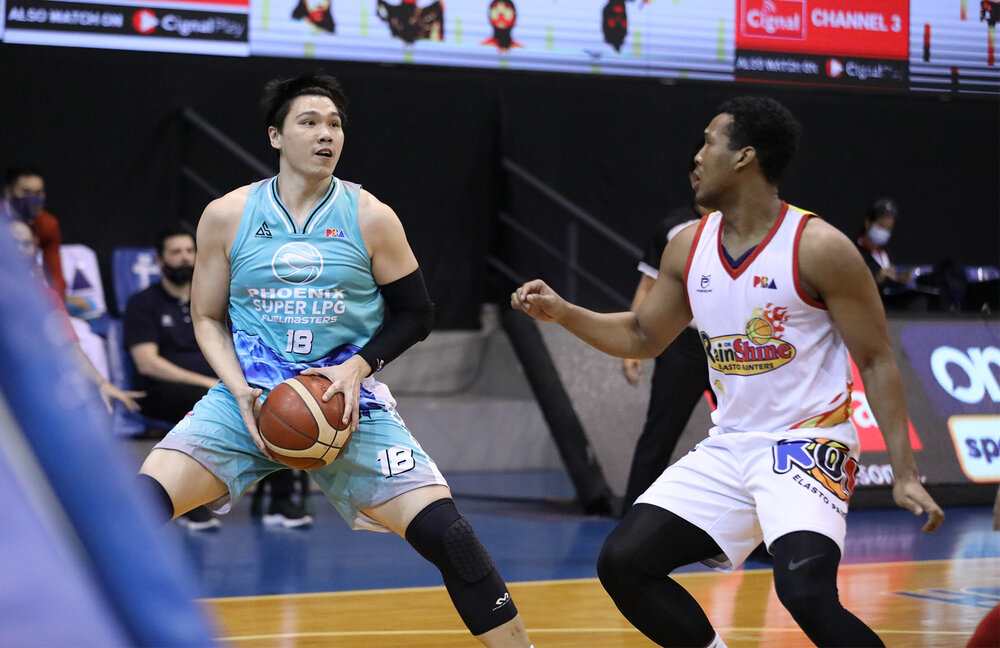 Phoenix's Justin Chua has displayed a high level of consistency in the 2020 PBA PH Cup. (Photo from Media Group)
In an All-Filipino conference where there would be no imports to depend upon, local players have every opportunity to step up their game and produce more numbers. We list down the top breakout players in the new conference, and compare their performance with the numbers they produced during the 2019 Philippine Cup.
1. Justin Chua, Phoenix Super LPG Fuel Masters
2019 PH Cup Averages: 10.1 ppg, 5.3 rpg, 0.9 apg, 0.8 bpg
2020 PH Cup Averages: 13.2 ppg, 6.8 rpg, 1.8 apg, 1.7 bpg, 42% 3-pt
Even with the huge stat lines that stars Matthew Wright, Jason Perkins and Calvin Abueva log in each game, Chua finds a way to contribute at a high level. Chua leads the league in blocks per contest, a difficult feat to win over the likes of Japeth Aguilar, Raymond Almazan or Poy Erram.
He is also putting up a stellar 42% clip from the three-point line, allowing him to space out the floor for Phoenix and co-exist with Perkins and Abueva in the frontcourt.
2. Prince Caperal, Barangay Ginebra
2019 PH Cup Averages: 1.4 ppg, 1.6 rpg, 0.3 apg
2020 PH Cup Averages: 9.6 ppg, 4.0 rpg, 1.0 apg, 46% 3-pt
Ginebra's Prince Caperal is the second-most efficient three-point shooter in the conference. (Photo from PBA Media Group)
It's no coincidence that Greg Slaughter's departure from the Ginebra camp resulted to an uptick in Caperal's production. Caperal has always been a good shooter who rarely makes the wrong decisions on the court. It just boiled down to an increase in playing time and a heavier role in the rotation.
So far, Caperal has delivered. His numbers dipped when Japeth Aguilar returned to a hundred percent form, but Caperal has become the second-deadliest long-range gunner in the league, an astounding leap for a big man.
3. Robbie Herndon, Alaska Aces
2019 PH Cup Averages: 4.4 ppg, 3.5 rpg, 0.4 apg, 0.6 spg
2020 PH Cup Averages: 12.6 ppg, 5.4 rpg, 2.6 apg, 1.2 spg 39% 3-pt
Magnolia traded Herndon to Alaska last season. (Photo from PBA Media Group)
Magnolia's move to acquire Chris Banchero last season still remains mind-boggling to me. They already have a trio of guards in Jio Jalalon, Mark Barroca and Justin Melton, plus their main star in Paul Lee. Although Banchero played great this conference, his arrival still created a logjam in the backcourt.
But Herndon, who the Aces landed in that trade, has compiled a breakout conference. Herndon has great size for the wing position, and he can handle the ball well. On top of that, he can create his own shots and is an efficient shooter from beyond the arc. Lost in the Most Improved Player toss-up between Chua and Caperal is Herndon's development into an all-around perimeter player.
4. Raul Soyud, NLEX Road Warriors
2019 PH Cup Averages: 2.7 ppg, 2.7 rpg, 44% FG
2020 PH Cup Averages: 10.0 ppg, 6.8 rpg, 1.1 apg, 74% FG
NLEX's Raul Soyud leads the league in field goal percentage. (Photo from PBA Media Group)
Despite the Road Warriors' disappointing early exit in the conference, the found a ray of light in Soyud's performance. Soyud is not severely undersized for the center position, but he is not as athletic as the other big men in the league. Still, the former UP Maroon knows how to position himself well inside the paint, and he has a solid mid-range game to go with it.
Soyud is leading the league in field goal percentage, and he should be a key fixture in Yeng Guiao's rotation next conference.
5. Don Trollano, Blackwater Elite
2019 PH Cup Averages: 8.8 ppg, 5.4 rpg, 1.0 apg
2020 PH Cup Averages: 14.2 ppg, 8.5 rpg, 1.3 apg
Don Trollano has become the leader of the Blackwater Elite squad. (Photo from PBA Media Group)
Trollano had his share of high-scoring performances last season, but the difference in this conference was that he did it on a consistent basis. On top of that, he has grown into a capable leader and a go-to-scorer for Blackwater. If Trollano keeps up this level of performance, it won't come as a surprise if teams in the upper echelon pitch trade offers for him.
6 – 10
6. Juami Tiongson, TerraFirma Dyip
2019 PH Cup Averages: 5.7 ppg, 1.8 rpg, 4.1 apg, 0.5 spg, 21% 3-pt
2020 PH Cup Averages: 13.3 ppg, 3.1 rpg, 2.6 apg, 1.5 spg, 40% 3-pt
7. Aljon Mariano, Barangay Ginebra
2019 PH Cup Averages: 4.9 ppg, 4.7 rpg, 1.2 apg, 42% FG
2020 PH Cup Averages: 9.6 ppg, 7.0 rpg, 2.8 apg, 49% 3-pt
8. Javee Mocon, Rain or Shine Elasto Painters
2019 PH Cup Averages: 8.2 ppg, 7.4 rpg, 1.9 apg, 0.4 spg, 0.3 bpg
2020 PH Cup Averages: 12.0 ppg, 7.1 rpg, 2.6 apg, 1.3 spg, 1.2 bpg
9. Sidney Onwubere, Rain or Shine Elasto Painters
2019 PH Cup Averages: 0.7 ppg, 1.7 rpg
2020 PH Cup Averages: 5.7 ppg, 3.6 rpg
10. Roi Sumang, Blackwater Elite
2019 PH Cup Averages: 8.8 ppg, 3.5 rpg, 4.4 apg
2020 PH Cup Averages: 10.4 ppg, 4.3 rpg, 4.3 apg