With Gordon Hayward officially opting out of the final year of his contract with the Boston Celtics, here are five realistic landing spots for the free agent all-around forward.
Gordon Hayward could be playing for New York next season. (Photo by Vincent Carchietta/USA TODAY Sports)
The back-and-forth affair between Hayward and the Celtics has finally come to a conclusion. Hayward has officially declined his player option, paving the way for him to enter unrestricted free agency, per ESPN's Adrian Wojnarowski. The 30-year old former All-Star should have plenty of offers coming his way, with these five teams possibly leading the sweepstakes.
New York Knicks
Marc Stein of The New York Times recently reported that the Knicks are interested in bringing in Hayward to New York. As a matter of fact, Stein emphasized that the Knicks are "aggressive" in their pursuit of the veteran forward.
The Knicks have been aggressive in their pursuit of Gordon Hayward all week, sources say

Amid a growing belief leaguewide that Hayward will decline his $34 million player option for next season, New York may loom as Hayward's best option given all the Knicks' newfound cap space

— Marc Stein (@TheSteinLine) November 19, 2020
In terms of roster needs, Hayward should fit in perfectly with the Knicks. They recently drafted power forward Obi Toppin, so there is a huge chance that the Knicks could move Julius Randle to an interested team. I don't see the team sliding Randle to a permanent role in the center position, especially with the up-and-coming Mitchell Robinson manning that job.
Hayward is an underrated playmaker, and his all-around skill set will be an excellent asset in leading this young Knicks squad.
Indiana Pacers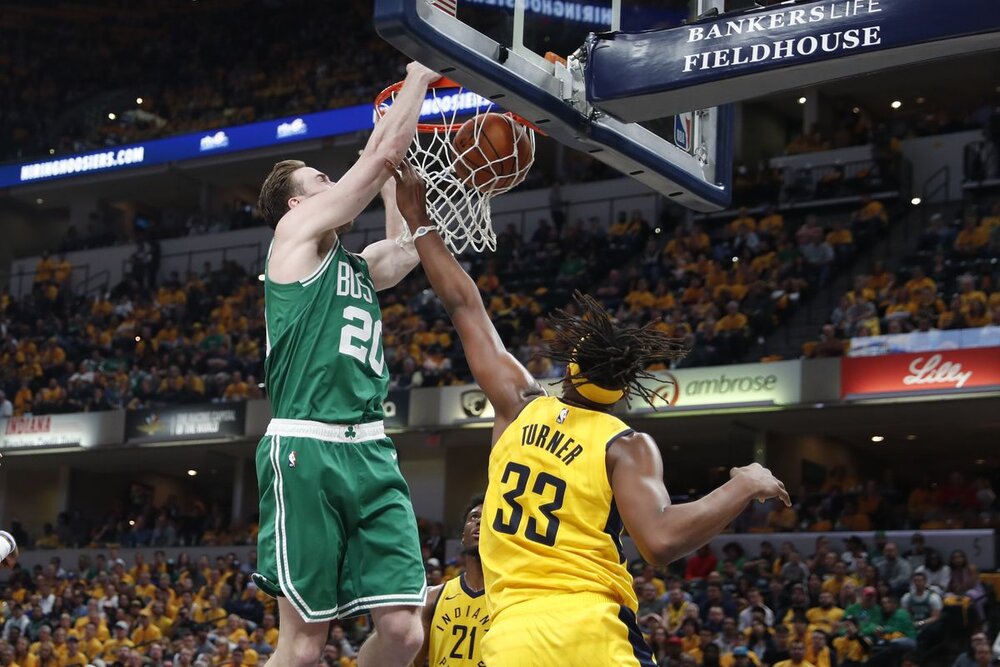 Hayward dunks the ball over Indiana's Myles Turner. (Photo by Brian Spurlock/USA TODAY Sports)
Hayward's name was linked in trade rumors that would have landed him with the Indiana Pacers in exchange for young big man Myles Turner. If the Pacers really want to acquire Hayward, a trade is the only avenue that they can take. They don't have enough financial flexibility to directly sign Hayward in free agency, especially with the latter arguably expecting a hefty, long-term deal.
But Hayward's versatility in the forward position should complement stars Domantas Sabonis and Victor Oladipo. If Indy indeed moves on from Turner next season, a frontcourt trio of Hayward, Sabonis and T.J. Warren could be a force to reckon with on offense.
Atlanta Hawks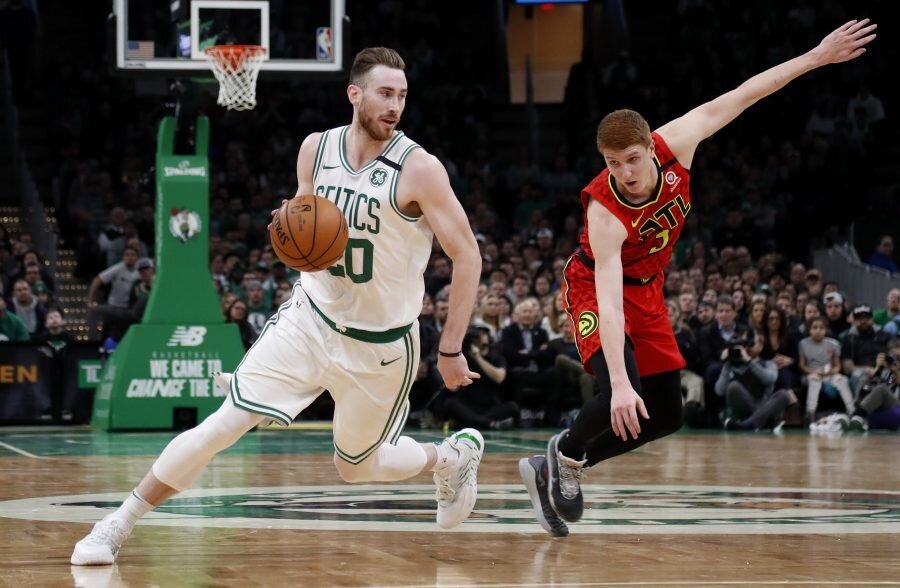 Hayward driving past Kevin Huerter of Atlanta. (Photo by Winslow Townson/USA TODAY Sports)
The Hawks were the frontrunners to land Hayward in a trade, and the fact that the former Celtics forward has declined his player option boosts Atlanta's chances of nabbing his services. The Hawks are still a very young team, and they only have one natural playmaker in All-Star point guard Trae Young. If the Hawks successfully sign Hayward, they would get a secondary playmaker who could also create his own shots.
Charlotte Hornets
ESPN's Zach Lowe singled out the Hornets as a possible trade destination for Hayward, but acquiring him directly through free agency could be a long shot. The Hornets already have two young guns manning the two forward positions – Miles Bridges and P.J. Washington. I don't see them sliding Washington to the five position just to accommodate Hayward.
Boston Celtics
You can't count out the possibility of the Celtics running it back with Hayward in the fold. He will be turning 31 years of age next season, so Hayward's camp could be looking for a longer-term contract, even if it surely pays less than the $34 million player option he declined.
Hayward played exceptional for Boston in the early part of last season before he sustained a hand injury that kept him out for a significant amount of time. If Hayward returns to a fully-healthy form and accepts a sixth man role, he should be an integral piece in the Celtics' championship pursuit next year.