Beau Belga powered the Rain or Shine Elasto Painters past the Barangay Ginebra San Miguel in overtime, while the Alaska Aces barely escaped the winless TerraFirma Dyip.
Beau Belga making a post move against Ginebra's Jeff Chan and Prince Caperal. (Photo from PBA)
Rain or Shine bounced back from a tough loss in their previous game as they defeated Ginebra in overtime, 85-82. Belga hauled in a double-double outing of 20 points and 10 rebounds, and made two crucial baskets in the extension period.
With their stingy defense checking Ginebra on all fronts in the first half, the Elasto Painters established a nine-point advantage entering the final two quarters. But Ginebra would slowly chip away at the deficit as a Stanley Pringle bucket gave them a 74-73 lead in the crucial stages of the payoff period.
LA Tenorio would follow it up with two made free throws, extending Ginebra's lead to three. But Rey Nambatac delivered a game-tying three-pointer, sending the contest to overtime.
Ginebra's Scottie Thompson pulling down a rebound against James Yap of Rain or Shine. (Photo by PBA)
It was in overtime that Belga would work his wonders, starting with a great dish to Mark Borboran for an easy lay-up. He then followed up his own missed shot to give Rain or Shine an 80-78 lead, then made a triple at the top of the key to extend his team's advantage to five points.
Pringle would make a bank shot to cut the Elasto Painters' lead to three, but a Jewel Ponferada floater off a broken play sealed the victory for Rain or Shine.
Scottie Thompson led the charge for Ginebra as he stuffed the stat sheet with his 21 points, 10 boards, 5 assists, 2 steals and 2 blocks. Pringle also contributed 20 markers in the loss.
Casio's clutch lay-up saves Alaska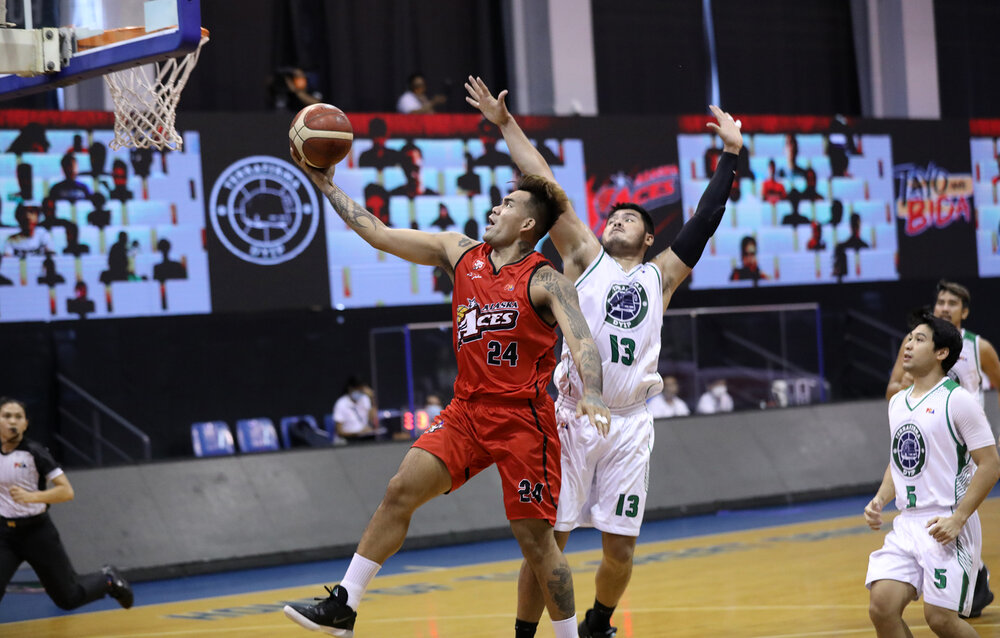 Alaska's Vic Manuel drives past Eric Camson of TerraFirma. (Photo from PBA)
Behind JVee Casio's clutch drive in the clutch, the Alaska Aces prevailed over the TerraFirma Dyip with a close-call victory. Vic Manuel led Alaska with his points, including a couple of crucial baskets in the waning minutes of the fourth quarter.
TerraFirma, who came in with a 0-4 record, started out strong. They opened up a 28-19 lead in the first quarter, and maintained that advantage going into the halftime break.
However, the Aces would wax hot in their offense in the third period as they completely erased TerraFirma's lead. Manuel then came up clutch in the payoff period, drilling a mid-range jumper and converting on an easy lay-up to give the Aces a 95-93 lead.
Eric Camson answered back with a booming triple to give the lead back to TerraFirma, but Casio scored on a difficult drive to the hoop to ultimately give Alaska their fourth win in the Clark bubble.
CJ Perez led TerraFirma with another all-around night of 25 points, 4 rebounds and 6 assists. However, the Gilas Pilipinas guard failed missed game-winning attempts, and also committed four turnovers. TerraFirma will be facing the Blackwater Elite for their next assignment on Saturday.
SCORES
First Game
Alaska (99) – Manuel 18, Herndon 12, Casio 11, Digregorio 11, Tratter 10, Galliguez 9, Ahanmisi 8, Ayaay 8, Teng 7, Ebona 5
TerraFirma (96) – Perez 25, Tiongson 21, Camson 11, Adams 11, Ramos 10, Mccarthy 8, Gabayni 4, Calvo 4, Faundo 2, Celda 0, Balagasay 0, Cahilig 0
Second Game
Rain or Shine (85) – Belga 20, Borboran 16, Yap 13, Mocon 12, Rosales 8, Nambatac 8, Onwubere 3, Norwood 3, Ponferada 2, Torres 0, Wong 0
Ginebra (82) – Thompson 21, Pringle 20, Aguilar 13, Tenorio 10, Devance 6, Caperal 5, Mariano 3, Dillinger 2, Chan 2, Tolentino 0