Let's look back at Miami Heat new shooting guard Avery Bradley's best games as a Laker during the 2019-20 NBA season.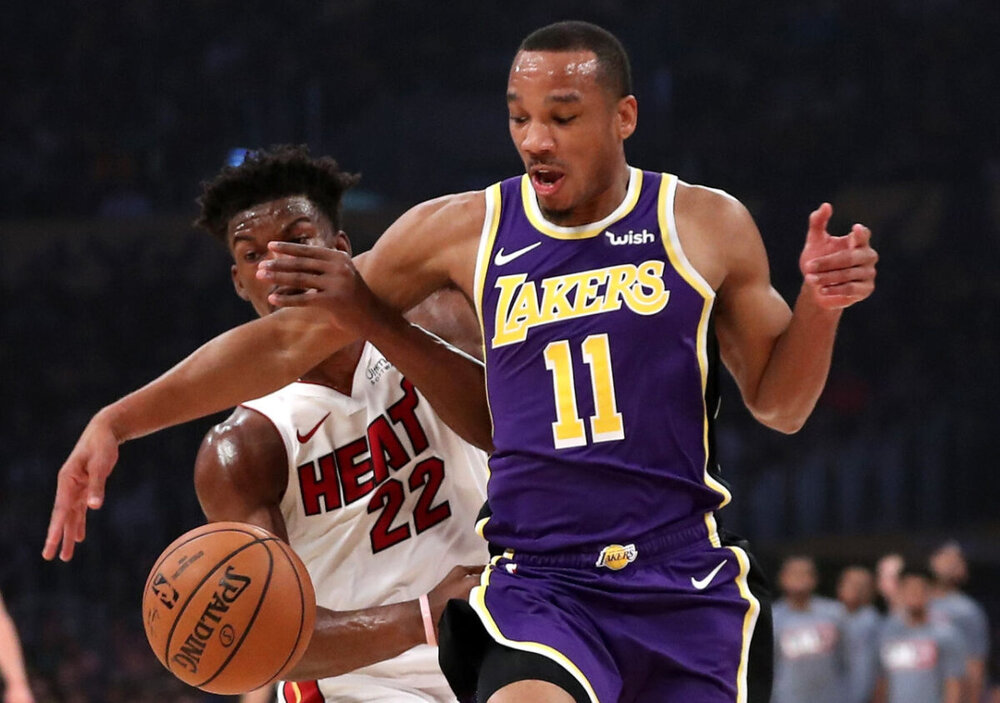 Avery Bradley signed a two-year deal with the Miami Heat. (Photo via Heat Nation)
Avery Bradley had a chance to opt into the final year of his contract with the Los Angeles Lakers, but he ultimately decided to test the free agency waters. With a need for more defensive presence in the perimeter, the Miami Heat swooped right in and signed Bradley to a two-year deal.
Bradley averaged only 8.6 points per contest last season, his lowest output since his sophomore year with the Boston Celtics. At this point of his career, teams will not ask him to put up tons of buckets. Bradley is known for his defensive prowess, and that's the main reason why he is with the Heat.
Having said that, let's look back at some of Bradley's best games in his short-lived stint with the Lakers last season.
November 3, 2019 against the San Antonio Spurs (Win)
The Lakers absolutely milked the cow as they successfully played through Bradley getting the ball in hand-offs at the top of the key. Bradley would put up jumper after jumper, finishing with 16 points and missing the target only twice. The 6-foot-3 combo guard has that consistent mid-range game in his bag, and he showed it in this Lakers' win.
January 1, 2020 against the Phoenix Suns (Win)
Donning the Lakers' Sunday whites, Bradley was a pure force on offense. His mid-range jumpers were again in full effect, and he made a couple of transition baskets. Bradley tallied 18 points, 5 rebounds and 3 steals in the win, a stat line serving as an excellent indicator of the veteran's two-way skill set.
February 1, 2020 against the Sacramento Kings (Win)
It took a full month for Bradley to log in a high-scoring night, but it sure came at a right time for the Lakers. He had 16 points in the first quarter alone, setting the tone in the Lakers' 44-22 explosion during that span. Bradley finished with 19 markers in this runaway victory over a helpless Kings squad.
February 8, 2020 against the Golden State Warriors (Win)
In probably Bradley's most complete game last season, he stuffed the stat sheet during a Lakers' victory over the injury-plagued Warriors. Bradley hauled in 21 points, 4 rebounds, 2 assists and 2 steals, including a stellar 5-7 clip from the three-point line. He served up offense for the Lakers, while also stamping his presence on defense.
March 8, 2020 against the Los Angeles Clippers (Win)
Bradley's best performance last season came in his second-to-the-last game as a Laker. In a highly-touted match-up with their hometown rivals, Bradley's energy on both ends of the floor almost stole the show. At one point, he stole the ball from Patrick Beverley and finished with a difficult lay-up on the break. Bradley finished with 24 points, 3 rebounds and 2 steals during this Lakers' win over the Clippers.